What is the program?
The Blood Ties Four Directions Centre's supervised consumption site (SCS) provides a safe and confidential space for people to consume their drugs by injection, snorting, inhalation or swallowing. Staff are onsite to help in the event of an overdose. In addition to overdose prevention and response, staff provide health and social services such as harm reduction and safer use education, referrals, supportive listening, drug checking, first aid and distribution of naloxone and harm reduction kits. The SCS opened in September 2021 and the inhalation room opened in May 2022.
The SCS is a partnership between Blood Ties Four Directions Centre (Blood Ties) and the Government of Yukon's Mental Wellness and Substance Use Services (MWSUS). Blood Ties is the operational lead on the project.
Why was the program developed?
Between April 2016 and August 2022, 71 Yukoners were lost to opioid-related overdoses and many others have been impacted by non-fatal overdose and the loss of community members. The SCS was developed to reduce the risk of overdose and the number of overdose deaths resulting from the unregulated and unpredictable drug supply, in addition to providing other health and social services to people who use drugs.
The Yukon Liberal Caucus and Yukon New Democratic Party (NDP) Caucus entered into the 2021 Confidence and Supply Agreement on April 28, 2021. One of the stipulations of this agreement was that a SCS would be opened in Whitehorse by August 31, 2021. This established a four-month timeline for the implementation of a SCS. Blood Ties signed a transfer payment agreement to operate the site in August 2021 and received a one-month extension for the opening of the site.
A critical piece of establishing the site was ensuring there would be a space for smoking drugs, as this is the primary mode of drug consumption in the Yukon. This was also requested by the community that Blood Ties serves. Significantly more pipe kits than injection kits are given out through the needle and pipe program and outreach van (despite the fact that pipes can be used multiple times), which provided further data to support the establishment of the inhalation room.
How does the program work?
The site provides a confidential space for people to consume their drugs by injection, snorting, swallowing or smoking. Nonjudgmental staff can assist in the event of an overdose or other health emergency. Staff can also provide health services, referrals and other support as needed. The SCS is open Monday to Friday 12:00 p.m. to 9:00 p.m.
Core services provided at the supervised consumption site include:
supervising the consumption of substances (e.g., injection, oral, smoking) and immediate response to any adverse events related to substance use (e.g., overdose)

providing safe consumption equipment (e.g., drug use supplies, naloxone)

drug checking (via

Fourier transform infrared [FT-IR] spectrometer and immunoassay testing strips)

providing basic health services (e.g., wound care)

offering referrals and connections to other health and social services (e.g., primary care, outreach supports, opioid agonist therapy, withdrawal management services, support groups, counselling, housing services, substance use treatment services) and advocating for clients

providing supportive listening and delivering education/training

(e.g., safer drug consumption practices, overdose prevention and response)

providing a place to safely dispose of used consumption equipment
The SCS space is open concept with consumption booths (for injection, intranasal and oral consumption), a self-contained inhalation room and a chill-out (i.e., post-consumption) space, as well as a private office available for drug checking and one-to-one conversation. Up to 15 clients can be in the SCS at one time, including in the consumption, chill-out and drug checking spaces.
The Blood Ties' Lived Experience Advisory Group was consulted on the design and implementation of the site and their input was helpful in the design of the chill-out space. Staff conducted tours and a survey with people who use drugs when the site opened to gather further input. A peer consultant who had experience accessing other sites was contracted to view the site design and policy and provide detailed feedback.
The SCS is co-located in the same building as the majority of Blood Ties' other services (e.g., drop-in centre, housing program, wellness program, needle and pipe program, meal program, education programs). This facilitates integrated and collaborative services.
Staffing
Staff provide welcoming, trauma-informed, culturally safe, supportive, nonjudgmental and low-barrier care for clients. The SCS is staffed by harm reduction workers, peer support workers (i.e., people with lived or living experience), healthcare professionals and a team lead. Healthcare professionals (e.g., nurses) are provided through MWSUS.
All staff complete basic life support and airways training to provide a high level of care in the event of an overdose. The site must have a minimum of two staff to operate and tries to maintain a ratio of no more than five clients to one staff member at all times.
Intake and check-in
When a client enters the site, their first stop is the reception desk. If they are a new client, they complete an intake form. Staff create a file and orient them to the site, services and consumption equipment available. Staff review the SCS's Client Rights and Responsibilities and provide information related to use of the site, including that clients must obtain substances before they enter the SCS.
If they are a repeat client, they check in at the reception desk each time they visit the SCS. Following check-in, staff gather any drug use equipment (e.g., straight stemmed pipes, bubble pipes, straws, needles, foil) that the client requests and lets them know that they can use the consumption area when there is an available space. Staff can also inform clients of other available resources and provide harm reduction education as needed. 
Consumption areas (consumption booths and inhalation room)
The consumption area is divided into two sections:
an area for injection, intranasal and oral consumption, which contains five booths

one inhalation room for up to three clients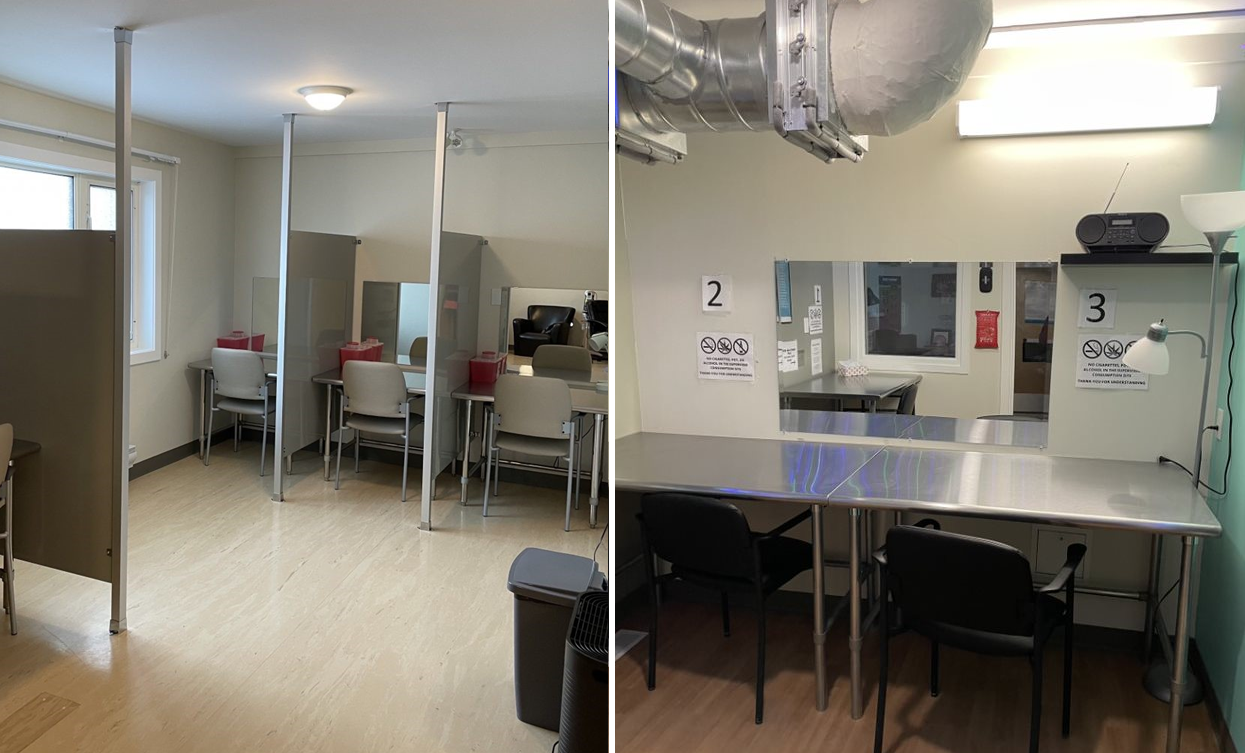 Substance use is only permitted in a consumption booth or the inhalation room and clients must remain in the consumption booth or inhalation room until their consumption is complete. Only one person is allowed in a consumption booth at a time, except when peer-assisted injection occurs. Assisted injection is permitted in the site by an individual whom the client designates as their injector. 
Staff monitor clients as they use their substances for any adverse events and encourage clients to move to the chill-out space once they have finished consuming their drugs. If the client wishes to consume a second substance during their visit, the client completes a subsequent check-in with the staff member.
The inhalation room consists of a ventilation system (ongoing fresh, filtered air circulation and intake) inspected and approved by the Building Standards Department of the City of Whitehorse and the Whitehorse Fire Department. It also includes an alarm and sprinkler system inspected and approved by the appropriate authorities. The room has a glass window for continuous visual monitoring of the consumption space. The inhalation room and washroom also have Brave sensors that detect overdose on the basis of movement patterns and alert staff if an overdose occurs. No tobacco or cannabis use is permitted in the inhalation room because they are legal substances and the inhalation room is reserved for people who need a safe space to consume drugs that are currently illegal.
All new clients receive instructions on how to exit the inhalation room safely (i.e., clients must wait 30 seconds after exhaling their last dose, toke or hit before exiting the room to allow any residual smoke to clear). There is a 10-minute time limit on use of the inhalation room because of the demand; there are sometimes lineups. Staff let clients know that they can communicate with them using the intercom system inside the room. In the event of an emergency inside the room, staff can activate the emergency air evacuation switch to cycle new air into the space. Staff must wait 30 seconds after pressing the emergency air evacuation button to enter. For more technical information on the inhalation room, see the Program materials.
In the event of a suspected overdose or medical emergency at any time in either consumption area (booth or room), the staff member follows the detailed guidance outlined in the program's Supervised Consumption Site Policy Manual. Staff members who are trained in basic life support and airway management can administer oxygen and use an automated external defibrillator (AED) and bag valve masks. Intramuscular naloxone is administered if oxygen alone is not sufficient to reverse an overdose. A response may include an initial assessment of the scene, monitoring vital signs, administering cardiopulmonary resuscitation (CPR) and/or rescue breaths via a bag valve mask or pocket mask, administering oxygen, administering naloxone and calling emergency medical services when needed.
Chill-out space
When clients have finished consuming their drugs, staff welcome them to the chill-out space and clients are encouraged to remain onsite for at least 10 minutes (ideally 30 minutes). The chill-out space has a television and seating area. Staff monitor clients' health and behaviour to ensure their well-being and safety, including assessing for signs of substance toxicity. If needed and wanted by the clients, healthcare professionals can provide treatment for illness or injury (e.g., coughing fits, burns, sores). Staff offer clients food and drink. If clients are interested, staff can also offer them naloxone training, safer drug use kits and other harm reduction education.
Staff chat with clients about any other health and social services that they might be interested in and make referrals as needed. To allow referrals to be made on their behalf, clients are asked to complete a consent for release. For example, clients can be referred to other staff at Blood Ties, such as a wellness coordinator for ongoing case management or to a housing navigator for support with housing. Healthcare providers with MWSUS can refer directly to MWSUS services offered elsewhere (e.g., rapid access counselling, withdrawal management, opioid substitution therapy). SCS staff can also refer people to other local organizations (e.g., food banks, legal aid, emergency shelter) or government services (e.g., income support). Information regarding the services, programs and/or supports that clients are referred to are recorded in the client file. 
Before the client leaves the site, they usually (although less formally) check out with staff. During this check-out, staff and clients can explore the client's plan for leaving the site. Staff can support clients to find a way home if the client is interested. Staff can also remind the client of other relevant services nearby and encourage them to return to use substances at the site in the future.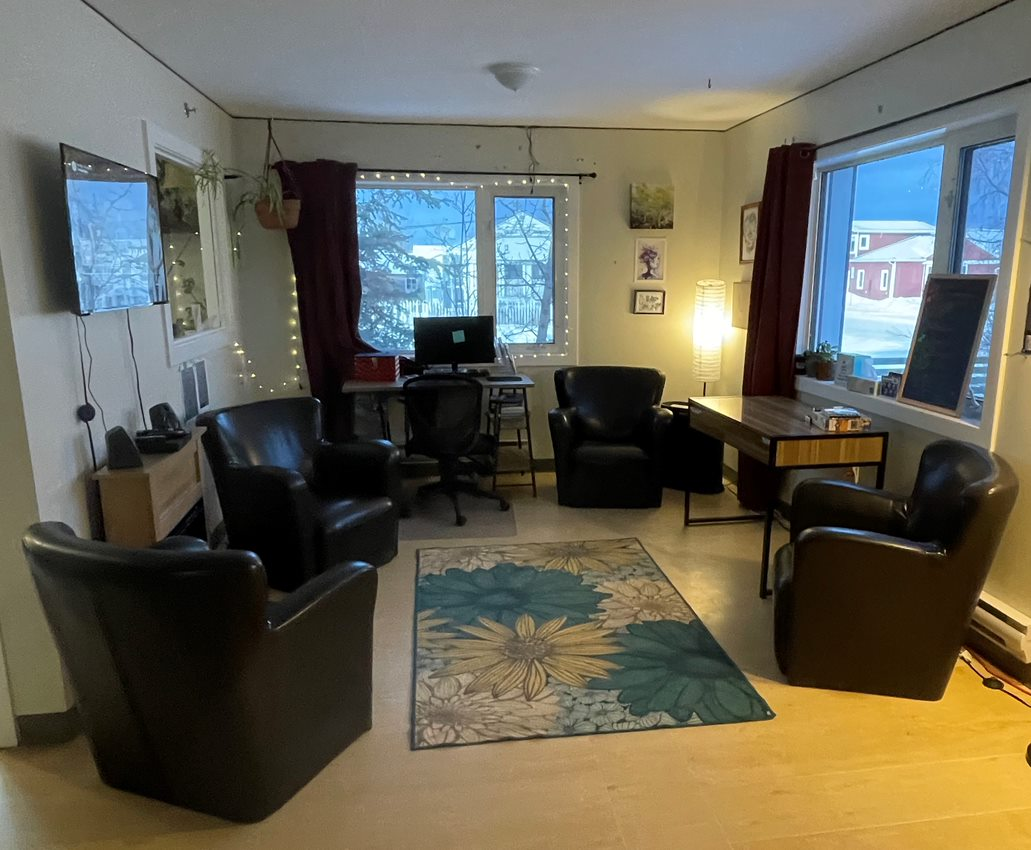 Staff training
All staff receive mandatory training that must be completed within three months of being hired. Mandatory trainings and certifications include (but are not limited to):
s

tandard first aid and cardiopulmonary resuscitation (CPR)

Transportation of Dangerous Goods certificate

cultural safety training (e.g., Yukon First Nations 101)

harm reduction training

basic life support and airway management

mental health first aid (alternative trainings may be considered)

nonviolent crisis intervention (alternative trainings may be considered)
Training in suicide intervention is recommended. Healthcare professionals also receive training in privacy and information management.
Required resources
Space, including a check-in space, consumption space (booths, inhalation room with appropriate ventilation system), equipment storage, accessible washroom, private office for drug checking and confidential conversations, and chill-out space

Detailed policy manual indicating procedures in the event of an emergency (e.g., overdose)

Safer drug use equipment (e.g., pipes, stems, foil, needles)

Sharps disposal bins

Staff

harm reduction workers

peer support workers

healthcare professionals

team lead

program manager
Evaluation
From the SCS' opening date in September 2021 to November 2022, 12 overdose reversals took place.
Between April and November 2022, the demographics of people using the SCS were as follows:
52% identified as men, 41% as women and 2% as non-binary; 4% did not disclose

66% identified as First Nations, 4% as Inuit, 1% as Metis and 13% as European ancestry; 17% did not disclose
Since harm reduction services are often less accessible to women, the SCS has tried to make the space accessible and safe for women and gender-diverse folks. The greater number of women accessing the Blood Ties SCS (41%) than other harm reduction programs may be a consequence of these efforts.
Between April and November 2022 there were:
approximately 1,751 visits to the SCS

1,171 instances of substances consumed onsite by 191 unique clients

149 new intakes

771 instances of harm reduction education or counselling

88 drug checks performed
After the opening of the inhalation room on May 30, 2022:
the number of visits to the SCS increased dramatically, from an average of 28 per month from October 2021 to May 2022 to an average of 282 visits per month from June to November 2022

the number of new intakes increased to an average of 24 per month (previously fewer than three per month)
Challenges
The high cost and low availability of rental space, the unwillingness of private landlords to allow installation of an inhalation room, staffing challenges related to the low volume of applications across the territory, and supply chain disruptions and the high demand for equipment and supplies in the territory all posed challenges as a result of the tight timeline for implementation of the SCS.

Negotiating a contract with the Yukon Government for funding the site and establishing a partnership to operate the service within a tight five-month timeline to open the service was a challenge. The process to obtain the needed exemption (through Health Canada) to operate a supervised consumption site for medical purposes required that community engagement sessions be conducted before the site was opened.

Development of extensive policies and procedures in partnership with the Yukon Government on a short timeline was also a challenge.

There were significant COVID-19 outbreaks and restrictions during this period that added additional barriers.

Getting approval from the city related to zoning by-laws resulted in delays. There was also a requirement to get an exemption to the territorial legislation prohibiting indoor smoking.

The construction of the inhalation room was delayed because of supply chain disruptions, the high demand for contractors in the territory and safety requirements for the space.

There are high levels of stigma associated with drug use in the Yukon. It was challenging to encourage people who use drugs to start accessing the site because of fear of stigma and criminalization. Building trust among people who use drugs took time.

The Whitehorse community supported the establishment of the SCS, but there were concerns from some downtown residents about the impact of the site on the neighbourhood. Education and engagement sessions were held to increase awareness about the site.

There is a healthcare provider shortage across the country, which has impacted the Yukon and resulted in difficulty hiring and retaining healthcare providers to work at the SCS.

Whitehorse has a limited number of ambulances. When they are all busy with calls, the RCMP respond to emergencies. There was one instance where this occurred at the SCS and there have been attempts by the Blood Ties team to work with emergency medical services (EMS) and the RCMP to prevent RCMP officers from responding to medical emergencies onsite and ensure that only EMS responds. EMS and the RCMP policies and procedures have been a barrier to this process.
Lessons learned 
The site was able to be opened quickly by drawing on the learnings and policies of Prairie Harm Reduction and other SCSs across the country. Redeploying staff from other program areas also allowed the site to operate while hiring for the program was underway, an approach that will also be useful for future interventions. Redeploying existing staff also meant that that SCS could build on relationships that had already been established between staff and people who use drugs in the community, and this was helpful in building trust among potential service users.

Full-time and part-time Blood Ties staff (excluding casual outreach van staff) were trained in basic life support and airway management. This allows staff to administer oxygen in response to overdoses and provide a high level of care to individuals accessing the site. Since all regular Blood Ties employees received this training, staff in other roles with the agency are able to fill in staffing gaps at the SCS.

Managing client flow through the space can be challenging because of the open configuration but this design was chosen so that the SCS could operate with a small staffing team. As a result of challenges with client flow (even with privacy screens), the check-in desk was moved to act as a divider between the consumption area and the rest of the site. Staff are exploring the installation of a fob system for the inhalation room and an additional privacy screen to increase privacy and safety for people consuming. The ventilation system is quite loud so soundproofing panels have been installed throughout the space. Playing music in the inhalation room is also helpful in managing the sound of the ventilation system running. Site configuration will be a priority in future programming. Creative solutions to space constraints have been useful in addressing challenges.

Initially, the time limit for use of the inhalation room was 20 minutes (up to 40 minutes if nobody was waiting to use the space). This resulted in long wait times to use the space. Changing to a 10-minute limit four months into the program's operation was challenging, but having a short and consistent time limit has been helpful, as has reminding individuals that they can return to the room as many times as they would like.

The co-location of the site with the majority of Blood Ties' other services has been helpful in providing wraparound services. Utilizing separate doors for different program areas has been useful in protecting the privacy of people accessing the SCS.
Program materials
Client rights and responsibilities
Safer inhalation room technical information
Contact information
Jill Aalhus, Program Manager
Blood Ties Four Directions Centre
Phone: 867-335-8265
Email: programmgr@bloodties.ca
Brontë Renwick-Shields, Executive Director
Blood Ties Four Directions Centre
Phone: 867-689-7225
Email: executivedirector@bloodties.ca