Our history
Delivering life-giving information for a quarter century
Since 1990 when the AIDS epidemic was hitting hard and people were desperate for news of any possible treatments, CATIE's key role has been to deliver the most accurate information that enables people to make informed choices about their health.
Begun as the Treatment Information Exchange (TIE) Project of Toronto-based AIDS Action Now!, we evolved to a separate organization called the Community AIDS Treatment Information Exchange (CATIE), again renamed the Canadian AIDS Treatment Information Exchange in 1999 to reflect our reach across the country. By 2009, CATIE's mandate expanded to providing both treatment and prevention information for hepatitis C as well as HIV.
CATIE proudly presents its 200th issue of TreatmentUpdate.
Read about the development of TreatmentUpdate through the years.
CATIE's 20th Anniversary
CATIE acknowledged its 20th anniversary at a special reception at The 519 Church Street Community Centre, Toronto, on November 28, 2010. It was a wonderful opportunity to reconnect with many friends and reflect on what had transpired during those two decades.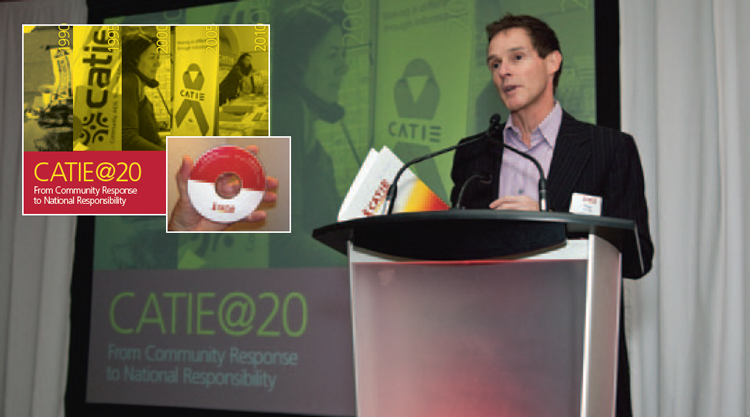 Pictured: CATIE Chair Peter Coleridge welcomes the 20th Anniversary gathering. [Photo: Maylynn Quann]
Image

Insets: CATIE @ 20, the commemorative book distributed at the event, provides historical context for CATIE's work.
See the video Answering the Call: 20 Years of CATIE and Community Response
The Positive Side turns 10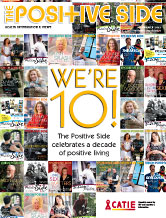 The Summer 2011 issue of The Positive Side, CATIE's magazine and e-zine written for and by people living with HIV, marked the publication's 10th anniversary. To mark this milestone, CATIE got in touch with all the people who had appeared on the cover of the magazine over that decade, compiling a 'where are they now' retrospective. Editor David McLay remarked at the time of publication: "We were delighted to learn that the majority are surviving and thriving and were eager to fill us in on what they've been up to. Their mini interviews reveal that HIV is only one part of life — as it should be. Perhaps as a testament to the great strides we all have made in fighting the virus, 24 of the cover folk are still here to celebrate with us."
Listen to the Editor-In-Chief's interview on Proud FM about The Positive Side's 10th anniversary
CATIE Awards and Recognition
CATIE is greatly honoured to have been recognized for its work.
CAAN honours CATIE with 2014 Award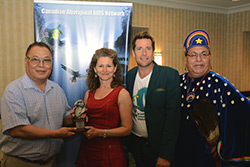 Pictured (from left): CAAN Chief Executive Officer Ken Clement; CATIE Executive Director Laurie Edmiston; Trevor Stratton, APHA Liaison for CAAN and CATIE Board member; and Peetanacoot Nenakawekapo, member on both organizations' Board of Directors.
At a gala ceremony held in Toronto July 3, 2014, the Canadian Aboriginal AIDS Network (CAAN) awarded CATIE its 2014 Social, Political and Community Award.
The award recognizes CATIE's "dedication, passion, leadership and commitment to the Aboriginal AIDS movement in Canada." CATIE greatly appreciates the long-standing partnership with CAAN and thanks the organization for this honour.
CAHR Red Ribbon Award
Image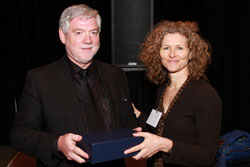 CATIE Executive Director Laurie Edmiston receives the Red Ribbon from CAHR President Dr. Bill Cameron
Photo: Edmund VanZyl
CATIE is the recipient of the 2011 Red Ribbon Award that acknowledges those who have given outstanding service to the cause of research in a way that has increased understanding of the treatment and prevention of HIV/AIDS. Presented by the Canadian Association for HIV Research (CAHR) at its annual conference last May, this is the first year the award has honoured an organization.
In presenting the award, CAHR President Dr. Bill Cameron said: "On the occasion of CAHR's 20th anniversary, we recognize the staff and volunteers of CATIE. Since the beginning they have always played a critical role in building bridges between research and people affected by HIV/AIDS."
"Driven originally by the need to uncover new information about life-saving medicines, CATIE has evolved over the years into a world leader in the translation of complex research findings into plain language information and in the dissemination of that information throughout Canada and beyond," adds Bob O'Neill, CAHR Executive Director.
"We are delighted to share this award with the many staff, board and volunteers who have assisted CATIE to strive for excellence in HIV and HCV knowledge exchange," says Laurie Edmiston, Executive Director of CATIE . "In particular, I want to thank the clinicians and HIV researchers who provide pro bono expert review for us, and the many PHAs who contribute their writing skills, design work, expert review, and their stories."