What is the program?
The Locker Program is run by the Northern Health Region in Flin Flon, Manitoba. The program uses lockers located outside of the Primary Health Care Centre (PHCC) to distribute harm reduction supplies, to collect and dispose of used needles and to provide educational and other resources to community members who use drugs. The lockers provide an option for harm reduction supply distribution in addition to distribution through the PHCC, enabling clients to pick up supplies after hours. The lockers also make supply distribution more private as individuals only have to enter the PHCC once to be assigned a locker.
A working group of peers decided how the Locker Program would be set up. The program is run by PHCC staff and peers who create kits, stock the lockers and develop and distribute educational materials.
The program started with a grant from the Public Health Agency of Canada and is now being funded by the Northern Health Region in Manitoba.
Why was the program developed?

 
The Locker Program was created to increase access to harm reduction supplies in a rural area of Manitoba. In 2019, the Flin Flon Peer Working Group (FFPWG) was created to review and prioritize data, as well as participate in the planning and implementation of actions related to harm reduction. During FFPWG meetings, discussions focused on five priority actions that the group felt would benefit their community. The top five priorities the group chose to work on were:
increased access to harm reduction supplies

community needle cleanup

developing peer-to-peer educational materials

the potential for a safe consumption site

the potential for drug testing
The Locker Program was designed to address the need for increased access to harm reduction supplies. The FFPWG determined that lockers could be effective because they:
provide another option for harm reduction supply distribution in the community

are convenient to access (e.g., after hours) and are low barrier

are private enough that people would feel comfortable using them

are suited to the climate and are easy to use and to maintain (other approaches such as vending machines were considered but it was determined they may not lend themselves to the climate)

keep the distribution of supplies free (no money or tokens required)

can be fitted with a sharps bin to dispose of used needles and therefore offer an additional needle disposal option
How does the program work?

 
The lockers are maintained by the PHCC and provide access to harm reduction supplies upon the request of individuals. If a person is interested in gaining access to a locker, they get in touch with a PHCC staff member (e.g., community health worker, community developer, administrative staff) by coming into the PHCC building. The staff then assign the participant a locker and provide them with a key. Keys are small, generic and unmarked, which helps to maintain privacy. A "rules for use" slip is reviewed with each person when lockers are assigned and includes information on what the lockers are used for (e.g., the distribution of supplies, returning used needles, notes to PHCC staff), how to get in touch with a member of staff if needed, the fact that the lockers are confidential, and the fact that no drugs should be left in the lockers at any time. See the "rules for use" slip in the program materials section for more information.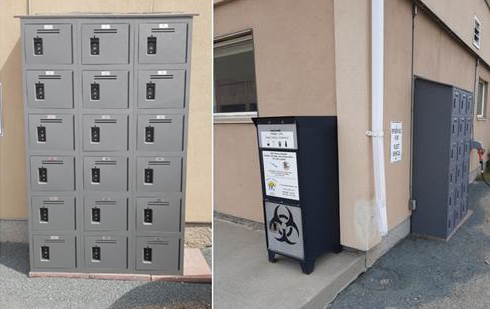 When individuals are assigned a locker, they complete an "items needed" slip to indicate to staff which supplies they would like placed in their locker and how many they would like of each. Staff also show people where the lockers are and practise using the key to ensure it works.
The lockers are restocked Tuesdays and Fridays by 4:30 pm by PHCC staff on the basis of the "items needed" slip. A numbered, shoebox-sized plastic container helps staff to organize the restocking. A paper pad and pen are provided to enable participants to change the items they receive at any time, by leaving a note in their locker for PHCC staff.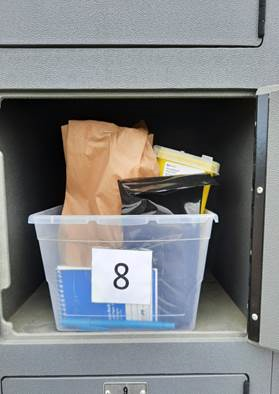 Supplies available through the lockers include:
complete injection kit (20 needles, cotton, sterile water, cooker, spoon, tourniquet, alcohol swabs)

needle and alcohol swabs only (20 in a bundle)

crack kits (including straight pipes and screen)

bowl pipe kits

straight pipe (crack)

bowl pipe (crystal meth)

sharps containers (large or small)

other supplies as requested (e.g., screens)

Additional supplies can be provided through the lockers to support those who are doing secondary, or peer, distribution within their community. People are allowed to share their keys with others if they choose to, which can also help with secondary distribution.
Once a month a peer comes to the PHCC and makes 120 to 200 needle kits, as well as packing other supplies as needed (e.g., bowl pipe kits) that are used to stock the lockers. The peer is paid for their time with an honorarium. PHCC staff assign lockers, distribute keys, stock lockers, track supply distribution, clean out lockers that are no longer being used and reassign lockers. PHCC staff can also assist with making kits throughout the month as needed.
In addition to increasing the distribution of supplies, the lockers can also be used to share educational materials (e.g., bad drug alerts, information on choosing a safer injection site, reminders about proper disposal of needles) and other resources and information (e.g., information on local community events, overdose awareness clinics, where to go for COVID-19 vaccines). The FFPWG created educational inserts that are included in all harm reduction supply kits. The inserts include information on:
how and why to use tubing or mouthpieces

how to prevent a broken pipe

how to clean a pipe

tips for using bowl pipes

tips for using straight pipes

preventing overdose and where to get a naloxone kit

signs of an overdose

what to do if someone overdoses

where to dispose needles in the community
Personal care kits (i.e., kits containing razors, nail clippers, toothbrushes and lip balm) that are donated by the Play It Safer Network, a community-based harm reduction working group made up of service providers and peers, are also distributed through the lockers approximately once a year.
The lockers can also be used to help to build comfort and trust between individuals and PHCC staff and can be a way to encourage people to engage with different services at the PHCC as needed.
In the future, the intent is to find the funds to support two or three peers to take on a larger role in the program that includes assigning lockers, distributing keys, restocking, tracking supply distribution, cleaning out lockers that are no longer in use and reassigning lockers as needed. Some of the peers have expressed interest in a larger role, but sustainable funding would be required to facilitate this.
Required resources

 
Lockers and keys

Numbered shoebox-sized plastic boxes

Outdoor space to place lockers

Harm reduction supplies

Sharps disposal containers

Notepad (or paper) and pen to enable participants to leave notes to communicate with PHCC staff

"Items needed" slips

"Rules for use" slips

Staff and/or peers to restock lockers, organize supplies and create supply kits, as well as answer participants' questions or requests for information
Evaluation
In year one of the program (2020–2021), 195 lockers were filled with supplies that included 419 complete injection kits, 396 crack kits (including straight pipes and screens), 41 bowl pipe kits, 80 sharps containers, 92 bundles of needles and alcohol swabs and 99 other supplies (e.g., alcohol swab packs, screens). In year 2 (2021–2022), 140 lockers were filled with supplies that included 423 complete injection kits, 316 crack kits (including straight pipes and screens), 41 bowl pipe kits, 27 sharps containers, 20 bundles of needles and alcohol swabs and 7 other supplies (e.g., alcohol swab packs, screens).
The local emergency department now gets restocked with harm reduction supplies weekly and community members have reported that their comfort in accessing supplies there has increased. This may partly explain the change in locker use in year two of the program.
Challenges
Loss of keys can be an issue. If a participant loses their key, they have to visit the PHCC during regular business hours to obtain another. However, i

n the two years that the locker program has been operating, there have only been a couple of instances of key loss that required replacement.

Keeping up with the demand for kits and supplies takes planning and requires dedicated time.

Weather and snow/ice removal can be a challenge — the placement of the lockers is important. Snow build up in the parking lot around the lockers blocked access to some of the individual locker units in the past.
Lessons learned 
Offering many different methods of distribution increases access by supporting people to use the distribution method with which they feel most comfortable.

During the first year and a half of the pandemic, accessing supplies without having to enter a building became even more important for some. The lockers turned out to be helpful in a way we hadn't imagined during planning.

Initially a peer was engaged with locker assignment and key distribution, but it became a confusing process as the peer worked minimal hours. Currently, only PHCC staff assign and stock lockers, as there are always PHCC staff present on site during regular business hours.
Program materials

 
Contact information

 
Colleen Tower, BA, RSW, CTE
Tobacco Reduction Coordinator/Community Health Developer
Northern Health Region
Primary Health Care Centre – Flin Flon
1 North Ave.
Flin Flon MB  R8A 1V9
Email: ctower@nrha.ca
Website:  www.northernhealthregion.ca