What is the program?

 
The Mobile Outreach Street Health (MOSH) clinic is a mobile clinic that provides low-barrier, accessible healthcare for homeless and at-risk populations in the Halifax area in Nova Scotia. The clinic is based in a large van that has been custom fitted with medical equipment. The clinic's medical staff can offer comprehensive healthcare services, including primary care and sexual health, HIV and hepatitis C care.
The MOSH clinic staff meet clients at scheduled drop-in locations at partner community agencies around the city. They also travel almost anywhere in the city to meet people for appointments, including on the street. The MOSH clinic is critical to bringing flexible, low-barrier care to marginalized communities. The mobile clinic offers a safe, accessible alternative for individuals who face social and structural barriers to accessing mainstream healthcare and would not otherwise be able to receive care.
The mobile clinic is part of a larger MOSH program at the North End Community Health Centre that also provide services at a fixed-site clinic that includes occupational therapy, health case management and housing support services.
Why was the program developed?

 
The MOSH clinic started in 2009 in recognition that Halifax lacked primary healthcare services for people who were experiencing homelessness, who were at risk of homelessness or who were street involved. Access to the existing healthcare system was difficult and even impossible for many people living on the margins. The intention was to create a service that meets people where they are at — literally and figuratively.
In 2009, the Nova Scotia Health Authority provided funding for an initial three-year pilot program based out of the North End Community Health Centre. A one-time donation from an industry partner allowed MOSH to retrofit a minivan into a mobile clinic, and this partner also provided some additional funds to support the initial operation of the program and vehicle.

The MOSH clinic was envisioned to be a collaborative, community-led initiative. MOSH worked with over a dozen community organizations to offer regular drop-in times for the mobile clinic around the city. The goal was to bring care to people and integrate it into services and settings that people are already familiar with.
The MOSH clinic started with outreach nurses and some part-time staff (e.g., occupational therapist), with a limited number of physician hours. Staffing has since grown to include a full-time nurse practitioner and additional physicians. In 2017, the program grew to include a fixed-site clinic at the community health centre. This offers access to additional clinical staff for clients and for the program to serve more people, particularly those who are ready to seek more routine care. A larger van with additional medical equipment was obtained in 2019 through an industry sponsorship. This has enabled the MOSH clinic to expand the range of services it offers.

How does the program work?

 
The MOSH clinic provides accessible primary healthcare services for people who are experiencing homelessness, are insecurely housed, are street involved or are otherwise underserved in the Halifax and Dartmouth area. The MOSH team is a collaborative primary healthcare team, consisting of outreach nurses, an outreach nurse practitioner, an occupational therapist, physicians, a health case manager and administrative support staff.
MOSH aims to meet people in spaces where they feel safe and can offer a wide range of primary healthcare to them through the mobile clinic van. The program prioritizes establishing relationships and building trust as a means to improve people's health outcomes.
The mobile health clinic van
The program uses a large cargo van that was custom designed to be a mobile clinic and is set up to provide a wide range of primary care services. The mobile clinic includes a patient reception and counselling area that can be accessed via the side door of the van. This section is used for vaccination and blood work, education, counselling and provision of harm reduction supplies or as a waiting area for clients.
The back of the mobile clinic has a larger examination room, complete with an examination table and a workstation for a nurse or physician. This part of the van is used for examinations or procedures that require the patient to be lying down, such as a pelvic exam. The van is equipped with Internet service so that providers can access electronic medical records to retrieve and collect client health information, creating better continuity of care.

The MOSH clinic operates Monday to Friday, visiting a number of community locations. This enables the team to meet clients "where they are," including at partner community organizations or on the streets of Halifax and Dartmouth. The MOSH clinic has a regular schedule of locations it travels to, so that clients can rely on the van being at a certain spot on a given day. The clinic will also travel to any location in this area for appointments or upon request. Regularly scheduled locations include:
harm reduction services

shelters

drop-in centres and meal programs

transition houses for people involved in the criminal justice system

other community organizations

outdoor street outreach locations
Accessing MOSH clinic services
Clients find out about MOSH clinic services online, through referral from other community organizations and by word of mouth from other community members.
Patients can access services by requesting an appointment through the centralized phone line, visiting the van at a scheduled drop-in location or even flagging the van down in the street. Community organizations can also make referrals on behalf of patients. The MOSH team has a centralized cellphone that clients can call or send messages to if they wish to get in touch with MOSH staff. The MOSH clinic will drive to meet people almost anywhere in the city, whether it's a street corner, the client's apartment, a tent or a shelter.
Unless an appointment has been scheduled in advance, services are available on a "first come" basis. MOSH staff strive to make care flexible and approachable, and they are focused on first establishing trust with the client. Clients can walk up to the van and tell staff what they need, and the staff will figure out the best way to provide care or support the client in the moment or provide a referral if they can't address the issue in the van.
Appointments generally do not have a time limit, and staff will work with people until their issues are addressed. Staff will not turn away clients, and they strive to see everyone who is waiting to receive care. People waiting to use the clinic have access to the van's Wi-Fi and can also charge their devices in the van while they wait.
If follow-up appointments or referrals are needed, these are generally arranged at the end of the appointment. In other cases, the health case manager can follow up by phone or messages can be delivered to clients via their local pharmacies (particularly if they are on a daily or routinely dispensed medication). If referrals to an external provider are needed, a health case manager works with the client to remind them of the appointment and can even attend with them if needed.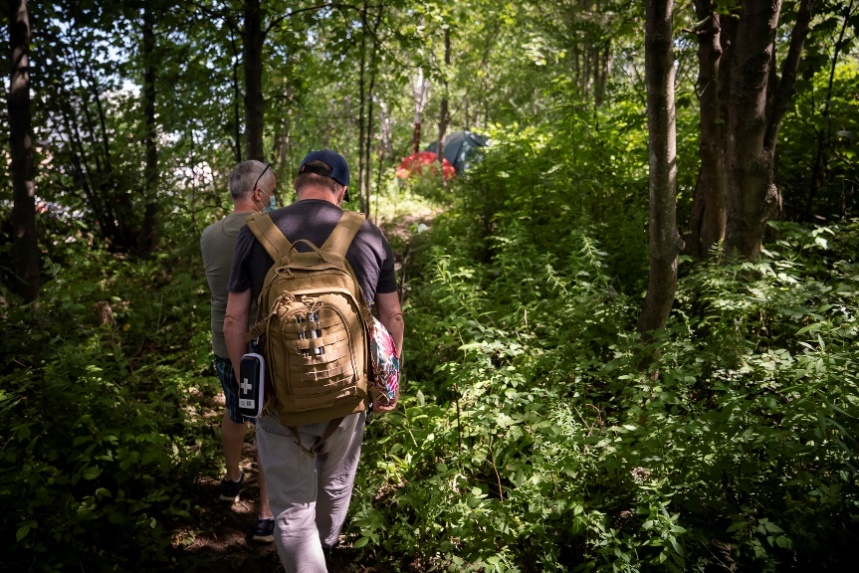 Healthcare services
The van provides a wide range of primary care services and can offer most of the same services as a physician or nurse practitioner's office. Services include:
primary care

, including blood work, wound care and vaccinations

services for people who use drugs

, including harm reduction supplies, vein care and support for substance use treatment

sexual health services,

including Pap tests, birth control, condoms, emergency contraception, testing for sexually transmitted infections and pregnancy testing

HIV and hepatitis C testing

, including treatment support

advice and support

with managing chronic diseases (e.g., diabetes, heart diseases), help with medication and other health education

social services

including supporting income assistance applications and health card applications, and support for housing

referrals

to other health services, including dental and vision care

COVID-19 testing and vaccination
The MOSH program also offers occupational therapy services (e.g., addressing obstacles to daily living, prescribing adaptive equipment) and health case management services (e.g., health-related paperwork, patient support during appointments).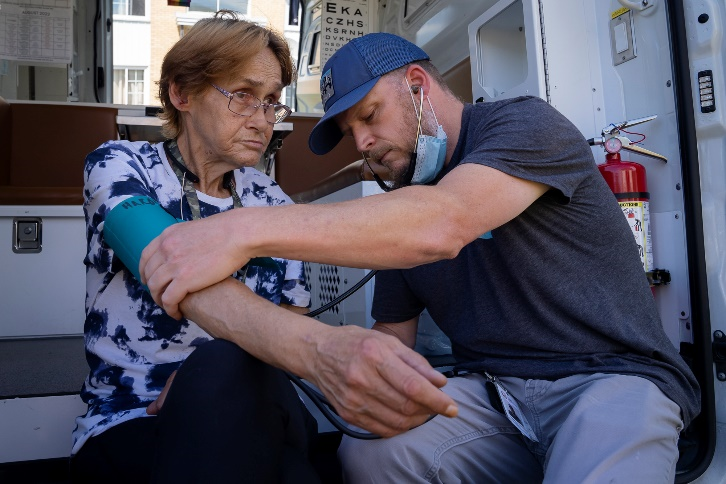 Hepatitis C care
The MOSH clinic offers hepatitis C testing and treatment services. For people who are actively using drugs, the clinic recommends testing every three to six months. Nurses can offer a rapid, point-of-care test and can also perform blood draws and deliver them to the local lab. Tests can be performed in the van or in a community space (e.g., a client's apartment).
For people beginning treatment, MOSH nurse practitioners or physicians can perform all assessments and can prescribe treatment in either the van or the fixed-site clinic. Treatment can be dispensed at any pharmacy chosen by the client. If a patient is already on another daily dispensed medication, hepatitis C treatment is dispensed alongside that. Otherwise, medication is dispensed on a weekly or monthly basis on the basis of the client's needs.
MOSH providers attempt to get sustained virologic response (SVR) blood work after 12 weeks; however, they recognize some patients may be lost to follow-up. If a person has cirrhosis, they receive yearly blood work and ultrasounds following successful cure. Otherwise, clients are provided regular reminders for testing every three to six months, particularly if they are actively using drugs.
HIV care
The MOSH clinic offers support for HIV testing and treatment. Testing can be requested anytime on the van. It is usually done through blood draws, and sometimes through rapid, point-of-care testing, depending on availability. A targeted testing blitz is also done three or four times per year, where the mobile clinic sets up an advertised event in the community.
For clients who receive a positive result, post-testing counselling is done on the van with nursing staff. These clients are referred to hospital-based infectious disease specialists, who either meet with the individual at the hospital or hold periodic clinic days at the MOSH fixed-site clinic. The MOSH team supports treatment by obtaining any necessary additional blood work through the mobile or fixed-site clinic and arranges dispensing of HIV medication. The MOSH team also links clients to other community HIV services, such as the AIDS Coalition of Nova Scotia, as well as providing referrals to peer support services.
Pre- and post-exposure prophylaxis (PrEP and PEP) are both available at the mobile clinic; however, accessing coverage for clients through public healthcare remains a barrier.
Staffing
Outreach registered nurses: primarily staff the van and visit all outreach locations. They conduct triage and intake for all clients and provide basic primary care and services.
Outreach nurse practitioner: co-staffs the van on a number of scheduled outreach visits, to provide prescriptions and other advanced care in the moment, recognizing that many clients will not be able to make a follow-up appointment elsewhere.
Physicians: work in the fixed-site clinic and can offer support for clients who are seeking routine, low-barrier harm reduction or primary care at the community health centre. They can take referrals from the mobile clinic if needed.
Health case manager: responds to requests on the MOSH central phone line and provides health navigation services including organizing and attending appointments, creating care plans and completing client paperwork.
Administrative and operational support staff: support overall program operation and greet and support clients in the waiting room at the fixed-site clinic.

Program manager:

provides leadership support to the service delivery team through community and funder partnerships, collaboration with other programs and managing issues within the program.
Required resources 
Outreach registered nurses

Outreach nurse practitioner

Physicians

Health case manager

Administrative and operational support staff

Program manager

Mobile health clinic van

Medical and harm reduction supplies

Community partners and sites
Evaluation
The MOSH clinic typically has over 250 nursing and nurse practitioner encounters per month.
In an evaluation in 2021, 22 clients of the MOSH clinic were interviewed to get their perspectives on the program:
100% of interviewed clients rated their experience of accessing care as "easy to find" and "they came to me". This included people accessing MOSH clinic services at shelters, drop-in centres and encampments.

22% of interviewed clients stated that without the MOSH clinic they would not have accessed any healthcare. A further 22% would have accessed care at a hospital emergency department instead.

90% "felt [their] needs were heard and responded to in a complete way" by the MOSH team.
90% agreed that "my life experience was considered and I felt respected"
81% "felt like they made efforts to build a relationship with me and understand my needs"

81% of interviewed clients agreed that the MOSH clinic "had all the resources to meet my needs". Clients who reported that the MOSH clinic did not meet their needs often required prescription medication or access to a more specialized healthcare provider.
Challenges
Limited resources:

The housing crisis, toxic drug crisis and lack of health services mean there is an extremely high demand for MOSH clinic services. The program continues to grow to meet urgent needs; however, the program has only limited capacity and there are still many people in the city who are not being reached by their services.

Systems-level barriers:

Several aspects of homelessness and health involve complex interactions between various government departments and agencies in health, justice, housing and social services. Numerous community organizations are also involved in these aspects. Rigid policies and siloed communication can create major barriers for MOSH providers and their clients in addressing basic needs such as healthcare coverage, shelter and social assistance programs.

Demonstrating the impact of the program:

It is often difficult to capture and demonstrate the success of MOSH's program to funders, particularly in the case of justifying additional budget or staffing. The program serves a unique population with complex care needs and uses a low-barrier, client-centred approach. Traditional healthcare evaluation metrics do not necessarily portray the success of this work. During the COVID-19 pandemic, the program gained more public recognition owing to its unique program model; however, this continues to be a challenge.

COVID-19's impact on partner engagement:

Before the pandemic, the MOSH clinic was very successful in bringing community partners together; they were often in contact with other agencies daily. Due to the loss of over two years of face-to-face time and the pandemic's impact on other organizations, this network has been eroded and the MOSH clinic staff are feeling more isolated in their work.
Lessons learned 
Building relationships:

From the beginning, the MOSH clinic's success has been built on relationships. This includes both collaborations with community partners and encounters with clients. With clients, MOSH providers prioritize the relationship over rushing care, knowing it is crucial to build trust with clients long-term. This differentiates the program from most mainstream healthcare and means that clients are more likely to engage in care.

Harm reduction approach

: A harm reduction approach is integrated into all of MOSH's work. This is more than just provision of clean supplies, but rather providing non-judgmental, supportive care that meets the needs of an individual, no matter where they are currently in life.

Consistency:

Many MOSH clients experience significant chaos and unpredictability in their lives. MOSH has found that offering consistent, regular services can provide an element of stability and reliability and improve access to care. This includes both consistency in the care that is provided across MOSH providers and in the reliable scheduling of mobile clinic locations.

Courage

: The work MOSH providers undertake requires courage and passion. The team often works with clients with complex health issues, which are exacerbated by stigma, criminalization and marginalization. The work often requires them to be outside in bad weather and to do outreach in precarious locations. Clinically, they are also pushing boundaries, including new practices such as safer supply. By shouldering these risks and remaining resilient, the staff of the MOSH clinic are able to remain responsive to the needs of their community.
Program materials

 
Contact information

 
Becky Marval, OT (Reg.N.S.), MOSH Manager
North End Community Health Centre
Email: moshlead@nechc.com
Telephone: 902 802 9696