What is the Program?

Harm reduction dispensing units (HRDUs) are machines that distribute safer drug use supplies (e.g., sterile needles, pipes). The objectives of the HRDUs are to increase access to harm reduction materials and to reduce the sharing and reuse of supplies among people who use drugs, which can lead to a decrease in HIV and hepatitis C infections. HRDUs are not meant to replace frontline services, but rather to augment them by providing access to drug use equipment after hours. Ottawa Public Health coordinates the HRDU program in Ottawa, which complements the harm reduction services offered by several community-based health organizations.
Why Was the Program Developed?
A Harm Reduction Needs Assessment Forum was held in February 2014. Participants at the forum included harm reduction partners, people who work in mental health, addictions and treatment, those with lived experience, housing and shelter services and law enforcement. There was an identified need to have increased access to harm reduction supplies in Ottawa and 24-hour access was identified as a priority. Following this meeting there was significant community mobilization around increasing awareness of harm reduction services.
In 2016, the Ottawa Board of Health approved options to expand access to harm reduction services in the community, including the use of HRDUs to expand after-hours access. Ottawa Public Health looked at the use of HRDUs in other jurisdictions and found that similar approaches are used in Vancouver, as well as in parts of Europe and Australia, to expand access to safer drug injection and inhalation supplies.
Following this, Ottawa Public Health launched a consultation survey in the summer 2016 that was shared through a variety of mechanisms in the community. Groups that were consulted included residents, those that provide harm reduction services, service users, community health practitioners, businesses and other community stakeholders. Results indicated that 62% of respondents thought that the HRDU would be beneficial to the community (see report).
The pilot program launched in September 2017, the same time that a number of other local harm reduction service enhancements were initiated including supervised injection services.
How Does the Program Work?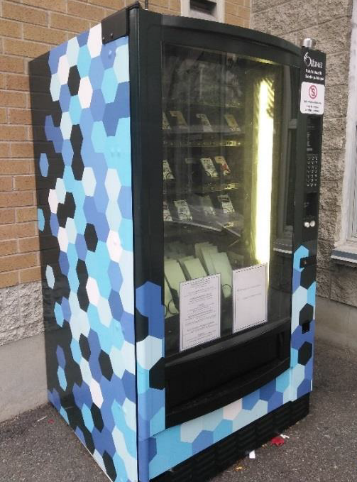 Harm reduction dispensing unit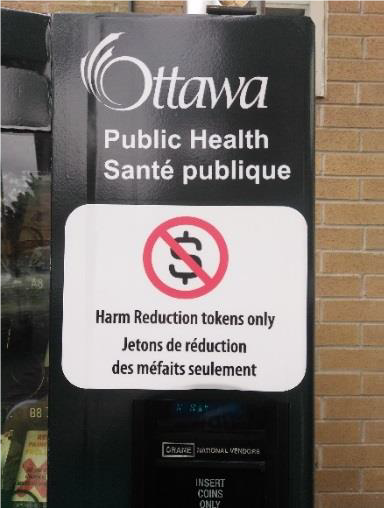 Signage on the HRDU
Harm reduction dispensing units provide pre-packaged supplies to people who are looking for safer injection supplies and/or safer inhalation supplies. The HRDUs are available 24 hours a day and make supplies available when face-to-face services are closed.
The dispensing units are refurbished machines and contain enhanced security features such as heavy-duty Plexiglas fronts reinforced with bars, and padlocks to prevent break-ins. The unit can have a dedicated and locked power supply and is bolted to the ground or building. Machines are located outdoors in well-lit areas and have compressors that prevent supplies from overheating in the summer and freezing in the winter. The machines can function in the snow and the rain with some maintenance (e.g., snow removal in the winter).
The supplies in the HRDUs are free, but they require a token for access. Tokens are obtained from needle and syringe program staff at participating community health centres or the Ottawa Public Health needle and syringe program during harm reduction program hours. This approach helps to ensure that people accessing supplies through the units have contact with harm reduction program staff. When clients request a token they receive education about safer drug use and safe equipment disposal and information about other health, social and treatment services that are available to them. Once a client uses their token to obtain equipment from the HRDU, they receive an extra token inside their supplies for subsequent use. Information on what is available in the package as well as where to get additional supplies or harm reduction services is found on a menu on the Plexiglas front of the HRDU.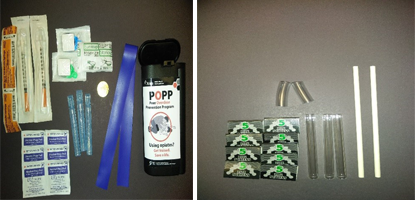 Content of safer injection (fit-paks) and safer inhalation kits
Safer injection supplies are packaged in a small biohazard container called a fit-pak. Fit-paks have two sides, one to hold unused supplies and the other to hold used needles. Inside the safer injection kit there are three sterile needles, three sterile waters, three cookers, six alcohol swabs and one tourniquet. Safer inhalation kits are packed in baggies and include three glass stems, nine brass screens, two mouthpieces and two push sticks.
The HRDUs are currently in four locations in Ottawa:
Ottawa Public Health's Site Needle & Syringe Program – 179 Clarence Street
Sandy Hill Community Health Centre – 221 Nelson Street
Somerset West Community Health Centre – 55 Eccles Street
Carlington Community Health Centre – 900 Merivale Road
Staff at these agencies are trained to operate the HRDUs and are responsible for preparing the kits and for reporting any issues they are experiencing with the units. The HRDUs are monitored by agency staff who ensure that they are stocked and are in working order. All HRDUs are placed beside an outdoor needle drop-off box, which allows for 24-hour safe disposal of needles and inhalation supplies.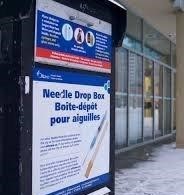 Needle drop-off box located next to a HRDU
Required Resources
HRDU (refurbished or new, depending on available budget)
Harm reduction supplies (e.g., safer injection and safer inhalation kits)
Harm reduction staff to distribute tokens, monitor HRDUs and surrounding areas for drug paraphernalia and educate clients
Community consultation and support
Challenges
HRDUs require maintenance (e.g., vandalism prevention, access to a power source). Organizations have found that the HRDU power source was being used by community members (e.g., to charge phones) and have addressed this issue by using a locked power source to ensure continual power to the HRDU or by placing the power source behind the bolted-down unit. Graffiti wipes have been successfully used when needed and there have been only a few instances of minor vandalism.
Tokens are sometimes diverted (e.g., used as change, used as bus fare). This can be addressed by using coloured tokens, although the cost is somewhat higher. Clients have reported losing tokens and there have been requests for more token access points.
The packaging used in the HRDU is nondescript and it has been suggested that providing more information on harm reduction on the machine could be beneficial.
Evaluation
Available data on the first few months of the program (September 2017 to December 2017) indicate:
1,114 service encounters
1,932 needles out
1,410 stems out
Available data from January 2018 to December 2018 indicate:
3,455 service encounters
5,169 needles out
5,628 stems out
A formal evaluation of the program is currently underway and data is being collected from service users as well as the sites that have HRDUs.
The survey for service providers is gathering information on:
promotion of the HRDUs in their organization
whether the HRDU program has affected their workload
if they are seeing fewer people in harm reduction programs
community complaints
The survey for service users is gathering information on:
use of the HRDUs and related harm reduction programs
the type of supplies that are available in the machines
when the HRDUs are being used
how service users heard about the HRDUs
Lessons Learned
Training for program staff/peers on how to operate the HRDU is an essential part of the program. This includes training on how to operate and maintain the machines to ensure their continual function.
There are some inconsistencies in reporting due to varying numbers of supplies being offered through each of the HRDUs (e.g., different numbers of stems in each kit). Having a consistent "menu" of services is useful for reporting purposes; however, allowing organizations the flexibility to provide supplies that are specifically needed in the communities that they serve is also important. Clarity around reporting is an important issue to consider.
Refurbished machines are an option, although they sometimes need to be retrofitted, which can be an extra cost and take added time. If the funds are available, a new machine may be preferred. Units can range in cost from roughly $4,000 (refurbished) to $10,000 (new). 
Information on what is available in each of the fit-paks/kits, as well as places where service users can access additional harm reduction services, is currently located on the front of the HRDUs. Including information on where to seek services on a card inside of each package may also be beneficial to service users.
Program Materials
Contact Information
Allan Dykstra
Ottawa Public Health
179 Clarence Street
Ottawa, ON  K1N 5P7