World Hepatitis Day
Image

Contents
CATIE acknowledges World Hepatitis Day in Canada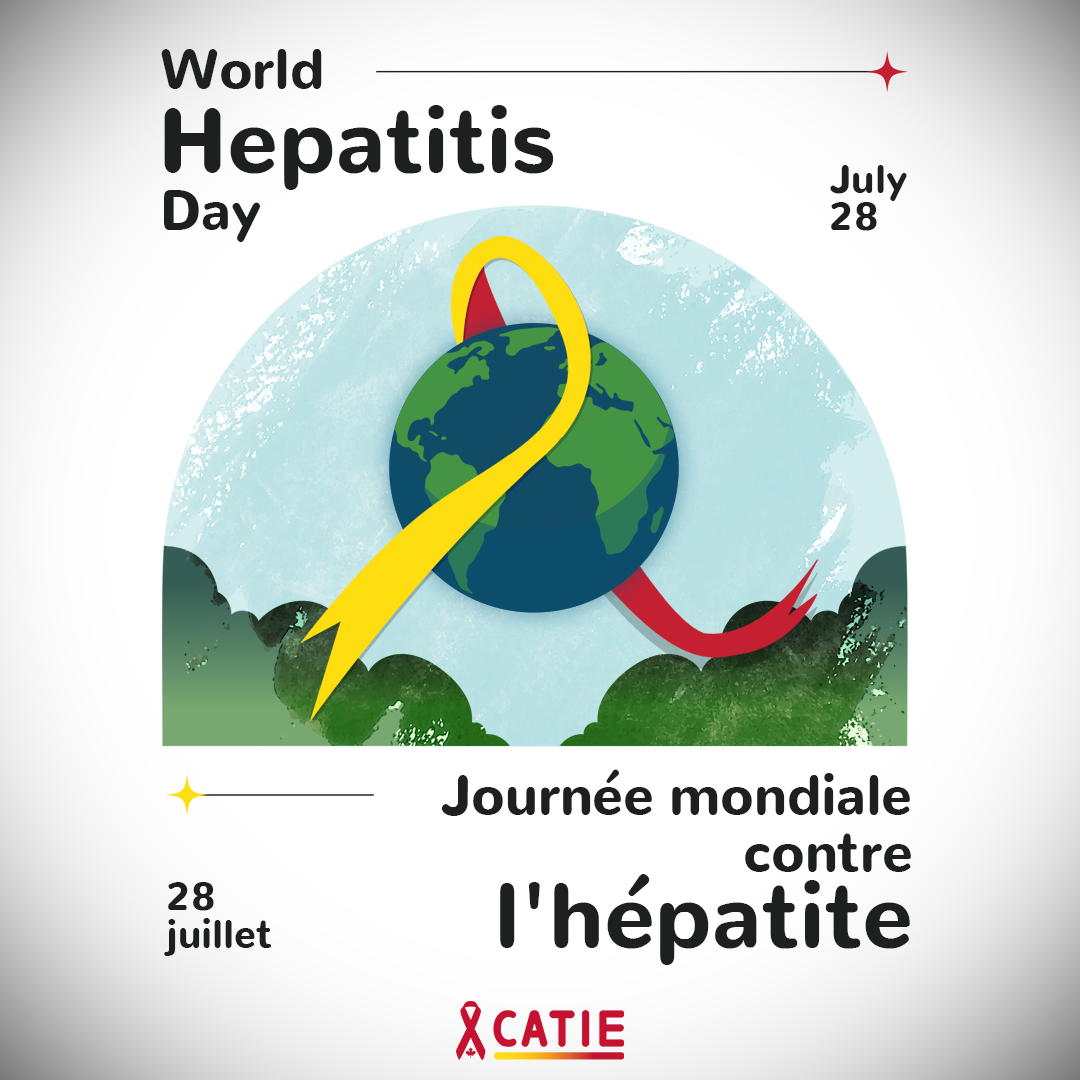 On July 28, 2023, people around the world will acknowledge World Hepatitis Day in an effort to raise awareness about viral hepatitis and the global effort to eliminate it. This page includes resources to help you spread the word about viral hepatitis elimination, access new information and keep up to date on emerging issues in hepatitis C.
World Hepatitis Day digital toolkit
Are you looking for images, videos and sample messaging to promote #WorldHepatitisDay in your organization's or network's email newsletters or social media channels? CATIE has created a toolkit with downloadable multimedia files. Check it out.
Share hepatitis C key messages
Spread these key messages about hepatitis C prevention, transmission, testing and treatment on World Hepatitis Day by sharing posters, postcards and videos. Click each message to find out more!

Learn more about hepatitis C
Five Common Questions About Hepatitis C
What is hepatitis C exactly? Can it be cured? This captivating animated video dispels myths and misconceptions regarding hepatitis C prevention, testing and treatment by responding to five common questions about the virus.
Hepatitis C Basics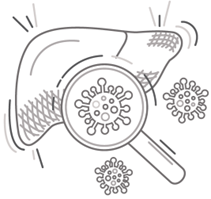 Visit this webpage to learn about the basics of hepatitis C transmission, prevention, testing and treatment.
---
eduCATIE.ca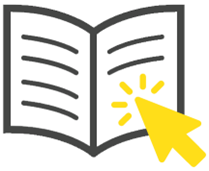 CATIE offers online self-directed learning to build knowledge of hepatitis C science and practice.
These courses are designed to enable service providers to learn on their own time and at their own pace. All participants receive a certificate of completion. Go to eduCATIE.ca to take a course!
Instructor-led course about hepatitis C treatment
From October 16 to November 17, 2023, CATIE is facilitating a free online course for frontline service providers across Canada on the benefits of treatment and an overview of what treatment for hepatitis C typically includes. Find out more and register.
Hepatitis C in Canada: What do the data tell us?
In preparation for World Hepatitis Day, CATIE hosted a webinar with a panel discussion on reigniting efforts to eliminate hepatitis C in Canada and showcased new Canadian hepatitis C estimates released by the Public Health Agency of Canada. These estimates, based on 2019 data, shed light on Canada's progress towards achieving 2030 targets for hepatitis C prevention, testing and treatment. The panel discussion offered reflections on how to interpret this new data and explored what actions are needed to eliminate hepatitis C as a public health threat by 2030, a goal set by the World Health Organization and endorsed by Canada.
This webinar is presented in partnership with the Canadian Network on Hepatitis C (CanHepC) and the Public Health Agency of Canada. Find out more.
Watch and share the new Connecting with Care films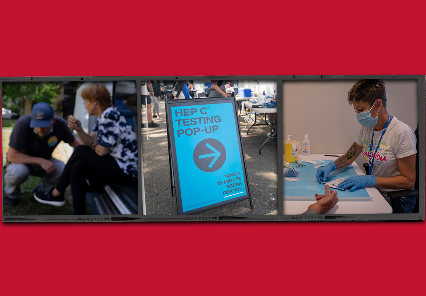 This year, the International Network on Health and Hepatitis in Substance Users (INHSU) has launched three new films as part of its Connecting with Care series.
These films showcase innovative models of hepatitis C care from various Canadian provinces, highlighting remarkable healthcare initiatives and their impact on the health and well-being of people who use drugs and people living with viral hepatitis:

 
Get free resources delivered from the CATIE Ordering Centre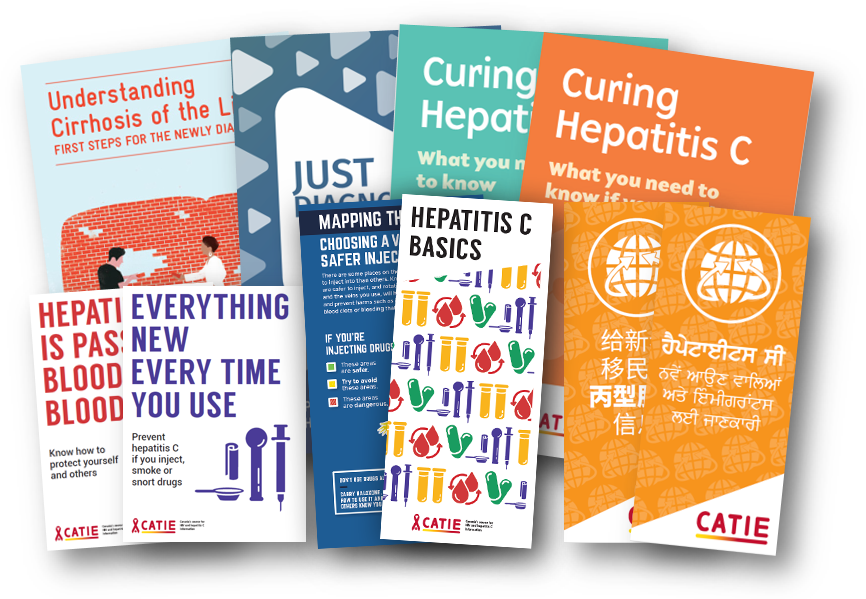 CATIE delivers booklets, brochures, posters and other print resources on hepatitis C free of charge to service providers across Canada. We've recommended some resources for World Hepatitis Day. Please order by July 14 to ensure you receive your resources on time!
---
A brief history of hepatitis C: 1989–2023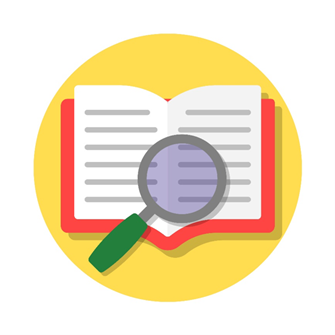 Check out this timeline highlighting milestones in the history of hepatitis C.
---
Subscribe to Hep C and Harm Reduction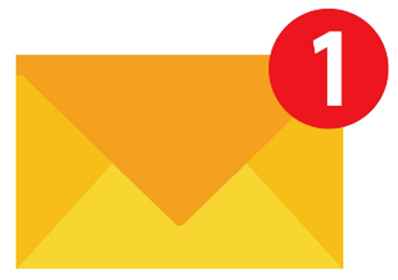 Get the latest harm reduction, hepatitis C and HIV news and resources delivered straight to your inbox. Sign up for Hep C and Harm Reduction.