What is the Program?
The Ahtahkakoop Know Your Status hepatitis C program is a person-centred approach to hepatitis C screening, treatment and care in Ahtahkakoop First Nation, a rural First Nation community in Saskatchewan. The program, which caters to the needs of this Indigenous community, is based out of Ahtahkakoop Health Centre and provides access to holistic, culturally appropriate care and services led by community members.
This program uses the Know Your Status model, an approach that is focused on enhancing community readiness to address hepatitis C infections by increasing awareness of and support for education, prevention, testing and treatment programs. Know Your Status started as an HIV program model but has since been adapted for hepatitis C.  
The program brings hepatitis C services to this rural community that were previously available only in the city from Western service providers. Program planning and community engagement is a key aspect of the program. A central activity is public screening events for hepatitis C, which is one of the primary ways to link people to care. Other program components include outreach, education and community-based hepatitis C treatment with access to cultural and social support.
Connecting with Care is a short film that shares stories and voices from Ahtahkakoop First Nation describing the impact of the Know Your Status hepatitis C program in their community.
Why was the program developed?
Ahtahkakoop is a rural First Nation community. The number of people with hepatitis C, including people co-infected with HIV, was increasing in the community. Many individuals were not engaged in care because of the need to travel to Saskatoon or Prince Albert to see a hepatitis C specialist. In addition, many faced discrimination, stigma and racism when accessing health and social services through the mainstream health system.
To address the need for hepatitis C services in the community, this program was developed in consultation and with Indigenous Elders, people with lived experience of hepatitis C and other community members and leaders. The program also developed a broader plan to eliminate hepatitis C in the community.
The hepatitis C program was based on the successful HIV Know Your Status program that was developed in this community in 2011. The main principle of this model is a community-led and community-driven approach. The hepatitis C program was launched in 2016 to provide hepatitis C services in Ahtahkakoop First Nation.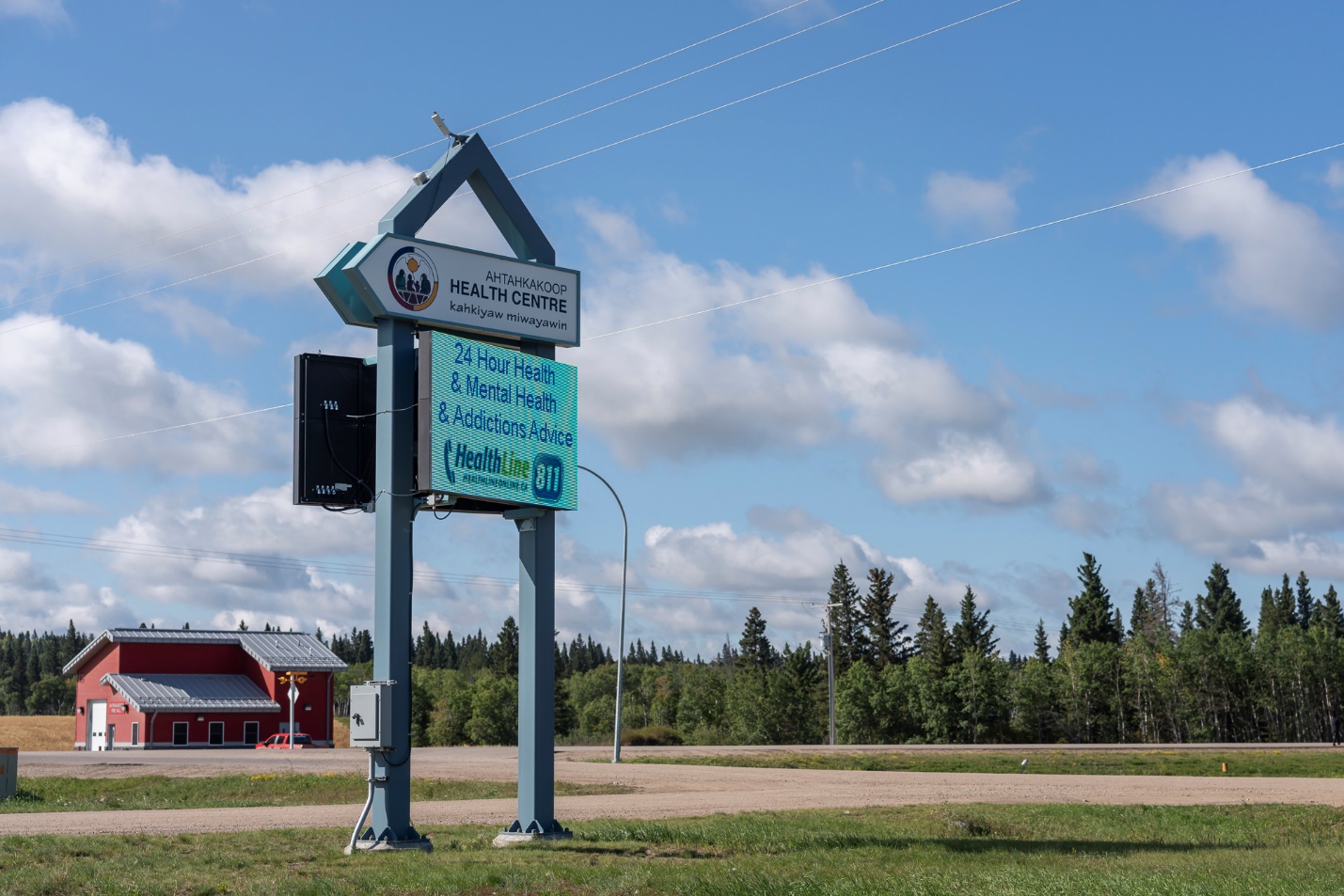 Ahtahkakoop First Nation is a rural Cree community, with approximately 1400 people. (Photo by Conor Ashleigh, 2019)
How does the program work?
This program is located in a First Nation community and primarily serves Indigenous people. Services provided at the Ahtahkakoop Health Centre are community based and grounded in an Indigenous wellness approach. This program offers culturally safe approaches and supports that acknowledge historic, intergenerational and ongoing trauma.
This program provides hepatitis C screening and treatment in a stigma-free and holistic way. The major elements of the program include:
outreach and education
screening events
inkage to hepatitis C care within the health centre
consultation with a nurse to prepare clients for hepatitis C treatment
treatment initiation
follow-up care and community support
The health centre's ability to provide specialized services in its rural setting is made possible through a partnership with an infectious disease (ID) doctor in Regina. The doctor makes regular visits to the community and can direct and oversee treatment both in person and via telemedicine.
Program Planning
Using the Know Your Status approach, the first step in planning this program was assessing community readiness and gaining support. This included meetings and focus groups with people with lived experience of hepatitis C and injection drug use and with other community members, including Elders, community leaders, other community members and health centre staff. These sessions assessed:
current knowledge levels in the community about hepatitis C
the past health system experiences of people living with hepatitis C
program requirements to meet client needs
The next step was to hold three multi-day planning sessions with Elders, community leaders, individuals with lived experience and health centre staff, including the visiting ID doctor. At these planning sessions, participants:
created an implementation and work plan for the program
assessed what resources were needed and what resources already existed in the community
identified potential program partners and their roles
addressed logistical issues around workflows and processes for health centre staff
The program worked to gain the support of the community's leaders and other residents on the importance of addressing hepatitis C and involved them closely in the planning process. As a result, Athahkakoop's Chief became a champion and advocate of the program in the community. 
Outreach and Education
Another major element of the program is community education and outreach. The program has two outreach workers who connect with people who are at risk in the community to provide information about hepatitis C testing and treatment, harm reduction and safe injection. Much of the outreach occurs through the health centre's harm reduction and needle-syringe program. Other connections are made through home visits or through information sessions at community events, including the Liver Health Events described below.
The centre also holds an informal breakfast on Monday mornings, where community members can drop in for breakfast and coffee. Outreach and other health centre staff socialize and network with attendees, many of whom are highly marginalized and may be at risk for hepatitis C. Opportunities such as this can help staff to develop relationships with community members, which is often the first step in educating clients and engaging them in care.
Screening Events
The program holds public drop-in screening events at the health centre consisting of testing and educational activities. The events are marketed as "Liver Health Events" to avoid potential stigma associated with hepatitis C. They are advertised via posters, social media, local radio and word of mouth. At the events, attendees move through six stations:
Registration and education: Outreach and peer workers do intake paperwork for attendees. Nurses or outreach staff provide education and initial consultations with individuals as they wait to complete their paperwork. A "flow manager" keeps people moving among the various stations.
Vital signs and weigh-in: Nurses take vital signs and do an initial health assessment to generate baseline health information for attendees.
Hepatitis C point-of-care testing: A nurse uses a point-of-care test to determine if an individual is positive for hepatitis C antibodies. A point-of-care test can provide results during the same visit. If an attendee knows they've had a past positive antibody test result, they skip this step and move directly to the next station.
Confirmatory testing: If an individual tests positive for hepatitis C antibodies at the event, a nurse collects a blood sample and sends it to an outside laboratory for more testing. This test determines whether the individual has a current, chronic infection, measures the amount of virus (viral load) and identifies what strain of virus (genotype) is present. The nurse can also order additional tests, including screening for HIV.  
Other health assessments and immunizations: A community health nurse then sees the individual to address any health needs they might have other than hepatitis C. This often includes giving attendees required immunizations.
Liver ultrasound: A nurse conducts additional testing to assess attendees' liver health using a FibroScan, a portable ultrasound device. Even those who have tested negative for hepatitis C may receive an ultrasound, as they may be at risk for non-hepatitis C related liver injury, such as fatty liver disease. 
These screening events are full-day events and are held every three months. At any given event, as many as 70 people may attend to receive testing. Individuals will typically spend 10 minutes or less at each station. These events are an important way to reach individuals who may not otherwise access the health centre or receive hepatitis C testing and to help link them to care.
A nurse waits for results from a point-of-care hepatitis C test. The test returns results in about 20 minutes. (Photo by Conor Ashleigh, 2019)
Hepatitis C Treatment
After the screening event, a nurse from the health centre contacts individuals who received follow-up testing to deliver their results. The nurse invites individuals who received a positive result to a follow-up appointment at the health centre. In consultation with the ID doctor, the nurse conducts any additional tests that are required, treatment work-up, and assesses their readiness for treatment. Based on discussion between the client and the care team, they may collectively choose to delay treatment. This may be based on factors such as housing instability, mental health challenges or other issues that could affect treatment adherence. The care team does not delay treatment due to ongoing drug-use alone, however this is considered with other factors listed above.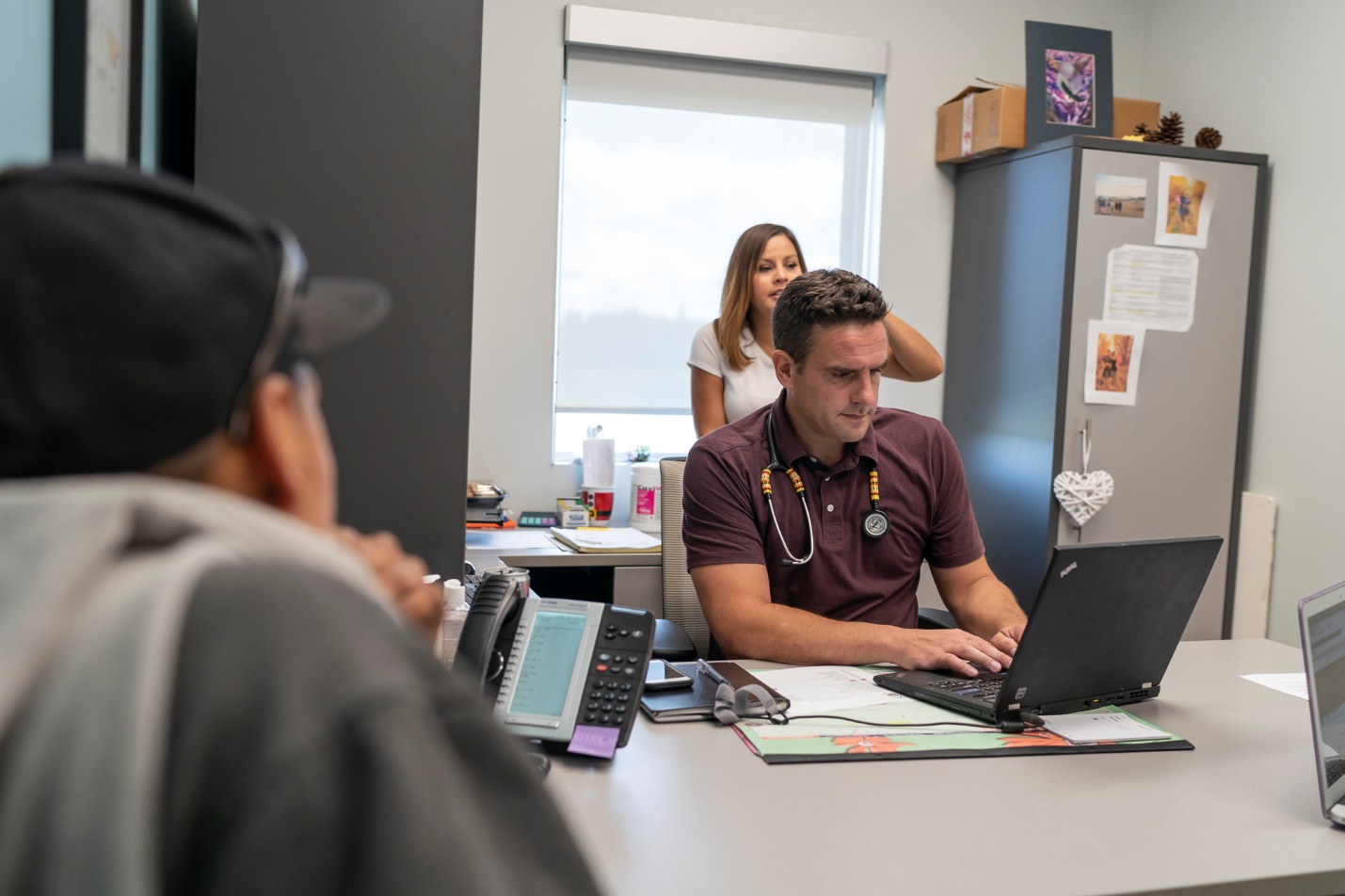 The ID doctor and treatment nurse work closely with clients to develop a treatment plan. (Photo by Conor Ashleigh, 2019)
If the client is ready for treatment, the nurse and client will make a plan for care and begin treatment as soon as possible. The client decides how often they would like to have appointments and receive medication. For some, especially those who also use the needle-syringe program, this can be as often as daily, or it can be as infrequently as biweekly for those who want less support. The client meets with the ID doctor at least twice, at the beginning and end of treatment. The ID doctor comes to the health centre every three months but is also available via telemedicine. The client is also engaged with other health centre staff, such as nurses, between these doctor appointments.
While the client is on treatment, the program team engages them through appointments, treatment advice and peer support. Most of the program team members are from the community and identify as Indigenous. This helps the client to feel welcome and comfortable in engaging with the team. Other supports are available either within the health centre or in the community, including:
mental health counselling
housing and social services
addiction counselling
methadone and suboxone programs
support from Indigenous Elders or Healers
If necessary, the program makes referrals outside of the community for services including detox services and other addiction treatment services.
Challenges
Treatment readiness: A small percentage of clients who are experiencing life instability may decide not to begin treatment. The challenges they are facing may include issues with housing, substance use, mental health or other personal factors. The care team works with clients to decide whether they are ready for treatment. If they are not ready, the team will continue to support them through other health or harm reduction services. They can also make other referrals for mental health support or to the community's social development services. By staying in touch with the client, they will be ready to engage them in treatment when the individual is ready.
Reinfection: In the first year of the program, there were cases of reinfection among clients who were successfully cured. In response, the program increased its focus on harm reduction and prevention, including more education on injecting practices for those who continue to use drugs after cure.
Funding and finances: Finding funding and financial resources for the program has been a challenge. The program did significant planning at the outset to leverage existing resources at the health centre to minimize costs. It has been possible to operate the program sustainably with the help of partnerships with external agencies.
A health centre staff member collects sweetgrass, a traditional medicine in Indigenous practice. A memorial in the background commemorates residential schools, one of the many ways that colonialism in Canada harmed Indigenous people, leading to disparities in health, including hepatitis C and substance use. (Photo by Conor Ashleigh, 2019)
Lessons learned
Community-based and community-driven programs: Having services available in one's own community and delivered by community members is essential. Clients receive culturally appropriate care from familiar service providers embedded within their community, which increases the likelihood that they will be willing to engage in the program.
Community consultation: The planning of this program was rooted in extensive consultations with community members including individuals with lived experience and with Indigenous Elders. Community leaders supported and championed the program, increasing the community's awareness of the program and leading to buy-in from the community.
Open communication: Open communication with partners and the community is integral to the program's success. It helps the program to spread the word about the Liver Health Events, increase the community's awareness of hepatitis C and gain the trust of community members.
Continuous improvement: Staff constantly reevaluate the program to improve outcomes and ensure it is reaching its goals. This includes receiving ongoing feedback and suggestions from clients, staff and community partners.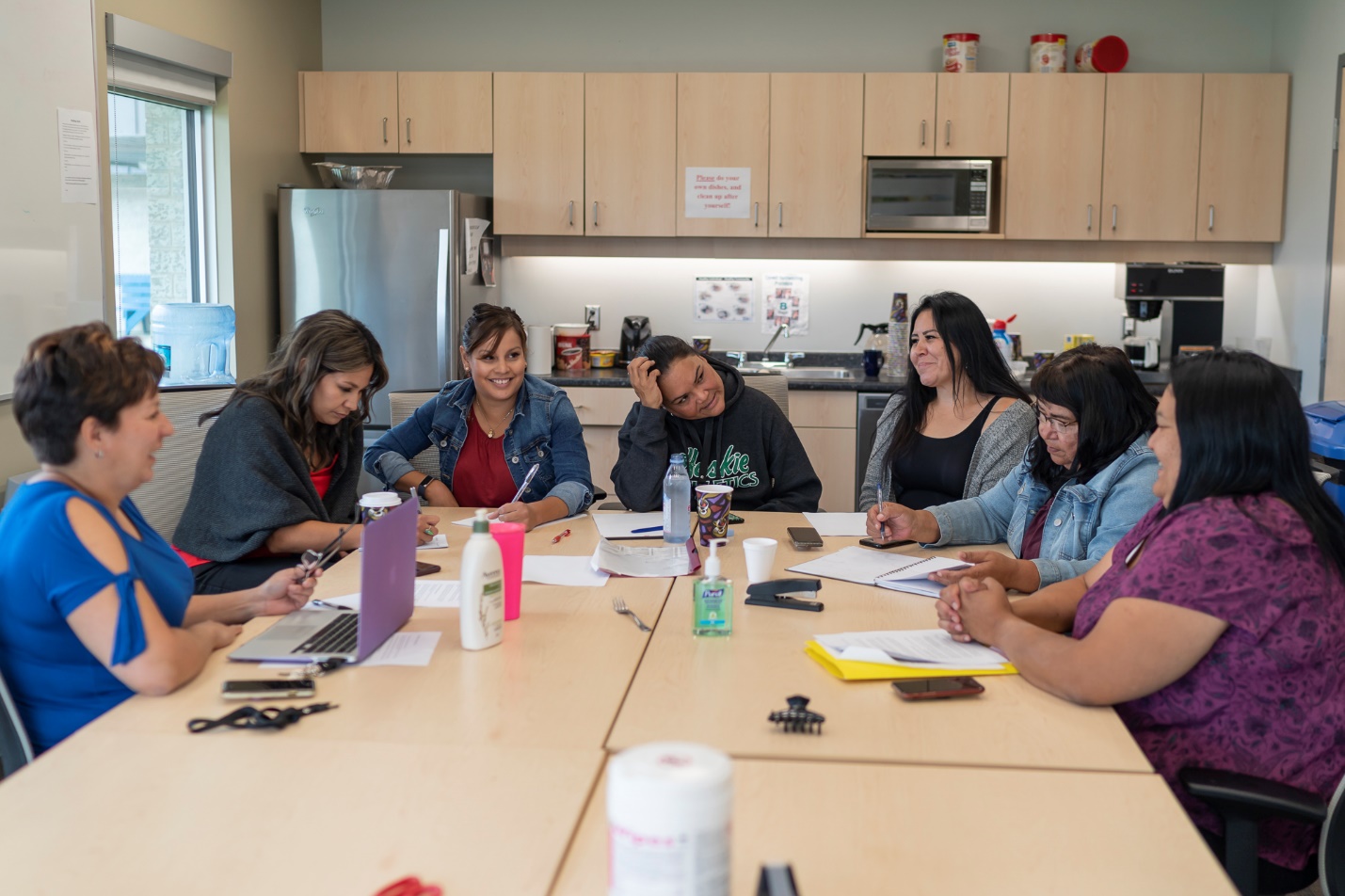 Staff from Ahtahkakoop Health Centre meet each morning to check in. Nearly all staff in the centre are from Ahtahkakoop. This community closeness helps clients feel comfortable accessing care without stigma. (Photo by Conor Ashleigh, 2019)
Evaluation
The Liver Health Events occur every three months. The process is tweaked each time, using qualitative feedback from both attendees and staff, to improve efficiency and the client experience.
Preliminary data collected indicate that the program has screened 16% of the community's population through nine Liver Health Events. In total, 540 tests have been conducted, and 294 unique individuals have been tested. There is a high prevalence of hepatitis C among those tested, with 41% having chronic infections. To date, the program has linked 83 individuals to care. A total of 55 clients have initiated treatment, with 44 completing it. A cure has been confirmed in 77% of the people who completed treatment. Of those who initiated treatment, 89% had a history of injection drug use.
The events have many repeat attendees, with 37% of attendees being returning participants. This suggests that many individuals have ongoing risk factors for hepatitis C, and there is a continued need for this program in the community.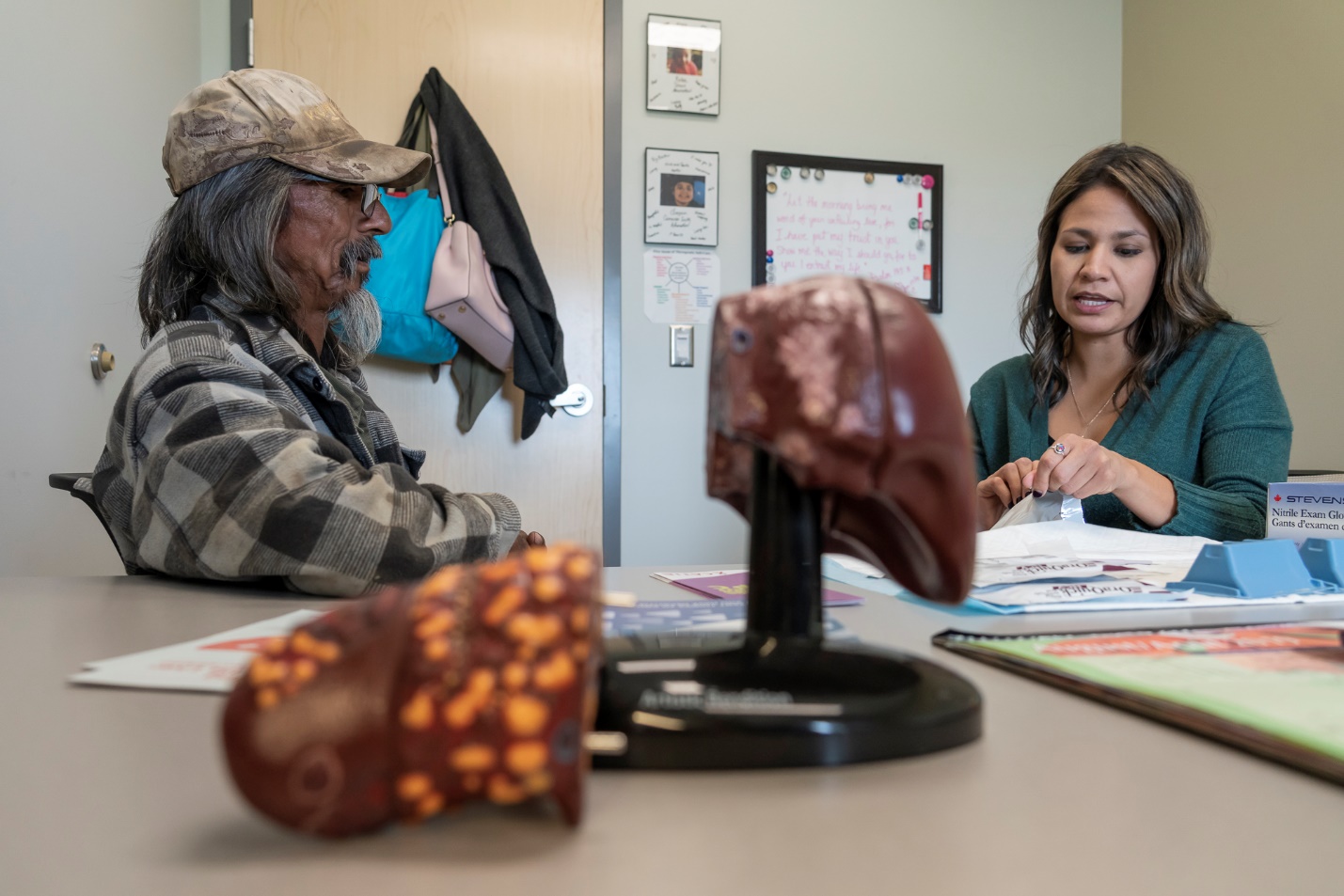 A health centre nurse performs testing with a client at a Liver Health Event. (Photo by Conor Ashleigh, 2019)
Required Resources
Nurses: Oversee testing and treatment and perform screening activities at Liver Health Events
Outreach workers: Provide community education and support at Liver Health Events
People with lived experience: Provide treatment support, community education and support at Liver Health Events
Infectious Diseases Doctor: Provides medical assessments, prescribes treatment and monitors cure 
Pharmacist: Dispenses treatment medication and answers questions related to the medication
Community members and leaders: Serve as key stakeholders who provide input and support for the program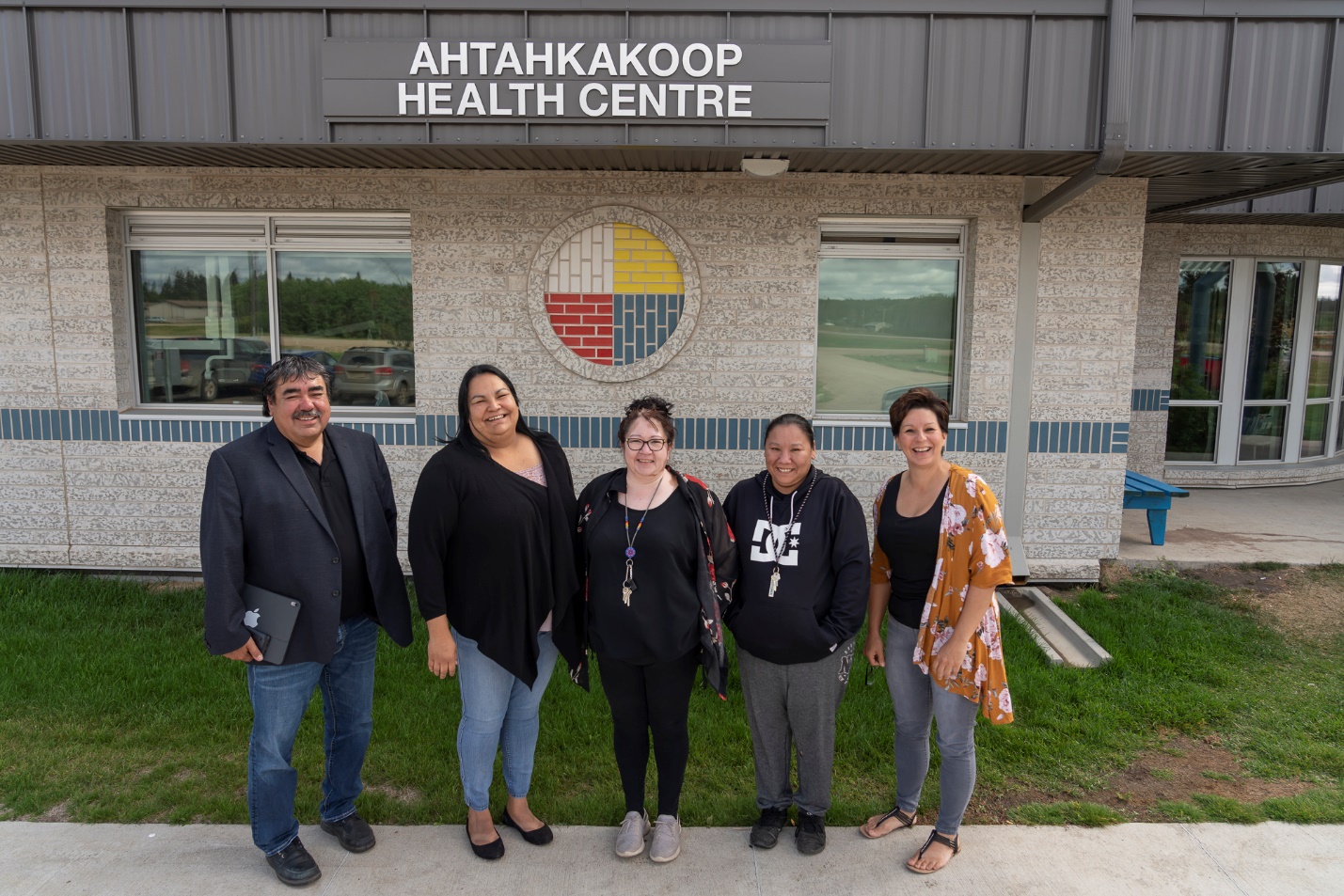 Know Your Status staff along with the community's Chief outside of the Ahtahkakoop Health Centre. (Photo by Conor Ashleigh, 2019)
Program Materials
Contact Information
Tanys Isbister, RN  
Nurse Manager
Ahtahkakoop Health Centre
306 468 2747
Vanessa Ahenakew, LPN
Know Your Status Hepatitis C Nurse
Ahtahkakoop Health Centre
306 468 2747