A supervised consumption site (SCS) is a legally sanctioned sterile environment where people consume illegal drugs. These spaces offer drug equipment, connection and staff equipped with naloxone and/or oxygen to reverse accidental overdoses. They also provide access to other services for people who use drugs such as primary healthcare and substance use treatment.
As the COVID-19 pandemic has unfolded, this difficult but lifesaving work has been more important than ever. Harm reduction measures like SCS are proven to prevent overdose deaths. They can also prevent hepatitis C and HIV transmission. Because the pandemic has disrupted harm reduction services, people who use drugs now face greater risk of accidental overdose, HIV and hepatitis C.
Harm reduction is backed by evidence, but many harm reduction workers still face challenges in setting up and running a SCS. They must apply to the federal government for an exemption to the Controlled Drugs and Substances Act, which is a long and difficult process. Overdose prevention sites (OPS) are another type of space where people can safely use drugs. To legally operate, OPS can apply for short-term exemptions from their regional government. These are generally granted quickly in response to urgent community needs.
We spoke to staff at two SCS—Prairie Harm Reduction (Saskatoon) and Dr. Peter Centre (Vancouver)—to hear how they got started.
Saskatchewan's first safe consumption site
Jason Mercredi is the executive director at Prairie Harm Reduction, an organization in Saskatoon serving communities at risk of HIV and hepatitis C. After four years of research and advocacy from Mercredi and his team, Prairie Harm Reduction opened Saskatchewan's first and only SCS in October 2020. They are also currently the only site in the country with an exemption for indoor inhalation, after a SCS in Alberta lost their funding. This means clients are allowed to smoke their drugs at the site, as well as inject or snort them.
Prairie Harm Reduction's site was designed for people who use crystal methamphetamine (crystal meth), which—along with HIV—disproportionately affects the local Indigenous communities. To accommodate these clients, special ventilation systems were built to allow them to smoke their drugs.
Prairie Harm Reduction also built the site to be sustainable by applying for a federal exemption that can be renewed. For Mercredi, this lengthy process was worth the wait. "How often do you get to open the first safe consumption site in a province?" he says.
Mercredi, a teacher by trade, has a big heart for people who use drugs. He explains that stigma and discrimination are so widespread, people are grateful to just be treated normally. "If you treat people who use drugs like a human being," he says, "you make a friend for life." His aim was to build a space that is first and foremost a community centre: "We have the only public washroom in the neighborhood, the only place you can get coffee and the only place you can use the telephone," he says. By creating a comfortable and safe environment, Prairie Harm Reduction normalizes and destigmatizes drug use for its clients. This empowers them to access the healthcare and social services they need to survive.
The Story of Dr. Peter Centre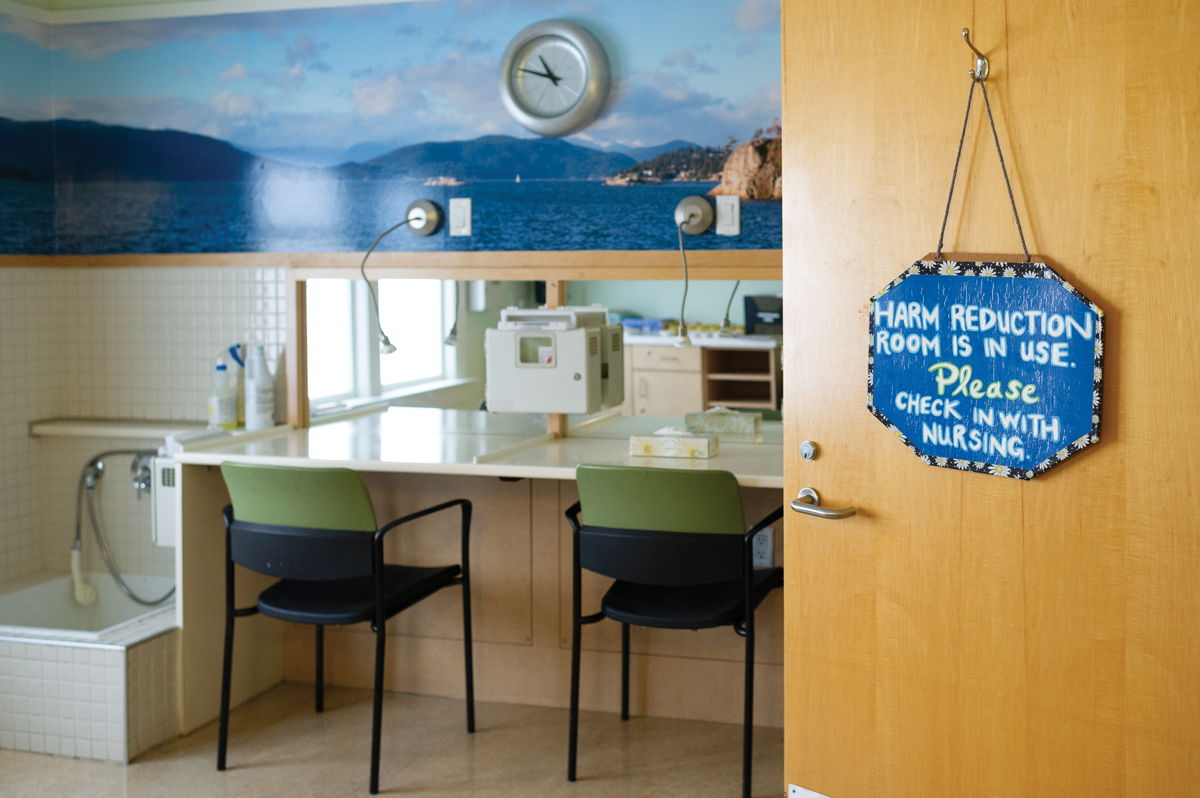 Patrick McDougall is the director of knowledge translation and evaluation at Dr. Peter Centre, an HIV facility with a SCS in Vancouver's West End (pictured). As one of the first two SCS in Canada, their start was more ad hoc than Prairie Harm Reduction's. McDougall explains that when they started supervising injections in 2002, they didn't have a formal exemption. Instead, Dr. Peter Centre found a way to open without one. "We consulted with the Registered Nurses Association of British Columbia, who said that service was within the scope of nursing practice," he says. In 2003 they were granted a federal exemption along with Insite, another SCS in Vancouver.
Problems came when it was time to renew their exemption in 2006. Dr. Peter Centre learned that the signature of the then-federal minister of health wasn't attached to their original exemption. When the Conservative government's new minister of health found this error, he rejected their application. Despite this, McDougall says they kept providing supervised injection services under the "nursing practice clarification" they had used before. In 2014 they applied for an exemption again, and after a change to a Liberal government in 2016, their application was approved.
Dr. Peter Centre is a member-only facility for people living with HIV, which is one of the biggest ways they differ from Prairie Harm Reduction. They have over 400 clients who have access to a health team offering HIV care, injectable opioid agonist therapy and prescription opioids (a harm reduction measure known as "safe supply"). The centre also provides two meals a day, showers and a specialized nursing care residence. This approach treats food and housing security as an essential part of harm reduction.
The drugs consumed in each space also vary. While Prairie Harm Reduction focuses on crystal meth, Dr. Peter Centre is geared toward people who inject opioid drugs. Clem Fong, the centre's knowledge translation clinical counsellor, explains that decisions about the target client base are important. "Every safe consumption site should be unique," he says. "I think it should appeal to the culture of the group of users you are looking to serve." As part of his work, he builds relationships with clients through the injection process itself. He guides members into the room, where they are then supervised by a nurse. "A couple of folks prefer to have me there," he explains, "because we have an ongoing counselling relationship. That being said, the relationship was built in the injection room."
As a long-running SCS with a knowledge translation team, Dr. Peter Centre has helped shift drug policy throughout Canada. Their research has produced models for harm reduction elsewhere, and they provide support for SCS and OPS workers across the country. This allows organizations like Prairie Harm Reduction to adapt the Centre's approach to their local needs.
At the time of writing there are 39 legal SCS in British Columbia, Ontario, Quebec and Saskatchewan (with an application pending in Manitoba). Beyond this, many harm reduction activists have used short-term exemptions to set up OPS in places like the Atlantic provinces, where services don't exist. In the context of COVID-19, these are especially urgent. Thanks to the hard work of organizations like Dr. Peter Centre and Prairie Harm Reduction, activists across the country have a blueprint for saving lives.
Matthew Bonn is a freelance journalist and active drug user who specializes in drug policy, safe supply, and harm reduction.
Glossary
Safe consumption sites or supervised consumption sites (SCS)
SCS offer spaces for people to legally and safely use drugs with staff trained to prevent overdoses. They offer new drug equipment to reduce the risk of HIV and hepatitis C. SCS also provide other harm reduction services like drug-checking, counselling and primary care. SCS receive long-term exemptions to operate from the federal government.
Overdose prevention site (OPS)
OPS are spaces for people to legally and safely use drugs with staff trained to prevent overdoses. They offer new drug equipment to reduce the risk of HIV and hepatitis C. OPS receive shorter exemptions to operate from regional governments in response to urgent community needs.
Opioid agonist therapy (OAT) or opioid substitution therapy (OST)
OAT or OST is a treatment for opioid use disorder where long-acting opioid medication is prescribed to manage withdrawal symptoms and drug cravings. It can help reduce harms and provide stability through structured, regular access to opioid medication.
Safe supply
Safe supply is when pharmaceutical-grade opioids are prescribed as an alternative to the illicit drug supply. Illicit opioids are contaminated with unknown, potent substances that put users at risk of overdose. These include fentanyl, which can cause overdose for non-fentanyl users.