Annie Tsang answers some commonly asked questions about nutrition.
Dietitians are important members of your HIV care team. They can recommend meal plans that are tailored just for you. Here's B.C. dietitian Annie Tsang on how you can use food to optimize your health.
Do I have to follow a specific diet after being diagnosed with HIV?
There is no one specific diet recommended for all people living with HIV. Each person's nutritional needs are unique—they depend on the medications you are taking; your CD4 count; other health conditions you may have, such as diabetes or cardiovascular disease; and factors like whether you are underweight, overweight or at a healthy weight.
If your health is stable and other health conditions are under control, these general guidelines can help you maintain a healthy immune system:
Increase your vegetable and fruit intake. Or if you already eat plenty of fruits and vegetables, keep it up!
If you're not vegetarian or vegan, eat fatty fish—such as salmon, sardines, herring, albacore tuna, anchovies or rainbow trout—twice weekly.
Eat foods that contain phyto­nutrients (nutrients found in fruits, vegetables and other plant-based foods) and omega-3 fatty acids (in fatty fish and flax seeds) as they can help reduce inflammation in the body. (For more on anti-inflammatory diets and recipe ideas, see "Calming the Flames" in the Winter 2016 issue of The Positive Side, at positiveside.ca).
Take a daily multivitamin and a vitamin D supplement containing 1000-2000 IU. Several studies have found that people living with HIV tend to have lower-than-ideal levels of vitamin D in their blood. Although you can get vitamin D from sunlight and fortified foods, the surest way to get enough is by taking a supplement.
Choose calcium-rich foods—dairy products or calcium-fortified foods and beverages. This will help protect your bones and muscles.
Stay well hydrated by drinking water and other non-alcoholic and decaffeinated drinks.
Should I take supplements to help boost my immune system and energy?
Besides a multivitamin and vitamin D supplement, most people with HIV can obtain all of their nutrients through food.
People living with HIV (including people who are on HIV treatment and have no symptoms) generally have greater energy requirements than the general population, but foods such as whole grains and brown rice are excellent sources of B vitamins, which can help with energy. If you are wondering about vitamin B12 supplements, be sure to check with your doctor before starting this or any other supplement.
Since diminished bone density is more common among people living with HIV, your doctor might advise you to take a calcium supplement if you don't consume enough of this mineral through your diet. Be aware that this supplement can interact with certain HIV meds, such as dolutegravir (Tivicay, also in Juluca and Triumeq), raltegravir (Isentress), Genvoya, Stribild and Odefsey.
Let your pharmacist know which meds and supplements you are taking so he or she can advise you on how and when to take them. To avoid interactions, you may need to take your calcium supplement and HIV meds separately.
I heard that protein is important for me. How do I make sure I'm getting enough?
Protein is indeed a very important nutrient. It helps to promote cell formation in our organs, build muscle mass and maintain a healthy immune system. You can get enough protein from your diet alone, even if you are a vegetarian or vegan. In general, a 10 percent increase in energy requirement is recommended for people living with HIV, to ensure a healthy weight and prevent muscle wasting. (Although muscle wasting occurs much more rarely than it used to due to improvements in HIV treatment, it does occur, especially in people who are diagnosed late.)
Speak with a dietitian to help determine the amount of protein that is right for you. A dietitian can take into consideration your food preferences when helping you obtain an adequate daily intake. Excellent sources of protein include lean meat or fish, eggs, tofu, dairy products, nuts and seeds.
I'm on a budget. Any tips on how I can eat healthy without breaking the bank? I can't afford to buy fresh meat and fresh fruits and vegetables every week.
You don't have to eat only fresh foods to stay healthy. Canned foods, such as canned salmon, vegetables and legumes, can also be good options. Frozen fruits and veggies are also nutritious.
One idea is to stock up on non-perishable foods that are healthy when they go on sale. Although canned foods are sometimes high in sodium, you can always give them a good rinse or prepare the dish without adding extra salt or sauce.
I also have diabetes and high cholesterol. Should I restrict what I eat to help manage them?
You might need to adjust your food choices. In general, I would recommend having protein and healthy fat (e.g., from olive oil, nuts, seeds, avocado) with all of your meals and snacks to help stabilize your blood sugar. While refined carbohydrates (such as white bread, white rice, soft drinks and potato chips) can spike your blood sugar in a short time, protein and fat can help slow down that spike. Eating smaller, more frequent meals and snacks and combining protein/fat can help manage your blood sugar.
As for high cholesterol, consider eating more plant-based proteins (nuts, seeds, lentils, legumes) and less red meat. Consuming foods high in soluble fibre (such as oats, beans and barley) can also help lower your cholesterol level.
What if my HIV meds make me nauseous or give me diarrhea?
Be sure to let your doctor know. Many people don't experience nausea or diarrhea as a result of the newer HIV drugs, but if you do, these side effects will most likely go away on their own in a short time. If not, you may be able to manage them with an over-the-counter medication.
Dietary strategies might also help you manage your symptoms. For example, ginger candies or ginger tea/ginger ale might help with your nausea. You can also try eating bland foods, such as soda crackers, to help calm your stomach. As for diarrhea, if it is related to HIV treatment and needs to be managed with medication, food might not help much. Regardless, your dietitian can always review your diet with you. If you have diarrhea, drink lots of fluids and consider replenishing your electrolytes. You can try sport drinks or coconut water. For a more budget-friendly option, you can also add a pinch of salt to your water to replenish sodium and eat bananas to replenish your potassium.
Is there anything else I should be mindful of?
Food safety is important for everyone, but it can be even more important for people with HIV. Wash your hands thoroughly before meals and keep your cooking surfaces clean. Try to limit the amount of raw fish and unpasteurized food products you eat. Ensure that all meats are fully cooked and refrigerate leftovers within two hours. For more on food safety, check out www.healthlinkbc.ca/healthlinkbc-files/easy-food-safety
Remember: Moderation is key! As long as you are eating healthy most of the time, don't beat yourself up if you want to indulge once in a while.
Image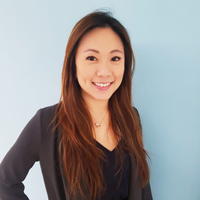 Annie Tsang is a dietitian who is registered with the College of Dietitians of British Columbia and Dietitians of Canada. She has extensive experience working with clients who have HIV, hepatitis C, eating disorders, cancer and mental health issues.
How do I find a dietitian?
Some health centres and doctors' offices offer dietitian services for free. If yours doesn't and you have private health insurance, check to see if your health plan covers dietitian services.
To find a dietitian in your province or territory, go to www.dietitians.ca/Your-Health/Find-A-Dietitian/Find-a-Dietitian.aspx