If you could use some help remembering to take your meds, try one of these free apps.
By Nathan Gibson
HIV treatment has changed radically—it is more effective, simpler to take and much easier to tolerate than it once was—but one thing that has not changed is the need to take HIV medications every day.
Experts recommend an adherence rate of at least 95 percent. That means if you take your medication once daily, you should not miss more than one dose per month; if you take it twice daily, you shouldn't miss more than three doses per month.
Why so strict? Because when you miss doses, the level of antiretrovirals in the blood can fall below the amount needed to suppress the virus. HIV begins to multiply in the body again, and new drug-resistant HIV can emerge. When the HIV in a person's body becomes resistant to the treatment they're taking, that treatment no longer works for them and a new treatment regimen must be introduced to get the virus under control again.
The fact is that adherence is key to the success of your HIV treatment: Maintaining an undetectable viral load is essential in order to protect your health and prevent transmission.
The good news is that there are many online tools that can help you stay adherent without much work! If you have a smartphone or other mobile device and you need some prodding, consider trying one of these free apps, which can also help you manage your health in other ways.
Positive Living Storylines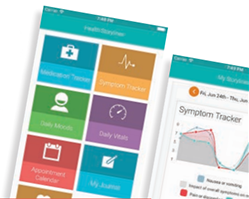 Developed by the Vancouver-based Positive Living Society of British Columbia, with the input of people living with HIV, this app was designed to help users gain a sense of control over their HIV journey. In addition to reminding you when it's time to take your HIV treatment, it offers you a daily mood tracker and journal, as well as a tool for tracking any symptoms you may be experiencing related to HIV or other health conditions. You can also track your weight, blood pressure and other vitals. This app also gives you the option to share information with your doctor.
Available in English. Compatible with iPhone, iPad, iPod touch and Android.
Every Dose, Every Day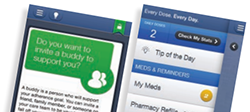 Created by the U.S. Centers for Disease Control and Prevention (CDC), this app alerts you when it is time to take your medication. It also allows you to keep track of your medical appointments and test results and notifies you when it's time to refill your prescription.
The app has motivational tips, as well as the option to add a "reason picture" to help you stay adherent—for some people, that reason is their child or partner; for some, it's knowing that when they're undetectable, they can't transmit HIV to their sex partners; for others, it's the goal of staying in good health and being able to run the marathon next year.
Available in English and Spanish. Compatible with iPhone, iPad, iPod touch and Android.
Nathan Gibson is a student at the University of Toronto, studying neuroscience, health and bioethics. He is passionate about LGBTQ health and spends his time volunteering for LGBTQ and peer-support organizations in Toronto.