Pre-fix: A guide for people with Hep C or HIV who inject drugs
Starting treatment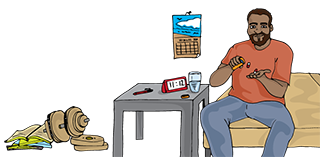 Some of this information is no longer accurate. We are in the process of updating this content. For more current information, please see the Hepatitis C: An In-Depth Guide's treatment section
Starting treatment is a big step.
With HIV treatment, it is important to start as soon as you are ready. We know that the sooner someone starts treatment, the better it is for their health. Experts recommend starting HIV treatment soon after you find out you have HIV. Today treatment for HIV is safer and simpler. Sometimes a complete HIV treatment is one pill that is taken once per day.
With Hep C treatment, everyone should be considered for treatment. However, you may need to have a certain level of liver injury to get access to treatment.
When you start treatment, you will need to be ready to stay on treatment. HIV treatment is a lifelong commitment that can keep you healthy if you take your medications consistently. And even though you will take Hep C treatment for only a set time, the more you can stick to treatment, the better your chances of clearing the virus.
Getting your life as stable as you can and finding support will help you manage these parts of treatment. You may need some time to put the right supports in place before you start treatment. Below is a list of questions that can help as you think about treatment:
"For so long, as drug users we've been told that doctors can't help us. We need to let people know that that is actually not the case. There are treatment options. Just because you are using does not mean you are not eligible for treatment." 
— Jennifer
How is your physical health?
You may be experiencing health problems that are related to your Hep C or HIV. This is especially true if Hep C or HIV had already done a lot of damage to your body by the time you were diagnosed. Starting treatment can often help with these other health problems. It is also good for your long-term health.
How is your emotional health?
If you feel down a lot or have a history of anxiety or depression, talk about this with your doctor as you choose Hep C or HIV medications. Different options exist. Hep C treatments that include peg-interferon and some HIV treatments can cause depression in some people, but there are ways to manage this and stay on treatment. There are Hep C treatment options that don't include peg-interferon.
Do you have the support you need?
Some people who use drugs find they can handle treatment better when they have a support group and a team of health workers to support them. Check with a community health organization about getting connected to a support group or a care team. Other people on treatment, family and friends can also help support you through the treatment process.
Do you have spiritual or religious support if you need it?
Some people find that their spiritual or religious beliefs help them to cope as they start treatment. Are there people whom you want to support you as you start treatment, such as an Aboriginal Elder, an imam, a priest, a rabbi or other religious leader?
Do you have a plan to stick to your meds?
Think about what might help you or stop you from sticking to the medication schedule. Before you start treatment, you could practice your medication schedule with Smarties or another candy to get in the habit of taking them and to help you figure out any possible problems you might have. Maybe you will realize you want to change when you use drugs so that you can take your meds at the same time every day. Or maybe you need a place to keep your meds. Talk to your doctor, a peer worker or another worker about any possible difficulties and what could make it easier. For example, there are some treatments for HIV that involve taking only one pill once a day. Some health centres have programs that you go to daily to help you take your meds consistently.
Do you have a place to stay?
It can be easier to stick to treatment if you have a place to live. Having a place to live can also help some people to stabilize their drug use. If you don't have housing, is there a family member or friend you can stay with while you're starting treatment? A worker may also be able to help you access housing. If you can't find housing, it is still possible go on Hep C or HIV treatment. You may need to find a place to store your medications, like a harm reduction program or a health centre. You may also be able to pick up your medication each day at the pharmacy.
Do you need help covering the cost of treatment?
Hep C and HIV drugs are expensive, however, there are programs that will cover the costs of medications if you meet the qualifications.
CATIE has information on Access to HIV and Hepatitis C Drugs: Federal, Provincial and Territorial Drug Access Programs.
Do you want to have children soon?
It is possible to keep your partner safe and have a healthy pregnancy and baby if you have Hep C or HIV. However, if you are taking Hep C treatment that includes ribavirin you will need to wait until six months after finishing treatment to try to have a baby because treatment with this drug can harm your unborn baby. This applies to both the person who will become pregnant and the person with sperm.
Newer treatments for hepatitis C, called direct-acting antivirals or DAAs, do not have a lot of safety information and should only be used during pregnancy when the benefit outweighs the risk. Speak with your doctor and pharmacist to find out more about which drugs are safe and which are not. The likelihood of passing on Hep C to your child is very low.
If you have HIV and are thinking of getting pregnant, experts recommend that you start taking HIV treatment before you get pregnant. With proper care and support, the risk of your baby getting HIV is less than two percent.
For more information on having a baby while using drugs, see the section Pregnant or thinking about having a baby?
For more information on having a baby when you have HIV, check out the booklet, You can have a healthy pregnancy if you are HIV positive.