Pre-fix: A guide for people with Hep C or HIV who inject drugs
Working with a doctor and other health workers
Finding a doctor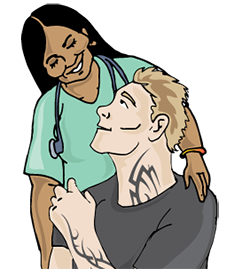 Finding a doctor and getting healthcare will help you stay healthy with Hep C (hepatitis C) or HIV. It may take time, and trial and error, to find a doctor and make it work. If you've had bad experiences in the past with doctors, it may be hard to give them a chance. But there are doctors who will treat you well; you just have to find one who you connect with.
You have the right to expect respectful care from your doctor:
You deserve to be treated with respect and not be judged for your drug use.
Your doctor should treat you whether or not you are using drugs.
Your doctor should not be afraid to touch you.
Your doctor should explain things clearly and should listen to you.
Your doctor should allow you to make decisions about your medical treatment.
You may need to remind your doctor of these things. Some people find it helpful to bring along a friend, peer or harm reduction worker to their appointments to support them.
Remember that you are part of the solution. Speak to the doctor and his or her staff with respect. They may not know "the street" or much about the things you know. They may even be a bit afraid because of the false images they've seen on TV or in movies. They have to get to know you and trust you, too. Not all doctors know about Hep C, HIV and drug use – yours should, or should be open to learning.
You can also do things to get ready for your appointments:
Consider using a health journal to list symptoms, medications, allergies, appointments, and more. CATIE has a personal health record you might want to use.
Make a list of questions you want to ask before the appointment.
Show up a bit early for your appointment.
Phone the office as far ahead as possible to tell them if you are going miss your appointment.
If you are trying to work with your doctor and aren't getting the care you want, talk to your doctor about this, or ask other people who use drugs for the name of their doctors, or ask at a harm reduction program for the name of another doctor.
"I love my doctor. I found him through word of mouth. It's the best way to find your doctor – ask somebody with HIV. Ask a few people, because what's good for me may not be what's good for you. You and your doctor really need to work together, because if you're working against each other, you won't get the best care you deserve." –Cindy
Making it work if you can't switch doctors
Sometimes you can't switch doctors, especially if you live in a rural area or if there are waiting lists for doctors. This can be frustrating, but there is a lot you can do to get the healthcare you need by working with your doctor as best you can and by asking for help from other people and organizations.
Working with your doctor:
Try to be as patient as you can with your doctor.
Try to be honest with your doctor as much as you can about your drug use, because it could interact with your treatment.
Try to be open about how often you are taking your medication, because that affects how well they work. Your doctor can help you if you are having problems taking your meds.
Speak up for what you need or bring a friend, peer or harm reduction worker to support you.
Remember it is okay to "agree to disagree" with your doctor.
Take responsibility for going to appointments and taking your meds.
If you and the doctor speak different languages, you might need to bring someone to help with translation.
Rely on other organizations and people to get support, care and answers to your questions:
Nurses can also give you healthcare and may have more time than doctors.
Use other healthcare workers, such as social workers and pharmacists.
Visit your local community health organizations for help.
Get connected to other people living with Hep C or HIV to find out how they are managing their health. Some community health organizations and harm reduction programs have people who use drugs who can answer questions about Hep C and HIV (often called peer workers).
Call CATIE at 1-800-263-1638 to get info about Hep C or HIV.
Time for a team?
Some people who use drugs find it helpful to have a team of people to support them, especially when starting treatment for Hep C or HIV. There are many people who could be on your care team, such as:
Nurses can sometimes give you your treatment, do monitoring tests, answer questions and help you with other health problems you are having.
Outreach workers or community health representatives can help you find the services you need in the healthcare system.
Peer workers often have experience living with Hep C, HIV or both and have experience using drugs. They have lots of knowledge they can share with you from their own life about what it's like to take treatment and deal with side effects as well as how to use drugs safely.
Pharmacists can tell you if the medications and street drugs you are taking will work together or cause problems for you. They can also answer questions about how to take your medications, help you deal with the side effects of treatment, and answer any other questions you have about treatment.
Psychiatrists can help with mental health issues. They can provide talk therapy and, when needed, medication.
Social workers can talk with you about the hard things you are dealing with and can help you find things like housing, food and money.
It may be impossible to build a team because these people are not available, or it may be difficult to trust them. It may take some time to build your team. The key message is that the more support you have, the better you'll be able to take care of your health. You may want to start by talking to a social worker or peer worker; they might be able to help you connect with other healthcare workers that you want to have on your team.