Is Formula Good for My Baby?
Free formula programs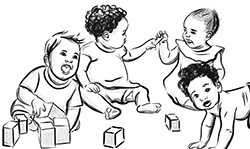 The following list contains contact details for free formula programs in Canada for mothers living with HIV. You can also contact your service provider, support worker or local community health organization for up-to-date information about free formula programs.
British Columbia
Oak Tree Clinic at BC Women's Hospital and Health Centre
604-875-2212
Alberta
Northern Alberta Program at the University of Alberta
780-407-1852
Northern Alberta Program at Royal Alexandra Satellite Clinic
780-735-4811
Southern Alberta HIV Program at the Sheldon M. Chumir Health Centre
403-955-6399
Saskatchewan
Saskatchewan Infant Formula Program
Manitoba
Nine Circles Community Health Centre: Winnipeg Regional Health Authority
204-940-6000
Ontario
The Teresa Group, Provincial Baby Formula Program
416-596-7703
Other provinces and territories
At the time of publication, Quebec, New Brunswick, Nova Scotia and Newfoundland and Labrador did not offer a free formula program. Information was not available for Yukon, Northwest Territories, Nunavut or Prince Edward Island. Please contact your service provider for the most up-to-date information.