Winter 2016
Visual AIDS: Reflections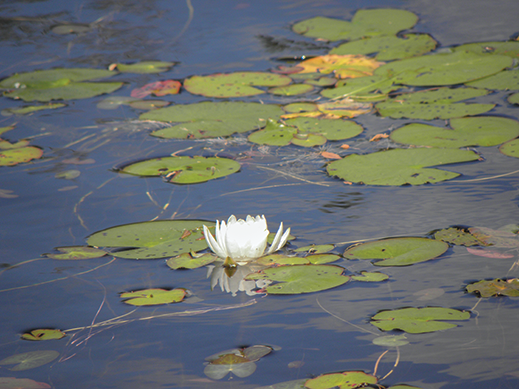 About a year ago, I attended a three-day silent Buddhist retreat in Morin Heights, in the Laurentian Mountains, a half-hour from where I live in Quebec. During these retreats, the participants meditate silently while walking mindfully, enjoying nature and the harmonious landscape. We are allowed to speak only briefly at dinner time. It is a very intense experience.
While on one of these silent walks, I came upon this beautiful water lily growing out of the grey darkness, the bright, warm sun reflecting off the surface of the water. I had to take a picture of it. Water is a symbol of life. I see myself like the lily or, since this was a Buddhist retreat, a lotus, which flowers from the black mud.
My life today has its roots in the darkness and turmoil of HIV in the 1980s. Following my diagnosis, I experienced shock, grief and depression. I was an activist, involved in the Montreal-based AIDS service organization le Comité des personnes atteintes du VIH du Québec (CPAVIH). I participated in many street demonstrations demanding access to HIV treatments, even though it meant laying down on hard asphalt, exposing myself to the danger of police brutality.
I now realize that was the beginning of my path to peace and tranquility. Reflecting on the past 30 years that I have survived with HIV, I see that I have come to terms with my disease and accepted it. I have achieved my dreams of going to university and becoming an artist and writer. I have a beautiful mosaic of friends.
Photography is about finding the right light. When I write about my life it can be very dark but my photography helps me to find the light amidst the darkness.
—Gregg Rowe