Winter 2016
Profile: Border Crossings
The stories of 2 Zimbabwean women who did what it took to survive.
By Sane Dube
Esther and Marvelous are both animated storytellers. It's hard to be anything but mesmerized in their presence. I spent an afternoon with each of them in conversations peppered with boisterous laughter. In the quiet moments they wove words together, effortlessly bringing their memories to life. They talked about their lives as HIV-positive African immigrant women living in Canada and the sometimes difficult paths they've walked to get to where they are today. To understand how far they've come, we have to look back.
This chapter of their stories begins in 2006, when Toronto hosted the International AIDS Conference, the largest gathering of its kind in the world. More than 20,000 people gathered to share the latest on HIV. Effective antiretroviral therapy (ART) had already been on the scene for 10 years, but for millions living with HIV in the Global South it was out of reach. While HIV had become a treatable condition in high-income countries like Canada, in many parts of the world where HIV hit the hardest, thousands were still dying because they couldn't access treatment. When the conference ended, 151 delegates—many of them women, from Uganda, South Africa, Zimbabwe, Rwanda, Eritrea and El Salvador—remained in Toronto, applying for asylum in Canada.
Esther and Marvelous were two of those women. For many in the group, the decision to stay was driven by lack of medical treatment in their home countries and the severe discrimination they faced as people living with HIV. The situation divided the public, as issues relating to immigrants and refugees often do. However, one thing was certain: Geographic location mattered when it came to HIV care. It still does. I caught up with Esther and Marvelous to hear their stories and find out how their lives have changed since moving to Canada.
Esther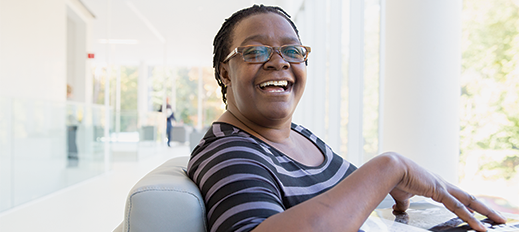 Nine years after being granted asylum in Canada, Esther has settled, flourished and lived to experience things she once thought were out of her reach. The decision to stay in Canada and start treatment was life changing. "I turned 50 this year," she says. "I didn't think I would make it this far!"
Before coming to Canada for the 2006 conference, Esther worked at The Centre, a community organization founded by and for people living with HIV in her home country of Zimbabwe. There, she was a counsellor and educated service providers. By the time she came to Toronto as a member of the Zimbabwean conference delegation, she had already been living with HIV for nearly two decades.
At the peak of Zimbabwe's HIV epidemic, one in four Zimbabweans was living with HIV, a daunting figure for a resource-poor country where health funding was not a high priority. Although the first case of HIV in Zimbabwe was reported in 1985, the illness was barely talked about when Esther was diagnosed in 1988, shortly after losing her six-month-old child. Her doctor told her unceremoniously, "Your baby died of AIDS and you have it, too."
"There was so much silence around HIV in the '80s," she says. "The doctors didn't have a lot of information about HIV for me, much less on treatment. I was diagnosed and sent home. I didn't expect to live as long as I have." Intense stigma left Esther feeling hopeless and alone. That began to change in 1993 when she started connecting with others living with HIV. Meeting people who were beating the odds and excelling despite a diagnosis that, at the time was viewed as a death sentence, gave Esther the strength to slowly start rebuilding her life.
A decade after her diagnosis, treatment became available in Zimbabwe but people had to pay out of pocket for it and most Zimbabweans couldn't afford to. "If you had money, you could afford to pay or go to South Africa where medication was easier to find," Esther says. "The rest of us relied on medications donated from the West. Some were expired, some were leftovers—whatever they were, we'd take them and use them."
Esther took what treatment she could until 2006, when she was granted asylum in Canada. The decision to stay in Canada and, as a result, access stable care has changed her life. Today Esther works part-time at the Hassle Free Clinic in Toronto where she supports women with HIV. Esther is also a student—she is working on a degree in sociology and French. "When I tell people that I'm in university, they can't believe that I went back to school after 30 years. I've almost completed my degree and I'm really proud of myself."
Marvelous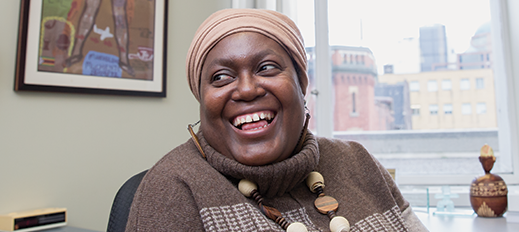 Marvelous and Esther have walked similar paths. Marvelous also remembers using donated medications in Zimbabwe. It was 1995 and she too had a six-month-old baby who had just died. "I was numb when I was diagnosed. I couldn't feel anything, I had just lost a baby and I completely shut down when I found out I was HIV positive."
A crucial turning point came in 1998 when her doctor recommended that Marvelous attend a support group at The Centre, the same organization Esther worked for. Marvelous joined the group and met other women who eventually became a second family for her. "We didn't have access to treatment, except for the donated medications that were coming from outside the country. The only thing we had was each other and taking care of our bodies the best way we could."
When Zimbabwe's economy crashed in the early 2000s, leading to widespread and severe poverty, food shortages and the collapse of the country's healthcare system, the situation for Zimbabweans with HIV became dire. Program funding dropped dramatically and by 2004, only 5 percent of HIV-positive Zimbabweans had care. HIV-related deaths toppled the country's average life expectancy to 43 years.
By this time Marvelous was working as a deputy director at The Centre. "I was working in the sector, but it was still difficult for me to access treatment. I finally joined the DART clinical trial to get medication." [DART was a large clinical trial designed to investigate whether HIV treatment without routine lab tests would work.] The trial, and with it her guaranteed access to medication, ended shortly before she came to Canada in 2006.
Looking back on their first few months in Toronto, both Esther and Marvelous use the word lucky. In Canada, people who claim asylum are held in temporary shelters while a decision is made on their case. Esther and Marvelous lived in a shelter for two months, but they were able to access lawyers, healthcare providers and support organizations. Both were granted leave to stay in Canada while their claims were processed, and once they were approved, both women settled in Toronto.
Today Marvelous coordinates skill development and health promotion programs for women of colour at Women's Health in Women's Hands, a community health centre in downtown Toronto. One of the walls in her office is covered by a captivating piece of art—a body map she created in 2007. Body mapping is a form of art therapy in which people with HIV are encouraged to explore their journey with HIV and the effect it's had on them. At the centre of the piece is a life-size body outline and surrounding it are illustrations and words to mark important events in the artist's life. Marvelous' map tells her story in pictures, from diagnosis in 1995 to immigration to Canada in 2006. She still advocates for accessible treatment, drawing on her own experience to educate others. She's currently the North American co-chair of the International Community of Women Living with HIV, a role she says keeps her connected to the global movement to increase access to treatment for women living with HIV. "I'm open about my status and my story. Sometimes that makes people uncomfortable, but it's not going to shut me up!"
Today, 15 million people living with HIV worldwide are on treatment, a number that's growing daily as access expands. In countries like Zimbabwe, many people can now access ART through government-funded health programs and non-governmental organizations, but the most vulnerable still aren't accessing care. Many of them are in resource-poor, low- and middle-income countries where there is less funding for HIV treatment. For many, treatment costs are prohibitive.
The conference delegates who felt compelled to remain in Canada after the conference in 2006 remind us that for people living with HIV, where you live still matters. In 2016 the world celebrates 20 years of ART, a milestone that will certainly ring hollow for those in regions and countries where treatment is still out of reach.
Sane Dube is a senior editor at CATIE.
Photographs by Michelle Gibson