Winter 2016
Art Posi+ive: Significant Others
Award-winning dancer Benoît Lachambre transforms the dynamic between performer and spectator.
By David Pelletier
For Benoît Lachambre—dancer, choreographer, founder of the Montreal-based Par B.L.eux dance company and seasoned teacher of contemporary dance—artistic expression is all about sharing and communion. This aspect of his work is so fundamental that since the mid-1990s he's been breaking down "the fourth wall," the invisible barrier that separates the spectators from the performers. Borrowing techniques from the world of theatre, Lachambre gives his audience opportunities to watch his shows from different angles, to enter the performance space and to personalize their experience. In his critically acclaimed Snakeskins, he even picks up a mic and speaks directly to the audience, acknowledging their presence. The term iconoclast, sometimes used to describe Lachambre, isn't really fitting; his true goal is to unify those on and off the stage, to let the audience fully feel the energy of his shows.
When Lachambre was diagnosed with HIV in the late '80s, shortly before his 30th birthday, little was known about the disease and there was far more fear than tolerance. He lost friends, collaborators and lovers. Meanwhile, his career as a dancer took off, with his talent sought out both at home in Montreal and in Toronto.
"The diagnosis gave me a sort of ultimatum: Make your choices now because you don't know how much time you have left," he says. In those years before effective antiretroviral therapy (ART), it was hard to see the diagnosis as anything but a death sentence. Lachambre immersed himself in his dance to explore a visceral, personal journey. During this period, his intensely physical, even acrobatic, work sought to better understand how his thoughts, emotions, movement and energy flow were affected by his new condition. "This gave me a lot of strength," he says.
Lachambre's goal was not to create activist art, though he appreciates the activist art of others: "A lot of people around me, people I admire, are or were AIDS activists. Some have died, others are still alive. They have all had an enormous influence on me."
A decade later, when ART gave people with HIV hope, Lachambre returned to focusing more on using dance to communicate and connect with others. In 1996, he founded his own dance company, which he named Par B.L.eux—a combination of his own initials (B.L.) and the word "eux," meaning "them"—putting his own work and that of artists he works with on equal footing. In keeping with this spirit of collaboration and humility, Lachambre refers to performances where he dances alone as "fake solos" because he considers the inspiration he draws from others—like fellow dancers Meg Stuart and Fabrice Ramalingom, and composer Hahn Rowe, with whom he performs—so critical to his work.
Lachambre also invites the audience to collaborate and get involved. "Having the audience seated is something that we as dancers respond to. It influences our body, our position." Lachambre believes that this seated position, which he compares to sitting on a throne, can also inhibit the energy flow of the spectator and make people unable to fully appreciate the performance. So he attempts to build a new relationship with audience members. Depending on the show, spectators might be sitting, standing around or invited to move from one place to another to see the show from a new angle. On occasion, they have even been invited to cross the performance space. "It takes away the presence of the 'court,' challenging this hierarchy between the audience and the work," Lachambre says.
Lachambre's creative work has led him to explore the link between fiction and reality, and between one's physical energy and spirituality. He sees social conventions as being obstacles to these connections. The show Hyperterrestres, created with Fabrice Ramalingom and presented in Montreal at the Festival TransAmériques last May and at the Festival Montpellier Danse last July, explores these themes. Lachambre and Ramalingom were inspired to examine the symbiotic relationship between the physical and spiritual after a trip they took to Hawaii.
"We went to visit a friend who lives in Hawaii, to swim with the dolphins. As soon as we got off the plane, we felt the energy of the island flow through us. I had never felt this so strongly before." Lachambre says that on the island people are told to be careful about what they wish for because it tends to come true.
While in Hawaii, Lachambre ex­perienced a profound communion with nature. "Dolphins are highly intelligent beings that experience the cycles in their lives together," he says. "They travel together, sleep together, feed together. Their immense ability to communicate allows them to transmit these cycles, these thoughts, with other species. It's possible for someone who connects with them to experience these cycles." The act of responding in a communal way to the surrounding energy was a source of inspiration for Lachambre and Ramalingom in creating Hyperterrestres. "The idea was not to reproduce the experience, but rather to try to respond to each other in the same way."
This search for intangible connection was also at the heart of Snakeskins, a multimedia performance that Lachambre choreographed and dances in. Drawing upon Mesoamerican mythology and using the metaphor of a snake shedding its skin, the piece is about a rite of passage and emancipation. Lachambre uses scaffolding on the stage with a harness attached to explore space and energy while suspended. At points he moves on top of the ropes, suspended above the stage, always trying to maintain balance.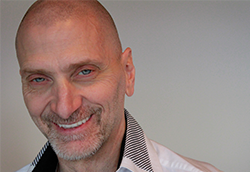 In the early years of the AIDS epidemic, when Lachambre was diagnosed, people with HIV were severely ostracized, but rather than isolate himself or turn inwards, he chose to reach out to others through his work, a choice that could be considered bold. Have things changed when it comes to stigma? "Yes, but a lot of misconceptions about HIV are still out there. There is still fear. People are not necessarily well informed," he says. "Even within government funding agencies for the arts, there is panic about the idea of an artist with HIV. People who are HIV positive have the opportunity to learn about their condition, but it's more difficult for people who are not affected. People often feed their fears instead of overcoming their ignorance, and that is where the monster comes from. Ignorance is also a disease. We need to fight it."
This is why Lachambre is fighting the prejudice around HIV. He does not name HIV directly but by turning toward others, by speaking to them, to us, through movement, he extends his arm and asks us to join in the dance.
Author, columnist, playwright, composer and teacher David Pelletier loves everything that has to do with words. His main playground since 2011 is his bilingual blog
Le sommelier fou
(The Crazy Sommelier).