Winter 2014
Profile: A Heart at Home
Doris Peltier reflects on her rocky road to HIV and her spiritual journey home.
Whenever anyone asks me to share my journey with HIV, the question prompts me to reflect, to first consider where I am at that particular moment. Today, I am in a good place, but it hasn't been easy getting here.
At one time, I was more than willing to speak about what I call the trajectory of life events that led to my joining the increasing numbers of Aboriginal women receiving positive HIV test results. In the dictionary, trajectory is defined as "the path followed by a projectile flying or an object moving under the action of given forces." In my trajectory, childhood trauma and being a victim of unfortunate circumstances beyond my power lay the path for me to make poor choices, which I believe were the "given forces" in my collision course with HIV. And when HIV hit, the initial shock caused much devastation in my life and family—much like the rippling effect HIV had on our communities, and much like the harmful impacts of colonization. Yet amidst this devastation, I remembered a teaching from our elders that states: "Adversity is our greatest teacher." I have come to recognize that HIV is now a guiding force in my life.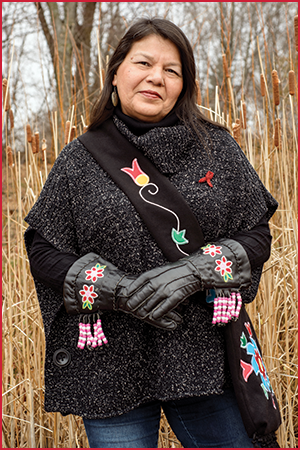 My First Nations community is Wikwemikong, on Manitoulin Island in the Great Lakes region in Ontario. I am the youngest of eight children from my father's first marriage; and if truth be told, alcohol wreaked havoc on our family life, leaving us kids to essentially raise ourselves. When I was a little over two years old, I witnessed my older siblings being taken away to residential schools upon the death of our mother. As a result, I struggled with major abandonment issues from an early age. Because I was too young to be taken, I was left behind with my father and grandmother. As I look back now, these were the first of many traumatic events in my formative years, including childhood sexual abuse, which shaped my own dysfunction.
As a runaway, I migrated to Toronto when I was 11—fleeing from these experiences of childhood sexual abuse and hoping to leave all the painful memories behind. I ran with no sense of direction, and ultimately running only fuelled my total disconnect from family, community, culture and traditions. The spiritual part of me had shut down, and I had no way of knowing how that would impact my future.
My clan is the Deer Clan. We are recognized as natural leaders. As a young person, I took on the attributes and characteristics of my clan but also felt like a small lost deer, with fear and tentativeness always just beneath the surface. Out of my element, especially in cities, where I lived on the street as a teenager and at times had to protect myself from sexually aggressive men, my heart would often race in fear while I fought the impulse to bolt.
It was during those teenage years that I met my husband-to-be. I recall him telling me that he had been to residential school for 14 years. If I had known then what I know now about the residential school legacy—the profound trauma that affects many former students throughout their lives—I probably would have bolted. We married and had two beautiful children, a son and a daughter. We left Toronto to live with my husband's community in Northwestern Ontario, a remote community with no hydro and only a couple of radio phones. Getting there required flying in and landing on a patch of ice in winter and in the water the rest of the year. At first, our marriage was OK for the most part, but problems slowly began to emerge, primarily related to his alcohol use. When violence reared its ugly head a few years later, it became evident that our marriage would not survive.
It was during this difficult period in my life that my talent for storytelling first emerged: I discovered my own style of storytelling, a skill that I had observed from the natural-born storytellers in my community, primarily the Elders. My memory of their mind-blowing stories had stayed with me from my childhood, providing a starting place for me to hone my own skills. I used to imitate an old aunt of mine playing cards and having a conversation with someone you couldn't see. At our community gatherings, people would ask me to do one of my "little old lady from Manitoulin Island" skits, and then crack up watching me do it.
I do not usually blow my own horn, so I don't often speak of this, but I was one of the pioneers of Native theatre (plays by and about Native people) in Canada—working alongside the likes of Tomson Highway, Gary Farmer, Monique Mojica, Daniel David Moses, Graham Greene and the awesomely talented Elder women of Spiderwoman Theater from New York. I learned about the physicality of storytelling by studying with some of the best talents in the world; this became my niche for honing my own skills through dance, physical theatre and the performing arts.
For 25 years, beginning in the late '70s, I worked as a professional actor, director and later as a dramaturge with new and upcoming writers and performers. For me, the work was a lifeline during the years that I struggled to keep my marriage together. But in the end, when my son was nine and my daughter six, my married life came to a close, and my little family joined the ranks of many broken homes in our communities. For years, I felt guilty about my newfound passion for theatre and storytelling, because I worried that it came at the cost of my family.
While I began to realize that I had the capacity to excel in my professional work, my personal life continued to be in a state of disrepair, and I continued to struggle with my own demons, the biggest one being addiction. Finding solace in acting out other people's stories brought me a kind of release.
Many years later, in 1995, through the course of my intensifying struggles with drug addiction, I had the opportunity to go to an Aboriginal healing centre to finally try to deal with my trauma. It was a place in downtown Toronto that took a holistic approach to healing, offering one-on-one counselling, support groups and educational sessions that taught us about the history of Aboriginal peoples. One day, after three weeks at this centre, I was told that a very special ceremony had been organized for me. The ceremony was to take place in the centre's traditional lodge. Our traditional lodges are considered sacred spaces where ceremonies have been conducted from time immemorial.
A female Elder escorted me out to the lodge and what I saw is something I will never forget. People were lined up on either side of the eastern doorway, creating a pathway for me to walk into the lodge. An Elder spoke about how many of our people have lost their connection to who they are, to culture and traditions, to family and community, and more importantly, to the Creator. As I listened, I felt a real sense of something lifting away from me and tears began pouring down my face. The Elder then declared that I had come home, and that the people who were present wanted to welcome me home. I walked into the lodge and was greeted and hugged by everyone as I entered. In that moment, for the first time in my whole life, my heart began to feel peace and belonging. This welcoming home has stayed in my heart to this day and was the beginning of my healing journey.
If you, the reader, are thinking that spiritual awakening is that easy, I have to tell you that it was not, because shortly after this ceremony, I left the healing centre and went back to my addictions. But I believe now that a spiritual seed was planted in my heart through the "coming home" ceremony. The ceremony allowed me to begin addressing my cultural disconnection on so many levels. Over time I reconnected with my culture and my language, Odawa. Just a few years later, when I was diagnosed with HIV, I reconnected with the Creator. My diagnosis made it clear to me that I had a choice: I could continue doing drugs and living the way I had been living or I could change my life. The journey continues, but today I am in a much more balanced place. In my heart and spirit, I am truly home. With what turned out to be my helper, HIV, my heart is home!