Winter 2014
Art Posi+ive: The Music Man
Virtuoso cellist Robert Bardston, a long-term survivor in more ways than one, hits a high note.
By Jennifer McPhee
Wearing a traditional African gown and hat, professional cellist Robert Bardston walks the audience through the chapters of his fascinating life story, stopping to play Bach's Suites for Solo Cello or to sing African American spirituals that reflect his outlook at the time. Bardston, 63, spent three months reliving his life to create "Music and Musings from the Life of a 27-Year Survivor," a mix of music and personal anecdotes that he first performed at the 2012 International AIDS Conference in Washington, D.C., and then later at venues in Canadian cities. Looking back on his life opened wounds but also relieved pain and boosted his self-image. "It was cathartic and it made me grow up," Bardston says. "And the audience reaction made me realize how special my life has been."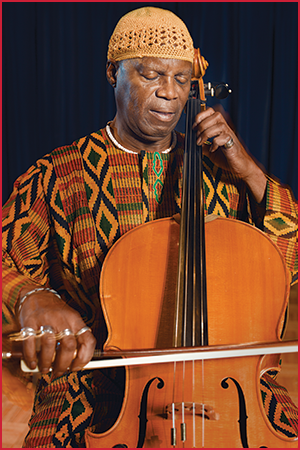 Born in 1950 in the projects of Louisville, Kentucky, Bardston's life began amid tragedy. When he was nine months old, his father, a baker and amateur musician, was shot to death in an alley after a night of gambling at a local bar. In an obvious act of racism, police chose not to investigate. The family's financial troubles became worse after his father's murder. "We were very poor—and besides, entertainment venues were restricted to whites only—so we had to learn how to entertain ourselves at home." Bardston says. "I sang spirituals constantly. It was my world."
By the time he was six, Bardston sang solo as the opening act for travelling gospel quartets. By age nine, he was conducting his church's male choir. And at 18, he became the first black member of a professional symphony orchestra in the southern United States.
Bardston's passion for music led him to Montreal in 1970, where a Canadian professor offered him a full scholarship to McGill University after watching him audition in Louisville. This professor became Bardston's mentor, pairing him with a talented pianist for a whirlwind of concerts that lasted until Bardston completed the first of his five degrees (including a doctorate) in cello performance and won a fellowship to study anywhere he wanted in Europe. Bardston chose to study under master cellist André Navarra in Germany. Life in Europe was mesmerizing, Barston recalls—"like diving into a cultural pond that I didn't know existed."
It was also a catastrophe. He felt completely ill-prepared to compete against a group of world-class cellists in a class led by one of the world's greatest cello pedagogues, where ­lessons were often taught in Navarra's native French and all the other students spoke several languages (a skill Bardston has since acquired—he is now fluent in French and German and speaks Italian as well). Although he didn't realize it at the time, he was also subconsciously stripping himself of all African-American traits in an effort to fit into the whiter-than-white classical music community.
On top of all this, he was constantly subjected to racism in Germany, and, perhaps even more significantly, he was battling untreated schizophrenia, a cruel disease that preyed on his insecurity. "The most horrifying experience is to play a concert and hear a voice constantly saying: 'You're stupid. No one wants to hear you anyway. They're all making fun of you. Why are you such a fool to think you could play a classical instrument?'"
After suffering a confidence breakdown, Bardston left Germany 18 months into his fellowship and returned briefly to Montreal before following a high school crush on a whim to a hippie commune in Washington, D.C. The people there gave him what he desperately needed: acceptance, empathy and understanding. "It was pure therapy for me" he says. "It changed my life. It set me on the road to finding myself and finding out what I could offer the world." It also gave him the confidence to return to music. One night in Washington, he attended a performance of his former teacher, André Navarra, who told him that he really should be in Germany. "With that one line, everything changed," Bardston says. "I packed my clothes and went back."
This time, he practised vehemently until he reached the level of Navarra's class. Suddenly, accolades began to come his way and he performed live on CBC television and radio in 1980. Bardston was recognized for his lyrical approach and his detailed knowledge of the cultural and historical context of the music he played.
Bardston credits his older sister Lois for his pursuit of perfection. "It all started at a little red table at home," he recalls, "where we played school, long before I ever went to school." Lois, the "teacher," taught Bardston and his two cousins about striving for excellence. "She was a tough taskmaster," he laughs. "We called her the Warden. She was a benevolent controller who insisted on being your best at all times. Her high standards influenced my music and other facets of my life, too."
Upon completing his fellowship with Navarra, he returned to Montreal where he met and fell in love with the young ambitious filmmaker Claude Lavoie, on Valentine's Day in 1985. (Lavoie eventually made an award-winning documentary about Bardston called Robert Bardston: Le fils du barde (The Bard's Son).) The same year, Bardston won an artist-in-residence post at Medicine Hat College, in Alberta. Unfortunately, it was also the year that Bardston and Lavoie were diagnosed with HIV. "I completely rejected the doctor telling me that I was going to die in five years," Bardston says. "I thought he was crazy. A gay disease? Whoever heard of a disease that attacked only one part of the population?"
Bardston, in a classic state of denial, immersed himself in his music to keep it that way: "I had the perfect distraction from HIV. I was living the life I had always wanted: I had a position at a post-secondary institution. I was playing around the country as a soloist. My students were winning major competitions, so I felt like I had really offered something. And, on the domestic side, I had a partner who loved me and I loved him to the nth degree."
All this changed when Lavoie grew sick and passed away in 1999. Although they had separated by then, they were still close. In fact, days before his death, Lavoie tried to give Bardston a book of photographs of their years together, but Bardston brushed him off in anger. "I have enormous regrets," Bardston says. "I regret that when he was trying to make that final loving statement of his life to me, I was too afraid to think of him dying to return that generosity."
After Lavoie's death, Bardston's own health, both physical and emotional, began to fail and so did a promising new relationship. Though he found himself in one of the most artistically productive periods of his life, he sank into severe depression and self-destructive patterns. Twice, he attempted suicide. After the second attempt in 2010, Bardston spent five months in the hospital, at which point he began taking antidepressants and other mood stabilizers. A friend, Dr. Hank Hak, began coming to the hospital for music lessons, which helped bring Bardston back to life. "That was a (re)turning point in my life," he says. "Music made the difference."
After his recovery, Bardston made a conscious decision to use his time and talents to advocate for others living with HIV and mental health issues. He created Music and Musings and was recently invited to perform at a conference in Edmonton hosted by several HIV groups. On weekends, he leads discussion groups in Medicine Hat that give people a chance to talk openly about living with mental health issues. And he is co-chair of the Canadian HIV/AIDS Black, African and Caribbean Network, made up of organizations dedicated to ending the AIDS epidemic among African, Caribbean and Black populations in Canada.
Whenever possible, Bardston speaks out about the older generation of people living with HIV who survived the horrific predictions of the '80s only to find themselves dealing with painful exclusion and the loss of loved ones as they age. "There is an intrinsic penchant for hopelessness in this age group that requires, and is only relieved by, the empathy of the entire PHA community," he says. "This generation of long-term survivors needs the acceptance and protection of society to accept and protect itself." More than anything, he wants survivors like himself to realize they aren't alone. "My job as an advocate?" he says during Music and Musings. "Simply to share my mantra: I'm here and I'm staying for a while."
Jennifer McPhee is a freelance writer who contributes regularly to The Positive Side. Her work has also appeared in Chatelaine, The Globe and Mail, Childview and numerous other publications.
Photograph by Colin Way.