Winter 2013
Profile: Far from the Manse and the White Picket Fence
Claudia M.'s teen and adult years threw her more than a few curve balls, taking her life in a direction she could not have foreseen. Today Claudia educates and supports fellow Latinos and HIV-positive women in prison.
By Peter Carlyle-Gordge
Claudia M. grew up in a rough neighbourhood of Toronto. The only child of a single mother, who emigrated from Bogotá, Colombia, when Claudia was just five, she led a protected life. Her mother sent her to Catholic schools in the safer parts of town because she didn't want Claudia spending time in their neighbourhood. Change came when Claudia was 15 and landed her first job, at a theatre. "I began to make friends and socialize beyond my sheltered world," she says.
Claudia became best friends with a young man whom she fell in love with. Shortly after they met, she began attending his Presbyterian church. At age 16, influenced by his religious practices, Claudia became a born-again Christian. Her life plan included marriage, four children, a nice house and a white picket fence.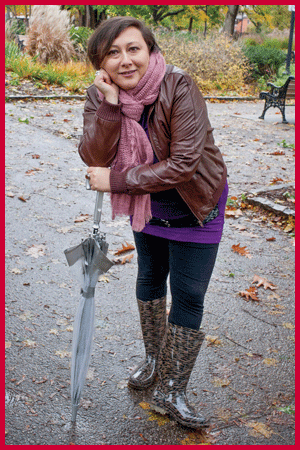 But Claudia was also a teenager who was discovering her sexuality. "Sex before marriage for me was always wracked with guilt," she says. "I was young and full of sexual desires, including bisexual ones, but the church had taught me that to act on these without being married was sinful, so I rarely enjoyed sex. The solution was to hide my bisexual desires and to get married."
Not long after becoming engaged, Claudia began to realize that something wasn't quite right between her and her fiancé. They were both young and vibrant, yet a sexual spark seemed to be missing and she wondered why they had sex so infrequently. "I started having an affair to avoid the problems my fiancé and I faced in our relationship," she says, which only compounded her sense of Catholic guilt.
Then, one month before their wedding date, in the middle of a heated argument, Claudia's fiancé admitted that he had been sleeping with men but wasn't happy about it and thought it sinful. Claudia knew that if she blew the cover off of this, her mother and family would never let her see him again and she would lose her love and best friend. So she decided to believe her fiancé when he said that he had closed any gay chapters in his life. They married as planned.
AS THEY SETTLED into their new life, Claudia and her husband knew something was still amiss. They decided that having a child might fill the void. In 1993, at age 23, she gave birth to her son. While pregnant, she had been physically sick and suffered from depression. In Latino culture, Claudia says, women are supposed to be strong and carry on regardless. "I felt that I couldn't reach out to my family because of my depression but also because I wanted to shelter them from my marital problems. And pretending that we had a great family and great life was all a part of fitting in at church."
"We continued to be active in the church," she says, "but I slowly began to realize that organized religion had fed me many lies." Claudia and her husband disclosed their marital secrets to their minister, whose advice was to pray and come to him for counselling. A pivotal moment occurred when she was talking to the minister's wife: The subject of a lesbian march for Gay Pride Day came up. The minister's wife was vicious in her views on lesbians, which Claudia did not like. "This so-called Christian woman said that she wouldn't let a lesbian even eat from her dog's bowl."
She joined a support group for women married to bisexual men and was appalled by what some of them put up with to keep their marriage going. One of the women described how her husband of 12 years always went into another room to undress. "When I heard that story," Claudia reflects, "I realized that nothing we could do was going to change the fact that my husband was attracted to men." She began to feel that being bisexual was not something that needed to be fixed but something to be embraced.
During her first year as a mother, Claudia was haunted by doubts, depression and illness. Isolated and depressed, Claudia began cutting herself. Gradually, the marriage deteriorated. In April 1994, a combination of ongoing weight loss and concern about being exposed to HIV led Claudia to take an HIV test. The result was positive. "The diagnosis knocked the wind out of me," she recalls. Claudia urged her husband to get tested; he too was positive. They continued to support each other as friends, but the marriage was over. In 1996 she moved out with her son.
Initially Claudia blamed her ex-husband for her diagnosis, but "my real anger was with myself for being so naive," she says. "I knew that we could get HIV, but I refused to take off the blinders and recognize that HIV could affect me. Looking back now, I can connect all the factors that contributed to my diagnosis: lack of HIV/AIDS information, my religion, low self-esteem, childhood trauma from seeing violence in my family, and gender power imbalances in the relationships I chose."
A SEVERE TWO-YEAR BOUT of depression followed her diagnosis. The only thing that kept Claudia going was the need to take care of her young son. She wanted to look after him as well as do a better job of looking after herself.
Keen to give back to the community that had supported her when she was first diagnosed and trying to move beyond her depression, Claudia began volunteering at various AIDS service organizations (ASOs)—with the Speakers Bureau at the Toronto People With AIDS Foundation (PWA), Teresa Group and Positive Youth Outreach.
Her first paid job in the field was at Voices of Positive Women. Claudia later became an employee at PWA and in 2006, she and a friend, community activist Samuel Lopez, established Latinos Positivos, an advocacy organization run for and by HIV-positive Spanish speakers in Toronto. Many of the Latino people living with HIV in Toronto, and elsewhere in Canada, are new immigrants. They often feel isolated, which Claudia says is in part due to the ignorance and prejudice about HIV in the Latino community and a lack of culturally appropriate services. But today things are improving and newcomers come in to Latinos Positivos every week to seek peer support and a sense of community.
Claudia has seen the homophobia that exists in Latin culture from her own family members. "I think the fact that my husband contracted HIV from having sex with men made it harder for my family to forgive him than if he had contracted it through heterosexual sex," she says. "This homophobia makes it much harder for me to come out to my family as queer."
To overcome homophobia and HIV-related stigma and discrimination in Latino communities, a lot of education is still needed, Claudia says. In 2008, Latinos Positivos produced Nuestras Caras, Nuestras Historias (Our Faces, Our Stories), a Spanish educational video that features Latino immigrants to Canada who are living with HIV (see "Art Posi+ive: Latino Positivo," in the Spring/Summer 2010 issue). The six men and women interviewed—Claudia included—tell their stories about living with HIV.
More recently, Claudia also shared her story in the 2012 documentary Positive Women: Exposing Injustice, about how the criminalization of HIV non-disclosure impacts HIV-positive women in Canada. "The issue of criminalization is very important to me," she says. "I believe that everyone has to take responsibility for the risks they take when having sex, instead of playing the blame game."
IN 2009, CLAUDIA took on the full-time role of women's prison program coordinator at PASAN (the Prisoners' HIV/AIDS Support Action Network). PASAN is an ASO that provides education and support to prisoners and ex-prisoners in Ontario on HIV, hepatitis C and harm reduction. Claudia delivers educational workshops and provides support to women living with HIV in prison. "I love the work I do. The system has let these women down," she says. In her job, she helps fill a gap in services for women who have been in trouble with the law, who are marginalized because of [societal] attitudes. "I let them know that they are not alone and that someone out there cares about their health and livelihood."
Claudia has balanced her work in the HIV community with the challenges and joys of being a mom. When her son was three, Claudia tried telling him about HIV, "but he was too young," she recalls. "When I mentioned that mommy had HIV, his response was 'Well, I want HIV too, like mommy.'" After her son turned seven, she began to explain more. He wondered, for instance, when she was paralyzed with depression why she wanted to lie on the couch. Those conversations were sometimes difficult, but Claudia thinks it's important for parents to be open with their children: "We think children are fragile but they are intelligent and often know if something is wrong," she says. "So you need to talk to them." It's also essential, she believes, to reassure them that you'll be around for a long time yet.
While Claudia still struggles with depression, she feels stronger and more optimistic than ever before. When first diagnosed, she thought she'd be dead by age 40. That didn't happen; in fact, she only recently started taking HIV meds after being positive for over 18 years. And now, in her early 40s, she likely has another 30 to 40 years ahead of her.
"What I need to stay away from in order to stay alive is stress. I'm always trying to find balance in my life, so I can fully enjoy it. Part of that balance comes with helping others; I, in turn, help myself. I feel more connected with the universe," she muses. "The more I've fought and broken down barriers, the more fulfilled and happy I've felt in life."
Winnipegger Peter Carlyle-Gordge is a former writer for Macleans, Time Canada and The Financial Post. He has also worked as a CBC Radio broadcaster and producer and is a former UK correspondent for the Toronto Star. In the 1980s he was president of the Village Clinic (now Nine Circles Community Health Centre), a key player in the HIV epidemic in Manitoba.
Photograph by Michelle Gibson