Winter 2013
Growing Up with HIV
Since 1984, an estimated 523 babies have been born HIV positive in Canada. What's it like navigating school, a social life and health care for a child born with the virus?
By Shari Margolese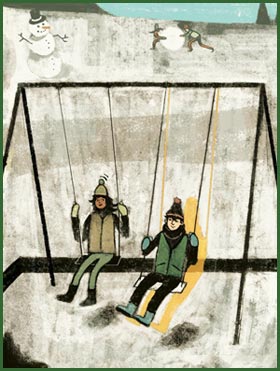 Shortly after the birth of my only child in 1993, I was diagnosed with HIV. Six weeks later, my son received his diagnosis: HIV positive. Those were the dark days of HIV and the prognosis of babies born with the virus was grave—many did not survive beyond their second birthdays. As a mother, I can tell you that those early days were very scary. Our family is one of the fortunate ones to have survived until potent antiretroviral medications became available.
HIV can pass from an HIV-positive woman to her child during pregnancy, during delivery, or after giving birth if she breastfeeds her newborn. Thanks to effective treatments and advances in care, the risk of transmission from mother to child (vertical transmission) has dropped dramatically in Canada, from as high as 33 percent in the early '90s to less than two percent today. This reduced risk, coupled with the fact that HIV has become a chronic manageable condition for people who can get care, has led many more people living with HIV to have children.
The issues faced by children growing up with HIV are varied and complex. First and foremost, they are kids and young adults subject to all of the joys and challenges that other young people experience growing up—from the terrible two's to cramming for high school exams, from finding a first job to going on a first date. But over and above the usual bevy of growing pains, they have additional concerns, such as health issues and deciding if and how they will disclose their HIV status at school and to their family and friends. Of course, these are issues that adults living with HIV face, too, but the context is different. As my own son so wisely informed me, "Mom, I know you know what it is like to be a teenager and I know you know what it is like to have HIV...but you have no idea what it is like to be a teenager with HIV." Today, thanks to the advancements in HIV treatment that have prolonged my son's life and the lives of many (but sadly not all) of his peers, I am humbled and grateful to be able to help their voices be heard, as they share stories of strength, fear, love and hope.
"YES, I AM BRAVE." These are the words of 10-year-old Sage as she describes her decision to talk about growing up with HIV. Sage chose not to use her real name because her friends don't know that she has HIV. "My mommy says it's our secret because other kids can be mean," she says. As a pre-teen, Sage has known for only a short time that she is HIV positive. "I don't really know anything about HIV yet. I do know I have special blood though." She says that her doctors are teaching her to understand things. She bashfully admits, "I'm shy, so I don't ask many questions." Fortunately, Sage's mom, who is also HIV positive, accompanies her to every hospital visit and asks the doctors questions in front of her daughter. Sage likes her doctors, who she says "are nice and care about me."
Because Sage's mom tested negative for HIV when she was 12 weeks pregnant, she did not receive treatment in time to prevent the virus from being transmitted to her daughter. Then Sage was hospitalized with pneumonia just days before her first birthday. "She was greyish purple and her life was leaving her body," recalls Sage's mom. An HIV test was requested and three weeks later, the family was shocked to learn that Sage and her mom were HIV positive, and that her mom had seroconverted while pregnant. It is cases like Sage's that lead some advocates to call for ongoing testing during pregnancy.
SAGE, WHO HAS REMAINED STABLE on her first regimen of Kaletra (lopinavir/ritonavir) and Combivir (AZT/3TC), says, "I have taken meds my whole life…I don't like taking them because they make me feel like I'm going to barf." She copes by drinking lots of water. She admits that sometimes she forgets to take her meds, but her mom reminds her. Now in grade 5, Sage is already a strong advocate for her own health care: "I want them [the meds] changed to something that won't upset my stomach. I'm going to tell the doctor."
Like Sage, 19-year-old Josh began taking antiretroviral therapy before his second birthday. Whereas Sage was born in the era of combination antiretroviral therapy (ART) and has not developed drug resistance, Josh was born early in the epidemic, when AZT monotherapy and other less potent therapies were the only options. "There were a lot of pills, they were hard to swallow and they tasted bad," he recalls of some of the more difficult-to-take early treatment regimens. As a result, his HIV is resistant to two classes of drugs, nukes (NRTIs) and non-nukes (NNRTIs). Now a young man, he has faced serious challenges with medication.
Josh has also encountered disclosure dilemmas when it comes to his meds. When he was 10, he wanted to have sleepovers with his friends. Although he was able to do this, he had to make sure he either took his pills before leaving home or packed them in a bottle and discreetly took them with water from the tap while he brushed his teeth. "Other people never asked questions because no one ever saw me take my meds," he says. "I kept it really low-key."
In the recent past, "pill fatigue," a desire to avoid revealing his meds at work and partying contributed to a less-than-perfect adherence record. "It made me feel more normal and in control of my life to not take them," Josh says. "It's hard to drink alcohol and take HIV meds." His inconsistency with taking meds created serious health problems, including a low CD4 count, an increasing viral load and a low platelet count. "I didn't know it was killing me to not take them," he says in retrospect. More recently, Josh switched to taking his pills once daily. Because this is relatively easy, his adherence has improved, his CD4 count has increased and his viral load is now suppressed. At 19, Josh's options for HIV therapy are limited, emphasizing the need to discover new ways to treat HIV.
A budding advocate for youth living with HIV, Josh joined a panel of experts at the International AIDS Conference held in Washington, DC, in July 2012, to discuss his life growing up with the virus. Studies presented during this session indicate that there may be some adverse effects of ART on growing children. Dr. Jason Brophy, a pediatric infectious diseases specialist at Ottawa's Children's Hospital of Eastern Ontario, agrees and is currently conducting studies to look for kidney and bone health problems and treatments for high lipids among his young patients. Some studies have shown that among children living with HIV, there is a higher incidence of delayed motor and language skills and attention deficit disorder (ADD). Other studies have shown that many adolescents with HIV experience depression and other mental health issues.
During his session in Washington, Josh described how the learning disability dysgraphia (a deficiency in the ability to write) and ADD have been issues in his life. He rhetorically asked fellow panelists: "What causes these problems: HIV or the meds?" His query was astute; it's exactly what researchers hope to answer regarding the mental health and physical and cognitive development of growing children.
Despite these health issues and the fact that children can be quite ill when initially diagnosed, Dr. Brophy says that once they are in care and on treatment when it's deemed necessary, "the vast majority of children with HIV in Canada are the picture of health."
AS SCIENCE CONTINUES TO LOOK FOR ANSWERS to some of these issues, life goes on for children growing up with HIV. Both Sage and Josh have known about their HIV status from an early age and both are still learning about how HIV affects them at different stages of their lives, how to handle secrets and how to manage their health and emotions along the way. "I have known all my life that I have HIV," Josh says. "But I didn't really know what it meant until I was about 13. That's when I learned that HIV was an STI (sexually transmitted infection), and that I had an STI, and I hadn't even had sex yet." Josh describes the proverbial sex talk as "not the average sex talk" and says he was "freaked out" to learn that he would one day be discussing his HIV status with sex partners.
Fortunately, Josh has mostly had positive experiences with disclosing and feels good knowing that his longtime friends support him. Before he shared his status with his friends, Josh would respond to questions about his health with partial truths but rarely the whole story. Then, when he was 14, he felt the need to tell somebody. On their daily walk home from school, Josh simply came straight out and told his friend. "She acted surprised, gave me a consoling look and asked if I was OK." After assuring her that he wasn't about to die, Josh explained that he was born with HIV and offered to answer any questions she might have. That was six years ago and, while they don't see each other often, Josh and his confidante keep in touch and will always have a special bond.
In recent years Josh has shared his status with most of his close friends, all of whom are supportive. When he thinks about disclosure, he follows the wisdom of a slightly older peer who advised him: "If somebody doesn't like you because you have HIV, fuck them!" When he's feeling frustrated or angry because of unresolved issues, he says, "I just kind of handle it through chilling with my friends—I find that peaceful."
As for Sage: "I know a lot of people, but I don't have a lot of friends. I am too shy." She does, however, like to talk about her friends at Camp Moomba (which Josh also attended) and a very special counsellor in whom she confided about her HIV status. Moomba is a summer camp in British Columbia where kids from across Canada impacted by HIV can connect and support each other. Friendships formed there can last beyond camp years, as they have for Josh. The experience is invaluable. Sage says that "the only other kids I know with HIV are at Camp Moomba."
BOTH JOSH AND SAGE HAVE HOPES and dreams for the future. Sage, who likes "everything about school," hopes to someday become a veterinarian. "I like riding my bike and shopping," she says, giggling, "and shoes and clothes." She looks to her mom, a strong advocate for positive Aboriginal women in Manitoba and across Canada, as a role model and wishes she could travel with her to learn and teach about HIV and meet other HIV-positive children. "I would like to be like mommy," she says proudly. Her mom, like me, hopes to affect attitudes so that her daughter can live a more "normal" life. "There is a lot of ignorance around us," says Sage's mom. "Because of the stigma in our community, we have to remain secretive."
Sage, who loves her community, hopes to someday become a jingle dress dancer (participate in the jingle dress dance at a powwow); ironically, the colourful, decorated dress is considered a healing dress. As for Josh: "My mom always told me to follow my bliss." For him, that means one day opening his own auto shop—and anything to do with the outdoors. Both Josh and Sage hope to someday have families of their own. They also share two dreams: that the day will come when they won't have to take meds anymore and, of course, that a cure is found.
Since shortly after her HIV diagnosis in 1993, Shari Margolese has advocated for people living with HIV to ensure that they have an opportunity to be meaningfully involved in the research, programming and policies that impact their lives. Shari is a leading advocate for reproductive justice for people with HIV and a regular contributor to The Positive Side.
Illustration by Josh Holinaty
Resources for Positive Youth
Medical services and ASOs
BC Women's Hospital, Oak Tree Clinic (Vancouver)
HIV clinic for women and children
www.oaktreeclinic.bc.ca
Children's Hospital of Eastern Ontario, HIV Program (Ottawa)
www.cheo.on.ca/en/referringhivprogram
Hospital for Sick Children, HIV Clinic (Toronto)
HIV clinic for children and teens
www.sickkids.ca/go-positive
PYO—Positive Youth Outreach (Toronto)
Peer program that offers social and peer support, a monthly learning series and service referrals
www.positiveyouth.com
Ste. Justine's Children's Hospital, HIV Clinic (Montreal)
www.chusj.org/VIH
The Teresa Group (Toronto)
Focuses on the needs of families affected by HIV
www.teresagroup.ca
YouthCo (Vancouver)
HIV and hep C info for youth in British Columbia
www.youthco.org
Overnight camps
Camp Positive Family (The Laurentians, Quebec)
andreh@ccs-montrea.org
Camp Moomba (Gibsons, BC)
www.campmoomba.com
Stories and info
Bye-Bye, Secrets
Hopes, Wishes and Dreams
Books of art and writing by children living with HIV in their family.
Know it! and Do it!
Guides published by the Canadian Aboriginal AIDS Network for Aboriginal youth.
The Positive Side
"From the Front Lines: Youth Blaze the Trail" (Spring/Summer 2010) – about youth groups taking the lead in HIV treatment, prevention, education and activism
"The Truth About Youth" (Summer 2007) – about what's needed to better serve HIV-positive youth
If you are the parent of an HIV-positive child and you're looking for more info, check out Chapter 16 from Managing Your Health on "Children and HIV." It looks at how HIV affects children differently, steps to take to keep HIV-positive children healthy and how to talk to kids about HIV at different ages.