Summer 2015
Profile: Bouncing Back
Exuberant, outspoken and unapologetic, she redefines resiliency. Meet Gloria Tremblay.
By Jennifer McPhee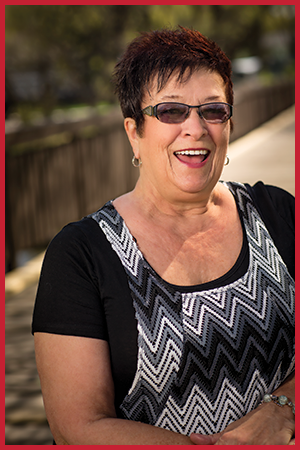 Gloria Tremblay, 72, met her partner Larry through friends about a year after her husband of 38 years died of lung cancer. Unlike her emotionally abusive and controlling first husband, Larry seemed like a nice, uncomplicated man—a cattle farmer and pipeliner who lived in rural Saskatchewan.
They dated for six months before having sex. Gloria wanted to use a condom that first night. "He looked at me and said, 'What's that? You don't need that. I haven't been with a woman for years and years.'"
So when Gloria's lymph nodes grew to the size of the palm of her hand and she spent four months in and out of the hospital because of a mystery illness, doctors suspected multiple sclerosis, and then everything else but HIV.
Throughout the ordeal, Larry dutifully drove her to medical appointments but didn't seem overly concerned. "He just acted like a normal man from my generation," Gloria says. "He believed that if you don't have a cast around your head, you're not sick."
Then, one day in April 2003, she happened to see a different doctor at her usual medical clinic. When the doctor noticed Larry sitting in the waiting room with her, he asked Gloria how she knew Larry, and then immediately ordered more blood tests. He didn't tell Gloria until later that he had diagnosed Larry with HIV four years earlier.
When the doctor informed her she was HIV positive, Gloria says it was so unexpected, it was like being smacked across the face with a sledgehammer. "I didn't fit the profile," she says. "I got married when I was 18 and stayed married to the same man for 38 years. I never picked up a guy in a bar. I was never a drug addict."
Her diagnosis marked the beginning of the most painful period in Gloria's already difficult life. She would soon feel so desperately abandoned and alone in her small rural town that she would come close to taking her own life.
At first, Gloria was angry at Larry but she was too sick to express it. They stayed together and she slowly began to put the pieces of the puzzle together. Larry, a recovering alcoholic, revealed that he used to get so falling-down drunk that he would wake up beside women he didn't recognize.
By the time Gloria was diagnosed, Larry was probably equally sick but refused to admit it and wouldn't take HIV medication until Gloria dragged him to the clinic. Even after that, he didn't follow the doctors' orders properly.
"I kept asking him, 'Why did you do that to me!? Why didn't you tell me? Why did you tell me to not use a condom?' He kept saying, 'I work hard. I'm on my feet. You're on your feet. We're not sick, what's your f**king problem?'"
They stopped living together several years later when Larry started drinking again. One night, after they had parted ways, he told his drinking buddies that Gloria had given him HIV. It was an act that ruined Gloria's relatively pleasant life in Canada's Bible belt.
Until then, Gloria had been a well-loved member of the community, an enthusiastic volunteer who flipped burgers at the local hockey rink, peeled mountains of carrots and potatoes for weddings and funerals at local churches, and delivered meals to the town's seniors.
One week after Larry's false revelation, everybody in town knew that she was HIV positive. The phone stopped ringing completely. "Out there, HIV is not a good word," she says. "The whole town started hating me because of what he had told them. They didn't want me to serve food. They thought it would kill them, they thought I was that contagious."
Gloria says she experienced so much discrimination and social alienation that she believed she would "die alone like a dog." When it became too much to cope with, she hauled a rope and step ladder into the barn with the intention of committing suicide. She climbed the step ladder, before realizing she didn't know how to tie the slip knot of the noose.
When she turned around, she saw Larry's cows gathering around the ladder. Ignoring them, she climbed down and sat on the ground to work on getting the knot right. She looked up, picturing her lifeless body hanging from the rope, and imagined the pain it would cause her daughter and elderly mother.
"I bawled and bawled," she says, crying over the phone as she remembers that day. "And the cows started licking my face. It was like they were saying 'don't do it.' I sat there for two or three hours. I didn't know how to pick myself up. But when I got out of there, I thought, I'm going to live and I'm going to do something with my life."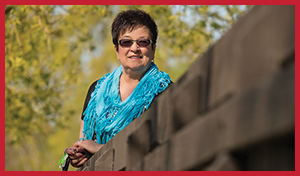 Larry died from AIDS in 2009. Before he died, he was hospitalized after a serious car accident on the Trans­Canada Highway. While he was in the hospital, his doctors discovered a massive tumour in his brain. Gloria then learned that the brain tumour probably explained the way he had dealt (or not dealt) with his HIV diagnosis as well as hers. It also explained other weird and out-of-character behaviour—like the way he accidentally and repeatedly drove the wrong way into oncoming traffic. When she had asked why he kept doing that, he would stare at her blankly.
This realization helped Gloria forgive him, and she spent the last months of his life caring for him in a nursing home that didn't want him there because he had AIDS.
Two years after Larry's death, Gloria made the decision to leave the small town where she continued to lead an almost friendless life. She asked her bargain-hunter son-in-law if he would look out for a home for her in Regina. Two hours later, he called her from the inside of a mobile home that was for sale. The home was old and decrepit but Gloria went for it. She used money that Larry had left her to completely transform it into her "princess home."
Soon after Gloria moved, the General Hospital of Regina offered her a job in its peer mentorship program, which matches seasoned people living with HIV with newly diagnosed individuals. Gloria saw this as her chance to do something good with her life.
The majority of people Gloria is matched with have had painful childhoods and tough lives. Many of them are addicted to alcohol and drugs. Getting her clients to trust her is something she enjoys. "I have met girls who were born in the back alley and raised in the back alley," Gloria says. "They trust nobody. But they are smart in their own way. They are a lot smarter than I am. It's fascinating to me how people learn the rules of this very rough world and learn to survive."
By drawing on her own personal experiences and telling it like it is—without apologizing or mincing words—Gloria has acquired a reputation for being able to reach people. "I always say I don't work for fame or money because it's too late for that! I'm just trying to help people. If being out about my status and being a peer navigator can make life easier for even one person, then it's worth it. And I do it more for myself than for them. It's what's keeping me alive."
Jennifer McPhee is a Toronto-based freelance writer who contributes regularly to The Positive Side. Her work has appeared in numerous publications, including The Globe and Mail, Chatelaine and Childview.
Photographs by Greg Huszar