Summer 2014
From the Front Lines: Express Yourself
CATIE educator Melissa Egan highlights 4 programs that promote health and healing through art.
Whether you're artistically inclined or not, singing, dancing and drawing can allow us to explore our deepest thoughts and feelings. Creating and enjoying art can be therapeutic: It can offer an emotional outlet, inspire us to see things from a fresh perspective, even give us tools to work through deep-seated trauma. Or, it can simply be an enjoyable way to while away a few hours.
Here are a few arts-based programs offered by AIDS service organizations across Canada. You do not have to be a Leonardo da Vinci or Frida Kahlo to join!
Drumming & Singing Circle
Nine Circles Community Health Centre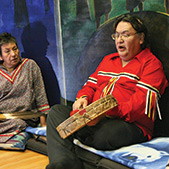 Winnipeg
The drumming circle is an important part of Aboriginal culture, as it offers people an opportunity to build community, get in tune with each other and make music. At Nine Circles, Peetanacoot Nenakawekapo works with people to create a powerful circle of healing. The collective drumming and singing creates a unity of sound that honours the spirit and allows participants to explore culture and music in a safe space. "It's like being in another dimension," Nenakawekapo says. "People feel warm and authentic in the welcoming atmosphere of the drumming circle."
To participate, call Peetanacoot at 204.940.6000. You can find out when this and other inspiring programming is scheduled by visiting the Nine Circles event calendar.

Art Therapy
Toronto People With AIDS Foundation (PWA)
If you've ever lost yourself in the process of writing or drawing, or found calm in playing an instrument or dancing the night away, then you understand the power of art therapy. Since PWA began incorporating the arts into its programming a few years ago, clients have expressed growing interest and staff members have made note of "the healing power of engagement."
PWA offers art therapy in both spring and fall, in the form of either two full-day sessions or a series of evening sessions. The direction is always client-driven. Using different modalities—music, drama, body percussion, visual arts and poetry—participants explore their feelings around relationships, stigma and other challenges they may be dealing with. This helps them cope and feel more empowered. For many, it is an opportunity to play with paint and movement in a way that makes them feel safe and generates joy.
For info about upcoming sessions, call Ed Argo at 416.506.1400 (ext. 207) or visit www.pwatoronto.org
Art & Music Therapy
Dr. Peter Centre, Vancouver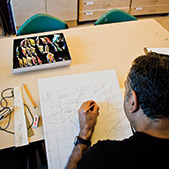 The art and music therapy sessions at the Dr. Peter Centre have become the heart of this beautiful space, which is the legacy of the late Dr. Peter Jepson-Young, a young Vancouver physician diagnosed with HIV in 1985. Nestled in the city's leafy West End, the centre provides comprehensive client-centred care and support to more than 400 residents and Day Health program participants each year.
The centre's music therapy program takes the form of both solo and group sessions. Clients can express themselves and develop musically, increase their self-esteem and, for those who jam in a group, connect with others.
In the art therapy program, clients, many of whom have experienced traumatic life events, can express themselves using various mediums—sculpting, sewing, pottery, painting or papier-mâché. Participants have a chance to explore repressed memories and work through their experiences of discrimination or social isolation with the support of a trained art therapist.
To learn more about these unique programs, visit www.drpeter.org
VIH des arts
Maison Plein Cœur, Montreal
There is something thrilling about sitting in a crowded theatre, nestled in your seat, waiting for the show to start. The anticipation of a captivating performance, witnessing artistic expression as a community and sharing in the enthusiastic applause as the curtain goes down all help to bring people together. VIH des Arts, at Maison Plein Coeur, creates opportunities for people living with HIV to attend arts events around the city by offering clients free tickets and passes to various cultural events, such as plays, dance performances and occasionally even concerts by the Montreal Symphony Orchestra.
This program is run entirely by a group of volunteers who have formed strong relationships with the city's arts organizations, which, in turn, donate tickets to some of the most sought-after shows.
For the volunteers and staff at Maison Plein Coeur, "breaking isolation and nourishing the mind are as important as taking care of the body."
If you would like to strengthen your connection to Montreal's thriving arts scene and get involved with a community of people who love it, contact Bastien Lamontagne at 514.597.0554 or visit maisonpleincoeur.org
Does your local ASO have arts-based programming? To let Positive Side readers know about it, email us a short description: contribute@positiveside.ca