Summer 2014
Art Posi+ive: Free Agent
Visual artist Joseph Babcock isn't afraid to speak out, gender-bend and push boundaries.
By Jennifer McPhee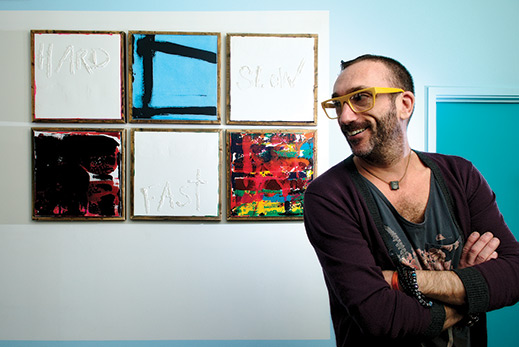 At a recent event where activist and visual artist Joseph Babcock spoke about living with HIV, someone asked about his darkest moment. Babcock, now 44, described a time when he was 27 years old, three weeks after his doctor diagnosed him with HIV and said he could die within three months. That night in Toronto, Babcock was already in a bad mood but when he missed the last streetcar home, he felt nothing but raw anger. He was in such an emotional state that he began to climb the scaffolding next to a building on King Street, intending to jump when he reached the top.
As he made his way up, his mind blocked out all noise. He still remembers climbing in complete silence. But when he reached the roof, he could suddenly hear the sounds of the city again and noticed how the yellow lights of city buildings looked against the black night sky, and how the moon was casting shadows onto those same buildings. "I thought, I want to paint that," he recalls with a laugh. "And then I thought, now how am I going to get down?"
It wasn't the first time nor was it the last that Babcock's artistic nature helped him cope with difficult circumstances. Growing up in the 1980s in a Catholic family in a rural area near Kingston, Ontario, was stifling for the gay teenager, especially since he felt a deep need to express himself in unconventional ways. Once, in the hopes of securing permission to wear a skirt, Babcock tried to educate the principal of his Catholic high school about the history of kilts. The lesson was not exactly well received, and Babcock wound up changing schools. At his next high school, students threw apple cores at his head and yelled derogatory names at him.
But Babcock soon came to realize that the more flamboyantly he dressed, the safer he was. He made his own clothes, styled his black hair into a mohawk and wore tea cups as brooches. "People were frightened of me," he says. "It taught me that how you present yourself can be a powerful thing."
Despite using fashion as armour, Babcock continued to endure a shocking number of assaults over the years. But he refused to let his homophobic attackers silence him: "When they yelled at me, I yelled back."
After high school, Babcock studied fashion design at St. Lawrence College, in Kingston, and eventually began working at Modern Fuel, an artist-run non-profit gallery. By this time, he was estranged from his parents (who had reacted badly to learning he was gay when they saw him on the six o'clock news marching in the 1989 Toronto gay pride parade). It was at Modern Fuel that he finally found acceptance among the "wonderful and kooky" artists working there. Even though most of them were straight, it was a safe place where he was free to express himself and push boundaries.
Babcock began creating elaborate performance/installation exhibits with a youthful in-your-face energy. One installation, called Total Gender Mind F**k, featured men and women dressed in the clothing of the opposite gender walking down a post-apocalyptic fashion runway, complete with old lumber and overflowing garbage cans. At the end of the performance, the models blew rape whistles while sexist and homophobic slurs flashed across their bodies. "It was about people presenting outside the traditional masculine or feminine norms and the violence that occurs around that," Babcock says.
In 1997, after moving from Kingston to Toronto to pursue a career designing costumes for community theatre, Babcock was diagnosed with HIV. The virus initially left him weighing 70 pounds and covered in Kaposi's sarcoma lesions. He started taking antiretroviral therapy immediately and made the decision to move back to Kingston to be closer to his friends and family. (Following his mother's death in 1996, he had reconnected with his father.)
Once again, Babcock turned to art to process difficult emotions. He began painting and nailing angry text onto blank canvases only to paint over those words again and again with primer (see "Conversation #6," above). "It was cathartic," he says. "It was a way of getting those things out of my body so they were no longer part of me."
As he began to feel better, both physically and emotionally, his focus became the side effects of HIV medications. In one painting, Babcock placed Andy Warhol-esque images of his own face over his childhood photos and painted words like "ugly" and "dead" over each image. "It was a reaction to my doctor coming in and saying, 'So, does the facial wasting bother you?'" he explains. "I wasn't actually aware of the facial wasting until he pointed it out." Another piece is meant to resemble Leonardo da Vinci's "The Last Supper," but the 12 disciples are different images of Babcock and the table is a pill dosette. "It was about having to take medication forever," Babcock says. "But people really related to it because we are so medicated in our society today."
Six years ago, Babcock joined a discussion group for men living with HIV at Kingston's AIDS service organization HARS (HIV/AIDS Regional Services). He was immediately struck by the power of peer groups. "That was the first time I was in a room where I felt comfortable saying I was positive because I knew that everyone in that room was positive, including the facilitators," he recalls.
He not only became a facilitator of that group but he also joined the HARS board of directors, which he now chairs, and began representing the interests of people living with HIV in eastern Ontario at the provincial level. Today, Babcock is still heavily immersed in volunteer work at HARS, doing everything from staffing the front desk of the drop-in centre to educating teenagers about safer sex at workshops where the participants create art using condoms. Last year, the United Way recognized his activism by selecting him as a winner of its annual "Volunteers Grow Community" award.
Babcock now helps others with HIV become effective leaders. "We teach people how to sit on a board and know what they're getting into. And we teach them public-speaking skills and self-care." But whenever Babcock is badly in need of self-care himself, he retreats into his studio. "When I am worn out and exhausted, I produce more art," he says. "It allows me to regroup, refocus and participate fully in community work again."
These days, a key part of that work is passing on, in a non-identifying way, the stories of people who can't speak out themselves. "I have the luxury to be open about my status," he says. "But a lot of people can't speak out for fear that their kids or their parents will find out. A lot of people still live with constant fear."
Jennifer McPhee is a freelance writer who contributes regularly to The Positive Side. Her work has also appeared in Chatelaine, The Globe and Mail, Childview and numerous other publications.
Photograph by Brent Gervais