Spring 2019
Art Posi+ive: Now I Will Be Me
After a personal breakthrough, photographer and digital artist Gustavo Hannecke models passion, openness and authenticity.
By Jennifer McPhee
Argentine-born artist Gustavo Hannecke's photographs tend to capture tender, happy moments and the beauty of the natural world. His digital art is more introspective and tells more complicated tales, often about his journey through life as an HIV-positive gay man. If this sounds like a contradiction, it's not. "My soul tries to come out in every photo or piece of art that I produce," Gustavo says. "And it's full of happiness and beauty and hurt and stories about the complexity of human feelings that I don't avoid but rather embrace, to express in my art."
Gustavo was born in Salta, Argentina, in a house his grandfather built, which included a darkroom. He comes by his work honestly, with four generations of photographers on his father's side and a long lineage of artists on both his mother's and father's sides. Growing up surrounded by art and his extended family, with whom he took trips to the beautiful countryside, Gustavo started photographing the people, pets and nature around him from a young age.
Food was also a big part of his family life and he learned the art of cooking from his mother, grandmother and great-grandmother.
For much of his early life, Gustavo tried to conform to his family's religious values. His father was a Baptist pastor and church life conditioned Gustavo to believe that being gay was a sin. "I remember my mother saying things like 'I'd rather die than have a gay son,'" he says. During Gustavo's late teenage years and in his early 20s, Argentina's right-wing military dictatorship abducted and killed tens of thousands of students, union leaders, intellectuals and anyone suspected of holding progressive beliefs. During this time, gay people were also imprisoned and killed.
Even in this oppressive atmosphere, Gustavo began to explore his sexuality in secret, using photography as a way to express himself. He took this self-portrait when he was 22. After completing a bachelor's degree in math and physics at the National University of Salta, with a promising career in teaching and science, he started developing a sense of himself as an independent person. "I began to discover my own body as a source of not guilt but beauty," he says. "I like this photo not because it's me as much as because of the composition and soul of it."
At the same time, Gustavo continued to struggle with societal and religious expectations. While pursuing a second degree in applied physics (solar energy), he worked as an assistant professor of physics, which gave him the opportunity to travel across Argentina and to Chile, Bolivia and Peru.
In 1983 he began dating the woman who would become his wife and the mother of his three children. "My nature was gay, but I loved her and she loved me, and I tried to follow the religious teachings," Gustavo says. "Back then, society was telling me that I was defective for being gay and that I was supposed to get cured and do the right thing. I did it with a good heart and good intentions. My wife and I had several good years together." Their second child, a girl, was born in 1986 and died after birth due to a genetic deficiency. "I was convinced that it was God punishing me because I was secretly having gay sex."
This composition represents Gustavo's conflict and search for balance. He is reaching up toward an onion and knife, which represent family, because, Gustavo says, food and cooking are synonymous with family in Latin America. At the same time, the onion causes tears. "My family is the source of who I am but also the source of crying and suffering, almost killing me with values that contradict my sexuality," he explains. In this image, he is naked, exposed, on his toes above the water, trying not to drown. At the same time, he is holding onto himself and surviving. "That was my life for a long time and I wanted to express those feelings."
After their third child was born, Gustavo and his wife immigrated to Canada in 1992 and settled in Ottawa to give their children a better life. Meanwhile, he was having extramarital sex with men. Suspecting that he might have HIV (a suspicion that was confirmed when he was diagnosed in 1999), Gustavo pushed himself to earn as much money as possible to leave to his children in case he died young. At one point, he was making $400,000 a year working in the high-tech telecommunications sector, a job that required constant travel and long hours.
Although the job gave Gustavo the opportunity to travel across North America and stay in glamorous hotels, air travel after 9/11 became "a horror show," with long delays caused by heightened security. The constant travel under these conditions was impacting Gustavo's health. He recalls lying on the floor of Boston's Logan International Airport in the midst of the anthrax attacks that followed 9/11, feeling like he was about to die. Soon after, he decided to take a break from his job and avoid travel so he could recuperate.
But when he was ready to return to work in 2002, the tech industry had crashed and he couldn't find a job. The longer he was unemployed, the harder it became to make ends meet. He ended up moving in with his partner, his first serious relationship with a man (his marriage had ended few years earlier). He started to fall into a deep depression, and this put a strain on their relationship, which began to sour. Shortly after, in December, 2003, his sister died of complications from diabetes. The following day his father suffered a heart attack. Gustavo returned to Argentina to deal with the family crisis.
Still living with his partner in Ottawa, he decided to tell his family that he was gay. "It wasn't acceptable to them. They disowned me. That trip was the last time I saw or talked to them. Those were the darkest days of my life," he says. To top it off, he was taking the HIV drug Sustiva, which causes severe depression and suicidal thoughts in some people. On May 10, 2004, Gustavo attempted to end his own life.
"I wasn't super sad," he says. "Just numb. Life had lost meaning."
While staying in the psychiatric ward of the Ottawa Civic Hospital under police watch, Gustavo had an epiphany: "I decided to abandon my old ways of trying to satisfy social expectations—meaning religious values, job 'success' and making money. From that point onwards, I was going to be the person I dreamed of being when I was 22—a good person, an artist, a father, a partner. Something transformed inside of me. I said, 'Fuck it all. Now I will be me.'"
Gustavo describes his HIV and suicide attempt as true salvation because he finally got the help he needed to feel like a whole person again. This healing process continued as he met and began to support other people living with HIV through a new job offering peer support and art therapy at the AIDS Committee of Ottawa.
After he came out to his family, Gustavo's mother had formally disowned him in an email that compared him to prostitutes and thieves. Ironically, in his new job, he met people who were prostitutes and people who had committed crimes. "But instead of hate, I just felt love for my HIV peers," he says. "We are all in the same boat. We are all equals and we all deserve the same respect and love."
While working at the AIDS Committee of Ottawa, Gustavo created Our Way Through, a booklet of uplifting portraits and short personal stories that sought to break down stigma by presenting his clients as real, beautiful humans. The organizers of the International AIDS Conference saw the booklet and asked him to be part of an exhibit of portraits at the 2006 conference in Toronto.
Gustavo agreed on one condition: that they pay for all the participants to attend the week-long event. "And so they did," he says.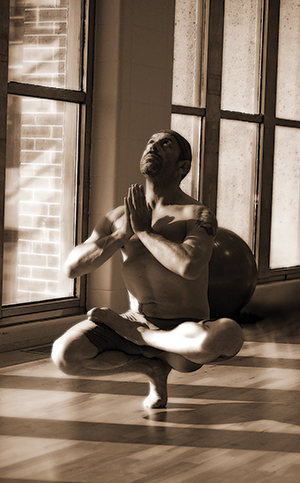 Gustavo's lipodystrophy, a side effect of the HIV drugs he was taking, left him with well-defined muscles because his surface body fat was gone. He is also yoga-flexible and artistically creative. "All together, this makes me the best life-drawing model in town (humility aside)," he jokes. "Who could have known that at 50-ish I would be such a hot thing when I was supposed to be dead 10 years before?"
Gustavo parted ways with the AIDS Committee of Ottawa in 2007. To some extent, he continues his HIV work (his design was selected in 2016 for a yet-to-be-constructed AIDS memorial in Ottawa) and volunteers at the Ottawa General Hospital with new patients of Hispanic background. But, today, he earns his living working as a model mainly for art students at Algonquin College and the Ottawa School of the Arts, and his main artistic focus is his photography. Family and friends are also important to him, and he has a good relationship with his two sons—whom he describes as "Canadian with a Latin flare" and his daughters-in-law and grandchildren.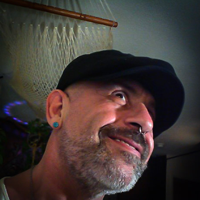 Has he lived an interesting life? "I have certainly lived through a lot—good times and bad times. I've learned that there is no value in holding on too long to sorrow and bitterness because I can spend that time enjoying life. So far, it has been a fulfilling journey. It's been rich for sure, but I don't recommend trying it at home without supervision."
To see more of Gustavo Hannecke's photography and art, visit http://gustavo1960.ca.
Jennifer McPhee is a Toronto-based writer who contributes regularly to The Positive Side.