Fall 2016
Profile: Back from the Brink
Shazia Islam sits down with HIV activist Christian Hui to learn about how he's fighting stigma so that others don't have to go through what he did.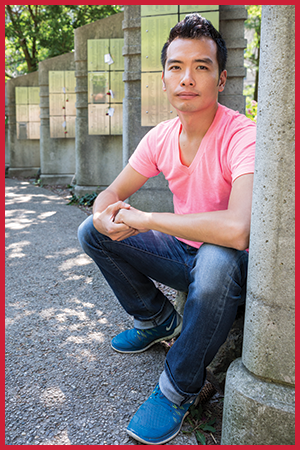 The scene opens with seven men sitting on chairs arranged in a circle. An awkward silence permeates the room until a counsellor among them asks one of them to begin. Lucas ponders what his family might think if they ever find out that he's hooked on crystal meth. Chen is next. He lists all that he has lost: his house, his job, his partner. Then Jeremy talks about his desire for love and acceptance as Alex, the main character, gives him a knowing look.
Empty Nest is a short film, written by Vince Ha and Mezart Daulet, based on the life of HIV activist Christian Hui. The title refers to the sense of emptiness that sometimes accompanies addiction, but the film brings to light how the right supports helped Christian break away from that emptiness.
It was a late Saturday afternoon when Christian, a mug of French pressed coffee in hand, sat down with me to talk about what matters most to him. There was no sugar-coating the issues as he graciously took me on a journey through some of his life-altering struggles and triumphs as a gay Asian man living with HIV.
Christian's depth of knowledge and experience with the HIV movement could potentially be intimidating but he has a way of putting you at ease when you meet and talk to him in person. He is warm. He is humble when talking about his achievements, but then assumes a resolute tone when the discussion shifts to the work that needs to be done to end stigma against the communities he so passionately advocates for.
Christian's achievements are many: He recently spearheaded a national organization for people living with HIV and hepatitis C (the Canadian Positive People Network (CPPN)) and coordinated the launch of Ontario Positive Asians (OPA+), the first network for Asians living with HIV in Ontario. He coordinates community engagement at Asian Community AIDS Services (ACAS) and does peer work to promote the sexual health of newcomers with HIV through the Committee for Accessible AIDS Treatment (CAAT).
While doing all that and more, he also just completed a bachelor of social work at Ryerson University, where in 2015 he received the President's Award for Community Engagement and more recently a full scholarship to pursue his master of social work. No small feat for someone who had to rebuild his life in the aftermath of not only an HIV diagnosis but also considerable bullying and rejection throughout much of his childhood and youth, followed by an addiction to crystal meth and, in 2010, a hepatitis C diagnosis.
Born in 1978, Christian grew up in Hong Kong before moving with his family to Seattle when he was 12. A shy and socially awkward kid who knew he was attracted to people of the same gender, he had already endured years of bullying by then. In Seattle, he continued to be ostracized for having a foreign accent and wearing "different" clothes.
But he was bold and brave enough to became a sex educator in his teens, giving talks to his peers. He points out that it was kind of ironic that he would go around to classrooms telling students how to put on a condom when he didn't know how to put one on himself. And he pushed himself to high academic standards at school. But he recalls being shunned for being who he was: a young gay Asian man.
Life was to get tougher still. After his father lost his business in Hong Kong and could no longer afford to pay for Christian to complete his business degree at an Ivy League school, in 1999 the family relocated to Toronto. At first Christian had no friends, no money and difficulty landing a job because, like so many newcomers, he lacked "Canadian experience."
To meet men, Christian went online and to clubs, only to find more racial discrimination, but this time in the local gay community. He was often met with cold stares; non-Asian men kept to their own corner, rarely interacting with Asian men.
Christian started drinking with friends, then smoking pot, then experimenting with ecstasy, K, cocaine and crystal meth. Initially he did meth only occasionally but eventually he was doing it every weekend.
When he was high, he would often engage in condomless sex. Looking back, it wasn't just the drugs that affected his ability to negotiate safer sex, he says, but also the homophobia and racism he experienced: "The use of substances was how I learned to cope with my HIV status and not being accepted by society."
Twice a year Christian would make sure to go for an HIV test. In 2003, those test results came back positive. Depression hit him hard, along with thoughts of suicide. He took refuge in crystal meth, a habit that grew into an addiction that lasted for seven years. As his meth use spiraled out of control, so did his life. He lost his job, and after bingeing he would veer back and forth from depression to wanting more meth as soon as he started to feel better.
The path to recovery wasn't easy. Eventually, after trying to quit on his own and giving treatment programs a few tries but with no luck, Christian went for treatment at the Centre for Addiction and Mental Health's Rainbow Services Program, which caters to the needs of gay, bisexual and transgender people. Testing positive for hepatitis C around this time helped him realize that his will to live was much stronger than his wish to die. "Coming out of treatment, I felt pretty good because I wanted a new life." Soon, he began participating in community work, discovering that he could pursue his life goals and that HIV was not a death sentence.
Christian's own struggles inform his perspective, which contrasts sharply with conservative views that substance use is simply wrong and deserving of jail time. "We know that the war on drugs has not worked," he says. "The criminalization of people who use drugs is problematic. Not being able to access harm reduction supplies in the federal prisons is a big problem." To help people in meaningful ways, he says, "I think we need to come from a place of understanding why people use substances and we need to support people so that they can make their own informed choices."
Recovery, Christian believes, is a lifelong endeavour, and a big part of what helps him keep moving forward is knowing who has his back. "What I have been able to do quite well is find which communities I belong to. Having the support of friends and family and my partner through struggles and challenges has made all the difference."
Indeed, finding supportive spaces and engaging in community work have undeniably played a significant role in restoring his capacity to pursue both his personal and professional goals. For this, he credits ACAS and CAAT, two organizations that Christian now calls home, where he can be a proud, gay, poz Asian man, and participate in mentoring and educational opportunities and peer initiatives for newcomers with HIV. Both networks he recently helped establish—the CPPN and OPA+—also hold a special place in the heart of a man who has proven his allegiance to addressing the needs of people living with HIV and who is not afraid to join his peers in tackling the hard work needed to sustain the movement.
A huge part of what drives Christian in his work and in his own personal struggles is to make visible the often-neglected challenges of people who have been marginalized. "For me, as an HIV-positive Asian man, I really want to highlight that cultural piece."
Even in a city like Toronto, he doesn't see many racialized people feeling comfortable with stating that they're HIV positive. "That adds another layer of shame and feeling socially isolated. You feel no one cares for you. There are so many interconnected scenarios related to someone using substances."
For Christian, it is his lived experience that drives his activism. "Why am I doing this work? Because I want my fellow peers to be in a better place, to make sure our rights are protected and that we're not treated differently due to our HIV status." Unfortunately, he adds, more than 30 years after the discovery of HIV—and 30 years of activism—those living with the virus still face stigma.
He acknowledges a spiritual element to his efforts, springing in part from his mother. A Buddhist nun, she nurtured in him some Buddhist values, including a commitment to help people who are suffering. "There's something called the Bodhisattva vow, for people who have reached levels of enlightenment. These Buddhas have decided to stay in the realm of Samsara, the human world where there's pain and suffering, because they want to provide help to other worldly beings as opposed to transcending. That's one of the values that guides me, because I am a helper and an activist, and I feel like it's not just about me. It's about other people, too. It's about humanity."