Fall 2015
Fast facts: Hepatitis C in Canada
Hepatitis C is a virus that infects the liver.
500+: the number of functions your liver performs – you can't live without it.
1 out of 100: the estimated number of Canadians who have been infected with hepatitis C in their lifetime.1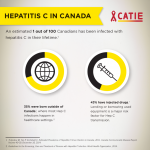 35%: the percentage of people with hepatitis C who were born outside Canada, where most hepatitis C infections happen in healthcare settings.2
43%: the percentage of people with hepatitis C who have injected drugs. Lending or borrowing used equipment is a major risk for hepatitis C transmission.1
44%: the estimated number of people with chronic hepatitis C who don't know they have it.1
20 to 30 years: the length of time someone can live without any hepatitis C symptoms.3
1945 to 1975: the years that if you were born between, liver experts recommend you get tested for hepatitis C.
There is no vaccine to protect against hepatitis C.
Treatment can cure hepatitis C and treatment options are getting better. New treatments can be completed with weeks.
Resource
Hepatitis C in Canada – CATIE infographic poster
References