PASAN's "Rays of Resistance"
Prisoners' HIV/AIDS Support Action Network (PASAN)
Ontario
2017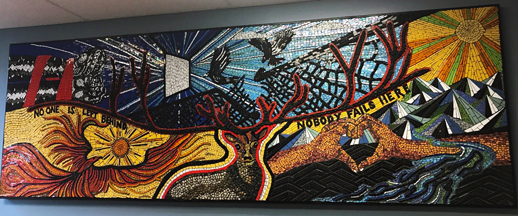 On April 19, 2017, PASAN invited their clients, staff, artists and allies to their office for lunch and for the unveiling of a special project: a striking textured piece of art made out of ceramic, glass and stone. The people in attendance marvelled at this 12' by 4' piece of art hanging on the wall of PASAN's kitchen, with a design that incorporates symbolic imagery and the phrases No one is left behind and Nobody fails here. Their community − ex-prisoners and their families, people who have experience with HIV, Hep C, and drugs, people who are sex workers and Indigenous − spent over 85 hours crafting this piece of art. "It was a real sense of accomplishment," said Mooky Cherian, Program Manager at PASAN, "to give our folks opportunities, and to witness and acknowledge their experiences. It was a powerful moment, bringing some people to tears."
This mosaic is a collaboration between PASAN and Red Dress Productions, an arts company that works with communities on community-engaged public artworks. Additionally, PASAN received funding from the Ontario Arts Council to hire five interns. The interns, people who are ex-prisoners living with HIV or Hep C, were mentored and trained by the Red Dress Productions team with Anna Camilleri as the lead artist . They formed the core team that carried out the work and they were instrumental in all aspects of this project, from the conceptualization to the execution.
Work began in summer 2016 when meetings were scheduled with community stakeholders to discuss what themes should be captured in the mosaic. Anna facilitated these consultations where people were encouraged to share their experiences of incarceration, of living with HIV or Hep C and what PASAN means to them. She stewarded the ideas into one piece of art and the interns helped communicate the project to their peers and engage them in the building of the piece. Roughly, around 30 people at different times participated in the making of it.
The final result is a documentation of PASAN's history and the meaning of its work over the past 26 years. The mosaic is called Rays of Resistance. "When you look at it, it tells many different stories," says Mooky. "Our organization is a last stop for people who have been banned and exiled from other places and communities. But PASAN won't turn its back on anyone. We will always give people a chance."
For more information about Rays of Resistance, contact PASAN at 1-866-224-9978.