What's New?
Chronicler of HIV/AIDS celebrates 200th issue
Internationally acclaimed TreatmentUpdate started with 1980s AIDS activists
It was 1988. People were dying. There was a hunger for information on a strange disease that was suddenly sapping the life out of so many, and a 23-year-old Toronto gay man was passionate to find some answers.
Sean Hosein had started a news bulletin about AIDS, printed out of his uncle's basement. It captured in simple words the complex scientific research on HIV and kept people living with the disease aware of new developments in drugs and treatment issues. His publication was the start of TreatmentUpdate which, 25 years later, is celebrating the launch of its 200th issue.
Through the pages of the Canadian research newsletter, now recognized internationally for its coverage of HIV and hepatitis C treatment, Hosein chronicled the evolution of a disease and the progress of treatments for a community devastated by HIV/AIDS. Along the way to this 200-issue milestone, he witnessed how a disease that was once a death sentence became a painful and complex, yet manageable, chronic ailment. He also witnessed first-hand how HIV touched the lives and hearts of people living with the disease, and of their family members, friends, lovers and caregivers.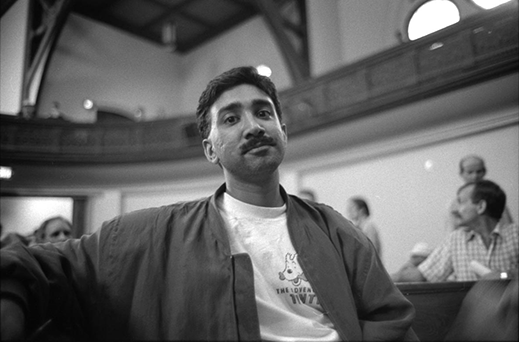 Sean Hosein, CATIE's Science and Medicine Editor, in 1992
Early days: A search for answers
For people who were not part of the HIV movement in the 1980s, the emotion and urgency of the early AIDS epidemic is well-captured in recent movies such as Dallas Buyers Club, How to Survive a Plague and We Were Here.
In those early days, AZT was the only widely available treatment to combat the virus in Canada, and people were grasping at any drug, herb or concoction that, anecdotally, held out some hope for reducing the virus's devastating effects. As a volunteer at AIDS Action Now!, a Toronto-based activist organization, Hosein set about doing his research for the news bulletin. He read medical journals and shared this information with his peers in plain language. He encouraged people living with HIV/AIDS to use the information when consulting with their doctors to make informed decisions about their health.
"Back then, people would turn up at their doctor's office when they were ill with severe fatigue, strange rashes, unexpected fevers, unusual infections and weight loss. In more serious cases, people would end up at the hospital emergency room for help," says Hosein. "As life-threatening infections became more common among HIV-positive people, TreatmentUpdate would focus on such infections to help keep people alive."
A group of volunteers at AIDS Action Now! started the Treatment Information Exchange (TIE) project to share news about HIV treatment, an initiative that later evolved to today's CATIE (Canadian AIDS Treatment Information Exchange), Canada's source for HIV and hepatitis C information, where Hosein is Science and Medicine Editor. CATIE continues this tradition by disseminating information for today's audiences through hundreds of free print resources, a phone inquiry service, educational outreach and webinars, and other online learning.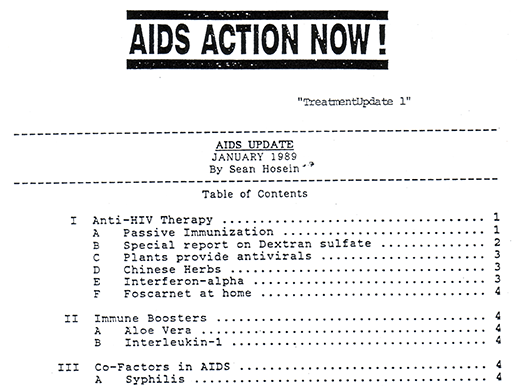 The first issue of TreatmentUpdate, published in 1989.
Today: Living healthfully with a chronic disease
As the HIV epidemic has changed, the publication has embraced multiple issues such as the hepatitis C virus and other co-infections as well as other health issues that now affect HIV-positive people (nutrition, cancer, cardiovascular disease, diabetes, kidney disease, addiction and more).
HIV is now a manageable chronic disease. But it is still a disease that demands great attention: the drug regimens to control it are strict and sometimes need to be changed; people living with HIV are more susceptible to co-infections and can experience the onslaught of health issues pertaining to aging earlier than the average Canadian.
We know much more today than we did two decades ago, and the news is encouraging:
Newer medications for people living with HIV are easier to take and have fewer side effects;
HIV-positive people who are engaged in their care and treatment and take their medicines every day as directed are likely to have near-normal life expectancy;
There are medications that can be taken after exposure to HIV and, as a preventative measure, before exposure that can help reduce the likelihood of infection;
There are new hepatitis C drugs that greatly improve the drug regimens necessary to treat that virus – good news for those with hepatitis C and those co-infected with Hep C and HIV. And more and better hepatitis C treatments are on the horizon.
For his work in capturing and distributing information about HIV and related health issues both in Canada and globally, Sean Hosein received the Citizen Engagement award from the Canadian Institutes of Health Research in 2009. He continues to write TreatmentUpdate, a labour of love that has occupied his attention for so many years and has, in some ways, sustained him through both dark and encouraging times.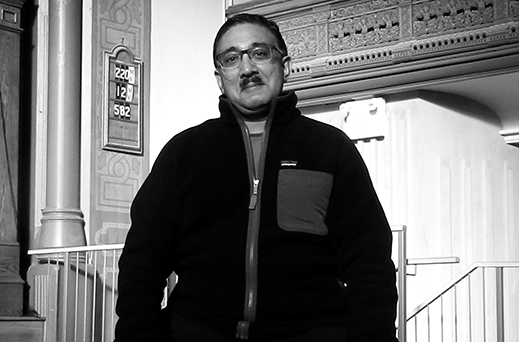 Hosein has just published the 200th issue of TreatmentUpdate.
"Somehow, the research and the writing kept me going," he says. "I witnessed a lot of misery and loss, but focusing on what I could find, and what we could do as a community with that information, gave me hope."
"There is still much to learn and, as drugs improve, more good news to report."