HIV Testing – I know my HIV status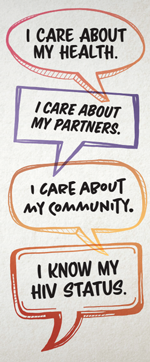 Why should I get tested?
Knowing your HIV status is very important for your health. It's also important for the health of your sexual partners and any people you share drug use equipment with.
If you are HIV positive, it is better for your health if you are diagnosed and start treatment as early as possible. With proper treatment and care, most people with HIV can stay healthy and live a long, full life.
In addition to the health benefits, successful treatment (that keeps the amount of HIV in the blood undetectable or so low that current tests can't find it) also means that people with HIV:
can have healthy HIV-negative babies
are less likely to transmit HIV if they share needles or other drug use equipment
When should I get tested?
Everyone has the right to have an HIV test in Canada. Some people get tested only once, while other people get tested more often. Talk to a healthcare provider about how often you should have an HIV test. In some regions of Canada, you may be routinely offered a test by a healthcare provider at your doctor's office or at a hospital.
HIV can be transmitted during unprotected sex or by sharing drug use equipment (including for steroids or hormones).
Unprotected sex happens when no effective HIV prevention strategy is used. Effective strategies are condoms, HIV treatment and undetectable viral load for people with HIV, and pre-exposure prophylaxis (PrEP) for HIV-negative people. To learn more about these effective HIV prevention strategies, talk to a sexual health worker or a health service provider.
For information on how HIV is transmitted, check out How Does HIV Get Passed from One Person to Another?
For more information on HIV, check out HIV Basics or if you have any questions about HIV call CATIE's confidential toll-free telephone line at 1-800-263-1638.
Get a test if you:
have had unprotected sex with someone whose HIV status you were unsure of (or you were put at risk for HIV due to sexual violence)
are pregnant or planning to get pregnant
shared drug use equipment (including steroids or hormones) with someone whose HIV status you were unsure of
Some people who become HIV positive have symptoms, like a fever, rash, or feeling like they have a severe flu, for the first month of infection. If you have any of these symptoms after a possible exposure to HIV, get tested right away. Let the person doing the test know about your symptoms. Not everyone has symptoms, however, and HIV cannot be diagnosed based on symptoms alone.
The only way to know for sure whether you have HIV is to have an HIV test.
What should I expect?
The HIV testing process can vary depending on where you have your test. Although taking blood for the test only takes a few moments, the HIV test appointment can last up to 30 minutes. It may take up to two weeks to get your final result.
Before having a test
Typically, someone (a nurse, a physician or a tester) will meet with you privately for a brief discussion about HIV, go over the testing steps, including what will happen if you receive a positive result and get your consent for the test. All information you provide is confidential.
You may also be offered other tests, such as tests for sexually transmitted infections or hepatitis C.
The HIV test
All HIV tests are very accurate. The two main kinds of HIV tests available in Canada are the standard HIV test and the rapid HIV test, but the rapid test is not yet available in every part of the country.
In the standard HIV test, some blood is taken from your arm. It is sent to a laboratory and it can take up to two weeks to get your result. Talk to the person who does your test about how you will get your test result.
The rapid HIV test uses a small amount of blood taken by pricking your finger. Within minutes, the test will show whether you are HIV negative, or if you are likely HIV positive. If the test suggests you are HIV positive you will need to provide another blood sample from your arm, which is sent to a laboratory to confirm your results. Talk to the person who does your test about how you will get your test result.
For more information about kinds of tests, check out CATIE's fact sheet on HIV testing technologies.
Personal information and privacy
There are three testing options used in Canada: nominal (name-based), non-nominal (non-identifying), or anonymous testing. Anonymous HIV testing is available in some, but not all, provinces and territories. Depending where you test you may not have a choice of which option to use.
The main difference between the options is how they identify the person being tested. The options vary on the amount of personal information you are asked for during the testing process. In Canada, all test results are confidential and all positive test results are reported to local public health. What gets reported to public health depends on the testing option and the rules in your area. For more info about test options and the testing process, check out CATIE's fact sheet on the HIV testing process.
When you go for a test, ask the person doing the test about the different kinds of HIV tests available to you, your options for testing, and how you wil get your result.
What do the results mean?
If you test HIV negative, it means that you do not have HIV.
However, depending on when you last had unprotected sex or shared drugs you may have to repeat the test to be sure of the result. This is because HIV cannot be detected by tests immediately after someone gets HIV. There is a period of time (called the window period) from when a person is exposed to HIV to the time when it can be detected by an HIV test (three months at the most). This means that sometimes, even if the first test is negative, the person doing the test may recommend you come back later for a second test to confirm the first result.
Ask the tester about how often you should test in the future. They will also be able to give you information about strategies to help you stay HIV negative, such as how to use condoms correctly, or the use of PrEP (pre-exposure prophylaxis) or PEP (post-exposure prophylaxis), both of which involve taking HIV medications to help prevent HIV transmission. Not all options are available or appropriate for everyone, so talk to the person about what is right for you. If you use drugs, you can be connected with harm reduction services in your area.
If you test HIV positive, it means that you have HIV. It can be a shock to learn you have HIV, but it's important to know that people with HIV who are diagnosed early and get the right care, treatment and support can live long, healthy and full lives.
The person who gives you your result will talk to you about next steps, including linking you to HIV care and other support. You may also be connected to public health workers in your community to help you after your diagnosis. They will help notify your sexual partners and anyone you may use drugs with of the need to get tested. Your name will not be shared with these people. Depending on where you live, public health may also help connect you with care, treatment and other support.
If you are not referred to a healthcare provider, an HIV organization may be able to help you find one. HIV organizations can also provide information and counselling and may be able to connect you with other health and social services in your area. To find an HIV organization in your area visit HIV411.ca or contact CATIE.
CATIE has a lot of information for people diagnosed with HIV. Check out If you just found out you are HIV-positive...
Where do I get tested?
Many places offer HIV testing. Depending on where you live, you may be able to get an HIV test at a health clinic, doctor's office, hospital, sexual health clinic, community organization or a public health unit.
To find where you can get an HIV test in your area, visit HIV411.ca or call the sexual health hotline in your area.