Hep C Stories
LAUREN
Sturgeon Lake First Nation, Prince Albert, Saskatchewan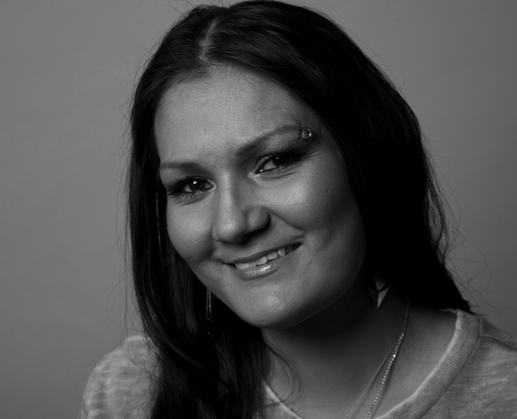 I was 16 years old and pregnant with my first son when I found out I had hepatitis C. That was in 2000. I was at Access Place, a clinic in Prince Albert, for a prenatal checkup. They pulled my file and told me I had contracted the hepatitis C virus. At that time I didn't really know what it was. It came as a shock. It was almost like being told I had cancer.
The nurse was really caring. She explained what hep C was and how it can be passed. I felt afraid for myself and my baby but the nurses were reassuring.
I got a lot of support from my family. My dad had hep C too. He was very understanding. He told me, "You and the baby will be OK. You just need to take care of your liver."
My older brothers, Cory and Todd, liked to joke and laugh—that was their way of making me feel OK, that I didn't have to worry.
I had my baby two days after I turned 17. While my son was an infant, my dad was sick with diabetes and dying. I was trying to take care of him, be a mother to my son and be with my son's dad. This time was hard for me. There was so much happening that I wasn't really able to focus on the fact that I had hepatitis C.
Around this time my baby's father got curious about drugs, so we tried Dilaudid (an opioid). That's how the addiction started. We started doing a little more and a little more and then it got to be too much and I knew I couldn't handle everything.
We had to go to my in-laws and ask them to take care of our son because our addiction was taking over and I didn't want him going into foster care. My brothers and I had been in foster care until we were 18 and I didn't want my son to experience that.
In 2003, my dad, Roddy Cardinal Sr., passed and my life fell apart. My addiction took over. The goal of getting a home for my son melted away.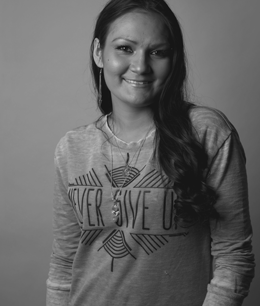 I ended up seeing another man and we robbed someone to get money for drugs. We were found guilty and I was sentenced to three years in a federal penitentiary.
The day I got back to the provincial jail from court, I got called into the nursing station. The nurse told me that I had tested positive for HIV. I went into shock.
I was scared and overwhelmed. The first thing I did was ask for all the information she had on HIV. She grabbed a folder and pulled everything they had about it. It felt like a life sentence had been added on to my three-year prison term. That's when life got serious for me.
Barb, a support worker, and Shelly, a nurse from Access Place, came to see me the day after my HIV diagnosis. I remember Barb saying, "You're going to be OK. We are looking forward to working with you when you get out." That really meant something to me.
After being transferred to the penitentiary I made a decision: "I'm going to stay healthy and deal with this the best way I can. I've got to be there for my son."
When I was in the Pen I took every program they had—a violence prevention program, an employment program and I worked on getting my high school diploma. I did everything I could to make sure when I got out of jail this time, I was not going back to that life on the streets again.
One day, the nurse in the Pen told me, "I really think you should take this course in infectious diseases that I'm going to be offering." I took the course and at the end of it, I got a job supporting and sharing knowledge with new inmates about hep C, HIV and sexually transmitted infections. I was the first peer support worker at Edmonton's penitentiary for women.
I did that job for two years. It was a really good thing for me. I think it helped me deal with my co-infection. I tried turning my co-infection into a positive thing. If I could give information to just one person or get through to somebody and stop them from contracting any of these diseases, I'd be happy.
I really got into my Aboriginal culture in the Pen. I earned my medicine bundle and I was given teachings by the elders about different medicines, like sweetgrass and sage. I also earned my drum. I was taught how to make the drum and take care of it and I started learning songs. Sweats and an Aboriginal prayer and healing ceremony helped with my physical and mental health. I let go of a lot of grief, resentment, anger and pain during the sweats. I knew I couldn't move forward unless I let go of that stuff.
Sweats and an Aboriginal prayer and healing ceremony helped with my physical and mental health.
In 2010, while I was in the Pen I found out that my brother Todd had died. He was only 28. That was really hard on me. That's when I said to myself, "that's not going to be me." I got out of the Pen with a totally different perspective on my life and myself.
While I was in the Pen, I got approved for hepatitis C treatment that was used at the time (peg-interferon and ribavirin for 18 months). [Editor's note: This treatment has been replaced with newer, far more effective medications that are easier to take.] There were nine of us on this treatment. They housed us all in the same house. That time was excruciating—physically, mentally and emotionally—because of the side effects of peg-interferon and because I was living with other people who were also dealing with these side effects.
After I finished treatment, my hepatitis C test result came back negative for six or seven months, and then it came back positive. It was hard to take. I cried and got upset.
Shelly, the hep C nurse, said, "It's OK, Lauren, we can always look at getting you treatment again." At that time new treatments were coming out.
I've been getting my liver function checked and my liver is still healthy but I don't want to wait until I have stage 2 liver fibrosis to get treated. I want to start sooner than that. My son, Aidan, who is now 16, has been my little man the whole time. He was my reason to keep going. Now I have two boys. My baby, Dakota, is four years old. He tested negative for both HIV and hepatitis C. He is healthy and happy.
When I got out of the Pen, I became a peer mentor after Barb and Shelly suggested it one day. It's making me stronger because it drives me to better myself and to help others. Like today I ran into an old using friend of mine who just quit using. He said, "It's good to see you doing what you do." It felt really good to know that I'm setting a good example for people, especially the younger generation and the people I used to use with. It made me aware that I'm making a difference.
Lauren's Advice for Others
Your life isn't over. You can still be happy and healthy. There is treatment out there.
Take your hepatitis C seriously. Understand that your liver is a vital organ—it's like your heart. You need to take care fo it.
Know that you are not alone, that others are living with hep C or have had it.
You still have a good life ahead of you and hepatitis C doesn't have to hold you back from anything.