Hep C Stories
Introduction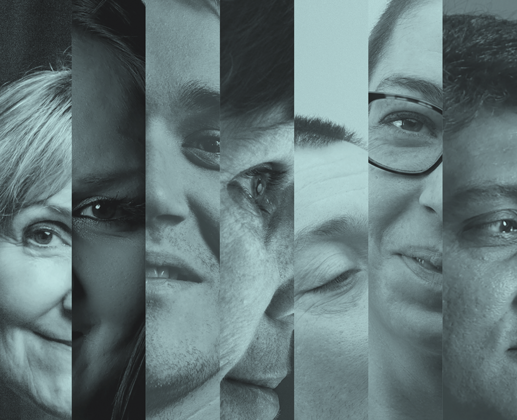 Finding out you have hepatitis C can be overwhelming. If you don't know much about the disease, it can be the start of a learning journey—albeit one you didn't sign up for. You might have questions, such as: What is hepatitis C? How did I get it? Can it be cured? What can I do to stay healthy? What should I expect down the road? In these pages, we provide you with some basic information to help answer these questions.
Having hep C is about more than a blood-borne virus or the pills in your medicine cabinet. It affects many facets of your life and you as a person!
The seven people you'll meet here all know what it's like to have this liver disease. Some of them are living with it and waiting to start treatment; others have taken treatment and are now gratefully hep-C-free. They all speak candidly about their journeys and share their insights and advice. Hearing about their experiences and how they cope will hopefully help make your hep C journey a little smoother.
The great news is that hepatitis C can now be cured. New drugs—called direct-acting antivirals (or DAAs)—are highly effective, unlike some of the older medications that only worked some of the time. And unlike the older hep C treatments, which caused unpleasant and sometimes debilitating side effects, the new treatments cause few side effects and are much easier to tolerate. Treatment is also becoming more accessible in Canada.
While it's true that hep C disproportionately affects certain groups—for example, people who use injection drugs, people who had unsafe medical procedures in other countries, and people born between 1945 and 1965—there is no one "kind of person" who gets hep C. This disease can affect people of all ages and backgrounds. The more we put human faces to the disease, the more we can challenge stereotypes and chip away at the stigma. If you would like to add your story to Hep C Stories online, email us at: myhepcstory@catie.ca.
Millions of people around the world have this infectious disease yet most don't know they have it! By getting tested and diagnosed, you've taken the first—essential—step to being cured. And by picking up this resource, you're arming yourself with valuable knowledge. Wherever you are on your journey, know that you are not alone. Many have travelled the path to health and wellness after being diagnosed with hepatitis C.