Hep C Stories
ALEXANDRA & ERIC
Montreal, Quebec

Alexandra: Eric and I started dating in 2008. We met at work—at L'injecteur, a magazine by and for people who use injection drugs. I was working as the coordinator and Eric was an infoman, a writer/journalist who brings their lived experience to the job.
Eric: A couple of years before Alex and I met, when my ex-girlfriend and I went into detox and started methadone, we learned that we had hepatitis C. I felt more tired than usual and as a bike courier hadn't been performing as well, but I didn't know I was sick until I got my diagnosis.
My ex-girlfriend and I split up shortly afterwards so I was alone when I started treatment. By that time, I had cirrhosis [scarring of the liver]. I had no choice: I had to start treatment because my fibrosis was so advanced—stage 3. Treatment at that time was pretty rough, and it lasted six months.
Alexandra: I first tested positive for hep C in 1998, but a nurse later told me I had cleared the virus on my own. Then, in 2007, I learned that I had tested positive again. I was so mad at myself that day! I knew it was from a syringe I had borrowed from my friend to shoot heroin.
After Eric and I started seeing each other, we went for counselling together at our local clinic, Clinique l'Actuel, to learn how to manage my HIV and hep C co- infection (I had been diagnosed with HIV a year earlier). I was anxious to start hep C treatment but it was a super long time before my request for drug coverage was approved.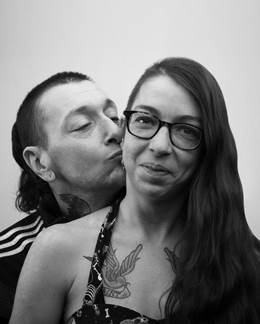 Eric: My medication was rougher physically than Alex's but I had a pretty good setup. I was living in rent-controlled housing at the time, so my living expenses were manageable. After my weekly interferon injection, my father would come get me at the doctor's office in Montreal and we would drive to my parents' house in the country, in Verchères, where I would stay for three or four days. They had a hot tub there, my mother would bring me food and pastries, I could play PlayStation, the whole shebang.
Alexandra: I took hep C medication (simeprevir and sofosbuvir) for just three months. I managed to keep working while on it. Some days I felt tired but it generally went well.
Eric and I had been trying to have a baby. What I found the toughest was that I had to get a shot of Depo-Provera to prevent pregnancy before starting my hep C treatment [because some medications used to treat hep C can harm the fetus]. That really got to me. I was already 37 years old and time was passing quickly.
The day I got the Depo-Provera shot, I cried like a baby at my doctor's office. I didn't know anything about it, and it scared me. The hep C treatment didn't bother me much, but the Depo-Provera did—it put me in such a bad mood. And instead of stopping my periods, it made me bleed 25 days a month. It was not cool!
Eric: Before I started treatment, my life had not been going well. I had stopped working and had been feeling depressed. Although the side effects of the older treatment that I took were rough, that time brought positive things to my life. It brought me closer to my parents.
My parents helped me out a lot! So did one of the nurses at my clinic. She was a childhood friend who came from the same village as me. She wasn't my attending nurse but I knew she was there for me, both in Montreal and when I visited my parents, which coincided with her time off.
Alexandra: My family helped a lot. My mom really encouraged me. And then there was Eric, who was there day-to-day and had already been through treatment tougher than mine. I knew I could talk to him. He was a major support.
My colleagues supported me too—as harm reduction workers, they understood why I was sometimes tired or grumpy.
I had a really great nurse, Pierre-Luc. No need to hide anything or beat around the bush with him, I could tell him everything. I knew he wouldn't judge me. You need to have someone on your medical team you can trust. Some people feel they need to hide their substance use, but it's better not to if you can be open about it. If you really want to get the help you need, it's best to be honest. With Pierre-Luc, I could say, "Yes, I'm using but I can still take care of myself."
Eric: We did our treatment at the same place but at different times. It was just a year and a half apart, yet they were two different eras because the treatment evolved so quickly.
Alexandra: Before treatment, I felt weighed down. It always took extra effort to take a shower, do housecleaning and basic chores. I just didn't feel up to doing anything. Now I have more energy—when I have something to do, I'm happy to do it.
Because of my hep C treatment, I had to change my HIV medications and start taking them morning and night, which disrupted the routine I had gotten used to. But my CD4 counts had never been so high as they were after my hep C treatment. They reached 900, which is great.
Eric: I'm one of the very lucky ones. Miraculously, my liver regenerated.
Alexandra: We'd still like to have a kid, but we don't know if it's in the cards....
What I went through made me who I am today. I have a life experience that makes it possible for me to support my peers, to understand and teach them. I do street work. I'm a liaison officer with Stella, an organization that works to improve the quality of work and life for sex workers. I'm a member of the CATIE board, which I'm really happy about. I've always loved writing and being able to tell people that life goes on even if you have hepatitis C or HIV.
A hep C diagnosis can be heavy, but research and medical advancements have made it possible for us to have a good life. We just have to learn to take care of ourselves. It doesn't mean you have to become a saint. I do drugs, I drink, but I'm able to take care of myself. My rent is paid, I have a stable job, I'm making something of myself. I'm proud of what I've become and I love what I do.
Alexandra and Eric's Advice for Others
Alexandra: See a doctor—it's super important because hepatitis C can be cured. Be honest with them. If you can bring along someone you trust, do. If possible, go to a specialized clinic. If you're in a stable place and you have support, you generally won't have problems with treatment.
Eric: Hep C isn't a death sentence. The treatments are so much better than they used to be. Hep C treatment can be a great opportunity to re-evaluate things, take a break or chill out—or if you want to stop using, to stop. I learned that I had hep C after 15 years of drug use. It happened at a good time for me to reflect and think about things.