World AIDS Day 2016
Contents
What is World AIDS Day?
World AIDS Day, December 1, which also launches the start of Aboriginal AIDS Awareness Week in Canada, is a time for reflection: on what we have achieved with regard to the national and global response to HIV,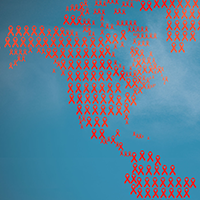 and what we still must achieve.
World AIDS Day is a day dedicated to commemorate those who have passed on and to raise awareness about AIDS and the global spread of the HIV virus.
The first World AIDS Day was held in 1988 after health ministers from around the world met in London, England and agreed to such a day as a way of highlighting the enormity of the AIDS pandemic and nations' responsibility to ensure universal treatment, care and support for people living with HIV and AIDS.
The theme for World AIDS Day 2016 is Hands Up for #HIV Prevention.
According to the AIDS by the numbers 2016 report from UNAIDS, 1.1 million people worldwide died of AIDS-related illnesses in 2015. By the end of 2015, an estimated 36.7 million people around the world were living with HIV.
On a national scale, an estimated 75,500 Canadians were living with HIV, and an estimated 2,570 new HIV infections occurred in 2014.
We invite you to explore the information and resources on this page that may help you in your work and in your own acknowledgement of this special time.
World AIDS Day around the world
UNAIDS, the United Nations agency responsible for the global HIV/AIDS response, has launched a World AIDS Day campaign which explores different aspects of HIV prevention and how they relate to specific groups of people, such as adolescent girls and young women, key populations and people living with HIV. You can download campaign materials here.
HIV/AIDS in Canada
This infographic poster is based on 2014 estimates from the Public Health Agency of Canada.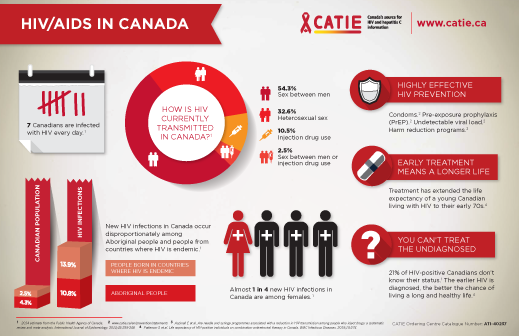 HIV/AIDS in Canada [Order online]
This infographic is based on 2014 estimates from the Public Health Agency of Canada.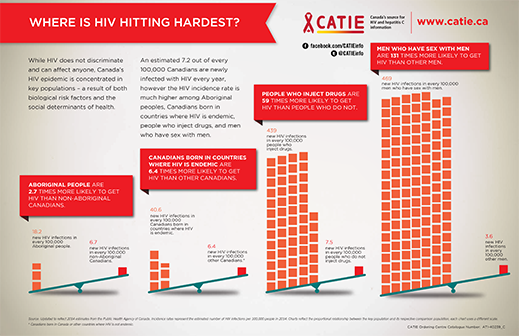 Additional resources include:
Order resources for World AIDS Day 2016
World AIDS Day Suggested Resources - recommended educational resources to develop your own campaign activities
Get more information about HIV/AIDS
Get Tested – Canadian AIDS Society
HIV: The Basics – A plain and simple look at HIV and the immune system, staying healthy and protecting yourself and others
The Basics of HIV – An introductory webinar to HIV for people living with HIV/AIDS, community workers, and volunteers at HIV/AIDS organizations
How Can I Prevent HIV Transmission? (Infographic) – thebody.com
The Positive Side – Life stories by and for people with HIV
Starting HIV treatment: Personal stories
Body Maps – Women with HIV who are leaders in the AIDS movement in their communities in Tanzania, Zambia, and Canada are coming together in workshops organized by CATIE and the Regional Psychosocial Support Initiative to create startling and beautiful body maps
Youth-friendly sites
TeenHealthSource – A teen site from Planned Parenthood Toronto
YouthCO – HIV and hepatitis C peer support and advice for Canadian youth
Teen Talk – A site for youth from Klinic Community Health Centre, Winnipeg
Native Youth Sexual Health Network – An organization by and for Indigenous youth that works across issues of sexual and reproductive health, rights and justice throughout the United States and Canada.
SexualityandU – Sexuality education and information
Go Ask Alice – Columbia University's health Q&A internet service
Sex, etc. – Rutgers University's "by teens, for teens" web site
Info for Teens – Sexual health web site for teens by Planned Parenthood Federation of America
For information on HIV and AIDS in Canada and the rest of the world, check out these resources:
Canada
Canadian AIDS Aboriginal Network (CAAN)
Canadian AIDS Society (CAS)
Canadian Association for HIV Research (CAHR)
Canadian HIV/AIDS Legal Network
Canadian HIV Trials Network (CTN)
Canadian HIV Vaccine Initiative (CHVI) Research and Development Alliance Coordinating Office (ACO)
Canadian Treatment Action Council (CTAC)
Canadian Working Group on HIV and Rehabilitation (CWGHR)
Interagency Coalition on AIDS and Development (ICAD)
Global
Joint United Nations Programme on HIV/AIDS (UNAIDS)
Fast Track: Ending the AIDS Epidemic by 2030 – UNAIDS 2014 World AIDS Day Report
AVERT is an International HIV and AIDS charity based in the UK.
Blueprint for Action on Women & Girls and HIV/AIDS is a multi-sector coalition of HIV-positive women, Canadian and international HIV/AIDS organizations, and a variety of women's and reproductive rights groups advocating for better prevention, services and supports for women and girls infected and affected by HIV/AIDS.
International HIV/AIDS Alliance is a global partnership of nationally-based organizations working to support community action on AIDS in developing countries.
WHO and HIV/AIDS – As the directing and coordinating authority on international health, the World Health Organization (WHO) takes the lead within the UN system in the global health sector response to HIV/AIDS.
A history of HIV/AIDS
A timeline of some of the important Canadian and international developments that have occurred over the history of the HIV epidemic.
What's happening in your community for World AIDS Day?
A listing of World AIDS Day events across Canada.