Marcie Summers (Chair, Strategic Planning and Policy Committee)
Pacific Region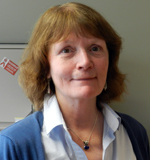 Marcie Summers, Executive Director of the Positive Women's Network since 1993, has a long-standing history in human services, most particularly in the fields of women's health, violence against women and HIV/AIDS.
She began her work with HIV in 1986 as a volunteer in the AIDS Vancouver Speakers Bureau and in 1989 was a founding member of the Vancouver Women & AIDS Project, the first prevention project of its kind focusing specifically on women and HIV in Canada.
She was a founding member of the Pacific AIDS Network (PAN), a coalition of 54 groups across BC, and currently is the Co-Chair of PAN. She also was a founding member of the Blueprint for Action on Women & Girls and HIV/AIDS. She has been on the CATIE Board since 2011, representing the Pacific region, and is Chair of the Strategic Planning and Policy Committee.
Marcie is a committed advocate for the community of women living with HIV/AIDS. She believes women are the experts when it comes to creating and sustaining their own best-health practices.
To send an e-mail to one of our Board members put in the first initial and last name followed by @catie.ca.