Lynne Leonard
National At Large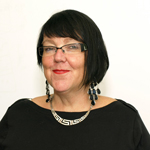 Dr. Lynne Leonard, MA, CQSW, PhD, is Director of the HIV and Hepatitis C Prevention Research Team at the University of Ottawa where she holds an academic posting within the Department of Epidemiology and Community Medicine. She obtained her PhD from McGill University focusing on HIV prevention among different populations of women.
A social scientist by training, Dr Leonard is particularly interested in the contribution of the social determinants of health to HIV- and HCV-related risk behaviors and practices. Over the last two decades, Dr Leonard has worked collaboratively with policy makers, community-based agencies and people who use drugs on a number of community-based studies concentrating on the social construction of HIV- and HCV-related risk.
Her continuous involvement on regional, provincial and national programming and policy-making advisory bodies ensures that her research both emerges from community-identified need and contributes directly to decision-making priorities for the purpose of policy and program reformulation.
To send an e-mail to one of our Board members put in the first initial and last name followed by @catie.ca.